2023 defensive line preferred walk-on Eric Lindstrom will bring an NFL pedigree to Notre Dame
3 min read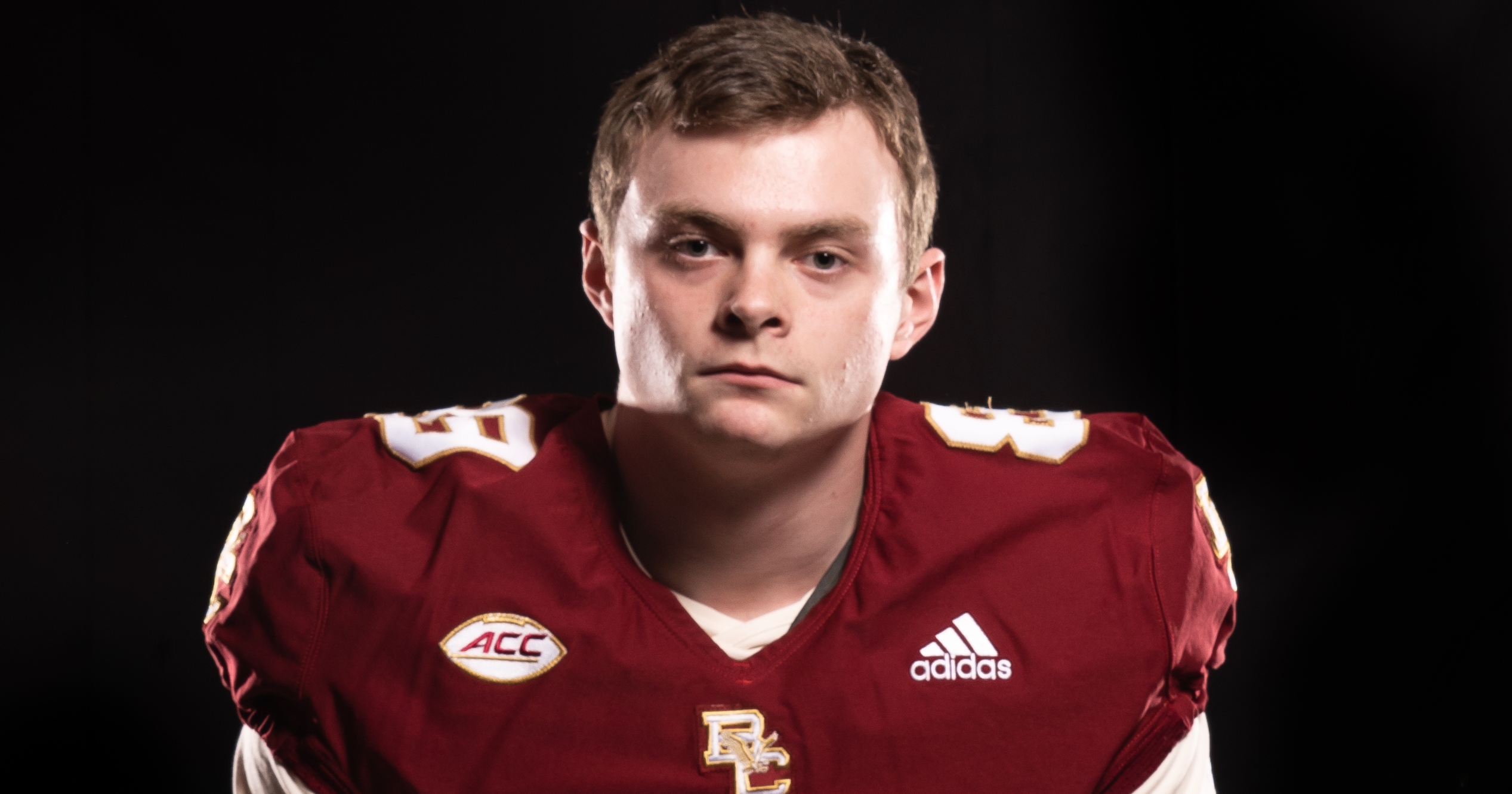 Eric Lindstrom isn't a typical walk-on Notre Dame football recruit. And no one knows that better than his head coach at Avon (Conn.) Old Farms, Jon Wholley.
On March 17, the 6-foot-4, 215-pound Lindstrom announced his verbal commitment to the Fighting Irish as a preferred walk-on candidate. The 2023 defensive line recruit held an FBS scholarship offers from Army and Connecticut and five others from FCS schools. 
But other prospects took Connecticut and Army's scholarship spots on the defensive line. Meanwhile, Lindstrom's offers elsewhere did not meet his criteria. His college football aspirations were paused until a Notre Dame personnel person called Wholley.
"He said, 'Do you think Eric would be interested?" said Wholley, recalling his conversation with an unnamed Fighting Irish football staff member. "I said, 'Absolutely.'
"Eric has great grades. Notre Dame is the type of school he's looking for. And he's the type of kid who wants to challenge himself and compete at the highest level. It was a great opportunity that he couldn't pass up." 
Football is in the Lindstrom family bloodlines. 
Eric's father played at Boston College, and his two uncles played in the NFL. His cousins, Chris and Alec Lindstrom, were standout offensive linemen at Boston College and now play in the professional ranks. 
The Atlanta Falcons selected Chris at No. 14 overall in the 2019 NFL Draft. Chris was coming off an All-Pro season and signed a five-year, $105 million contract extension with the Falcons. Alec went undrafted last season but aided the Dallas Cowboys on their practice squad.
Wholley explains what Notre Dame is getting in Lindstrom
Before Wholley took over as Avon Old Farms' head coach in 2021, he spent the last 16 years in the college coaching ranks. 
Wholly's most recent position was with Penn State in 2020 as a consultant. He also served as a senior analyst with Mississippi State, linebackers coach at Connecticut and defensive coordinator at Fordham. 
And when he described why Lindstrom is fit to be a college-level player, Wholley pointed to three traits.   
"He's got length, speed and bloodlines," Whooley said. "He's a tireless worker with great character. He plays with a great motor and will play extremely hard. He has a lot of upside.
"He's definitely a raw player that has speed and length and a frame that, he could hit the genetic lottery, and go from 215 (pounds) to 270 (pounds) in the same year. That's the type of body he has.
"If that ever hits right, the light goes on, and the confidence goes on in the right way, you have a very good player. But he's also a humble kid, will know his role and do what it takes to be a Division I walk-on — you have to be a relatively egoless person who puts in the work."
That work will begin when Lindstrom likely enrolls at Notre Dame this summer. Eventually, Wholley sees Lindstrom becoming an important piece to the Fighting Irish football program.
"I think he could help on special teams, as a backup or provide depth," he said. "Then from there, you never know what happens."
The post 2023 defensive line preferred walk-on Eric Lindstrom will bring an NFL pedigree to Notre Dame appeared first on On3.