2023 Texas Spring Game Postmortem: Defense
7 min read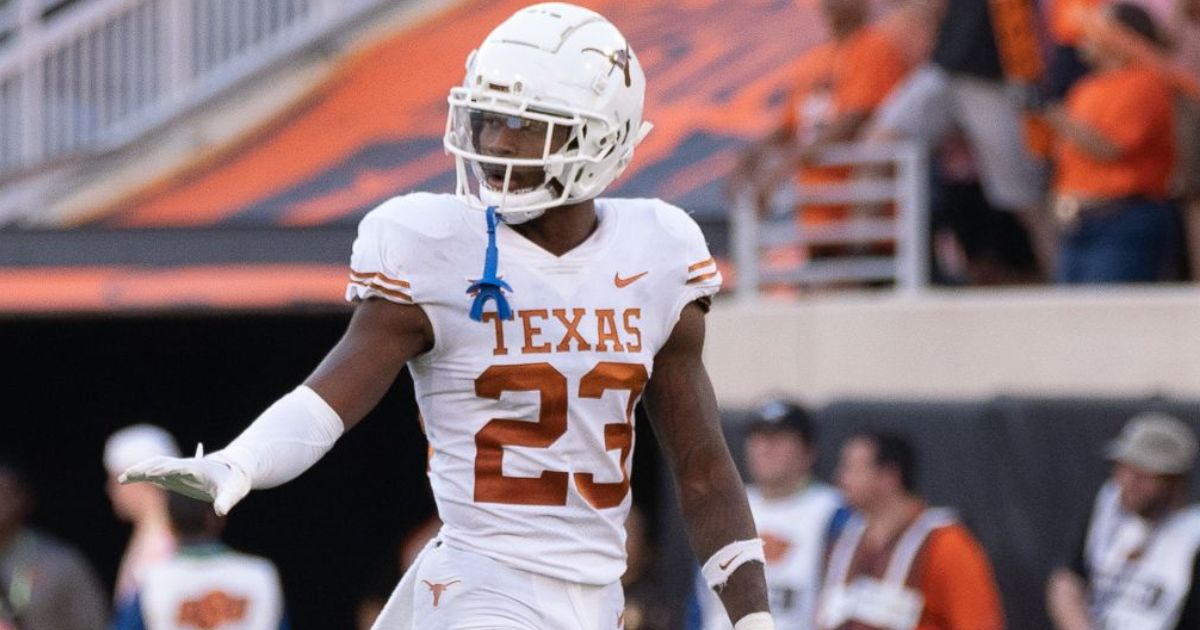 The obvious thing that jumped out was the secondary depth (I don't mean names on a depth chart, I mean dudes) led by a good nucleus up front of every down stalwarts in the defensive line, Jaylan Ford at linebacker and some potential specialists that can be creatively integrated with the infrastructure pieces to fashion a good defense.
Going scattershot…
Interior Defensive Line
I wasn't happy with some of T'vondre Sweat's early efforts, particularly as a pass rusher. He was either trying to do shake-and-bake head feints or standing up instead of methodically walking back the interior lineman across from him and collapsing pocket depth. Add a lazy face mask by not moving his feet. I understand the ball is getting out quickly, but work on your craft #93. It's a salary year. On one play in the second half, he shocked and controlled Sawyer Gorham Welch, discarded him like a sack of potatoes, then pursued the ball. We need more of that.
Byron Murphy had some pass rush moments, including a flush sack into Burke's waiting arms. Good get off from Byron. Alfred Collins is better at the point of the attack and in the third quarter he had a sequence where he tipped a pass and then got a sack. He's noticeably bigger and stronger. Pete didn't let them cut it loose much taking gaps and I expect more of that in season.
Sydir Mitchell is carrying a lot of bad weight, but he's an absolute problem when he's fresh, standing up interior run blockers like they'd hit a brick wall and effectively collapsing pockets. He's potentially special if he wants it. Texas will have to substitute him in judiciously and make sure he doesn't get caught on the field when a team goes hurry up or in end of half situations. He has 4.5 months to work on his body and earn 20 snaps a game this year. Those snaps need to come 3-5 at a time spread out over 4 quarters, not entire series per se. I'd play him a lot against running teams and advisedly against the pass-happy.
Jaray Bledoe and Zac Swanson are both too light and not yet strong enough, but Swanson is a game pass rusher from the interior. Good first step, uses his hands well, finds the QB and gets small going through gaps so that OL can't get a real piece of him. #86 may actually be a problem for people in this role. Buried on run down double teams, but I'd happily employ him on clear passing downs. Before you ask, no, he's probably not an edge solution.
Aaron Bryant made a solid stop on a short yardage situation late game. Nothing stood out about him to me. Vernon Broughton looks like the same guy as last year.
Edge
Barryn Sorrell is good to go. Still a power rusher who sets the edge well and does a fine job extending his arms and working through or over blockers. The hustle is always present. Pretty good on the few stunts we ran.
J'Mond Tapp showed zero juice. I was shocked given his high school film. Kris Ross has a first step, but he's not strong and can't play through contact. Like a lot of guys who lose weight when they reimagine their role, he's learning that play strength still matters. Justice Finkley might outwork some lazier offensive tackles and he's good on the move where he can attack interior gaps on a game, but short edges better have outstanding quickness and power to make up for their lack of length.
Ethan Burke uses his long arms well and is very mobile. He will be good, particularly at 265+. But right now, he's not strong enough at the point of the attack and he needs an interior flush or stunts to get at the QB consistently. He's not going to run the arc and whip a 5th year senior tackle quite yet. Didn't play counters well (he has to learn to squeeze and keep his outside shoulder free) and #91 was the biggest culprit in Blue's 31 yard touchdown run. Currently our best option opposite Sorrell, unless we get creative with Ant Hill. More on that later…
It should be noted that our edges were going against Kelvin Banks and a 6th year Christian Jones. It's possible their competition level is squashing some positive traits.
We need a great offseason from the guys on campus and a quality edge transfer for this D to maximize.
Linebacker
Jaylan Ford was very good. He had a unheralded highlight taking out both pulling offensive linemen on a counter play, forcing Cedric Baxter to reverse field. I don't need to expound his virtues, do I?
Right now, Jett Bush is our second best linebacker against the run. I might even put a period after the word linebacker. This is his natural position and at 240-245 he has solid range, certainly much better than the average fan's perception of him. How he played in 2021 as an undersized out of position edge is irrelevant. He probably led the team in tackles in the 1st half and he made a variety of good plays, to include a terrific goal line stop on Blue and a nice read on a screen. Also had a sack on Arch coming off of the edge on a stunt.
I made a point of watching David Gbenda. I still don't know. Physically looks better and didn't run himself out of any plays as has been his wont, but I want undersized linebackers to have freaky ball sense, decisiveness and outstanding quickness. Gbenda picks through a bit too much when I'd like to see him recognize and attack.
Anthony Hill is the best blitzer and edge pass rusher on the team. He's cheetah quick, gets off blocking, with motor and recovery in spades. I laughed when I watched him detonate 360 pound Peyton Kirkland on one thwarted blitz. There wasn't a gap to shimmy through, so he just decided to choose violence. That's the attitude we want. I counted two sacks and some other nice runs at the QB. Can he reliably play the run as a traditional linebacker? Probably not. Pete needs to dust off some LSU Harold Perkins packages for him. He can play every LB position because he'll still be blitzing wherever he's lined up. We should obviously expand his use on the edge, but he's not big enough to play it every down.
Morice Blackwell is a big safety playing linebacker and he tackled well in space.
I'd still like to add a quality portal linebacker if possible.
Safety
Absent Jalen Catalon and incoming freshman Derek Williams, the challenge was to see if the safeties could be effective anyway. Jerrin Thompson had an uncharacteristically off afternoon at times but I'm not worried about #28. I'm still not sure about Kitan Crawford and the scrimmage didn't clear things up for me.
Michael Taaffe is a much better tackler than he's given credit for. BJ Allen was very active and present in a number of plays, in both positive and negative ways. Larry Turner-Gooden lacks range. I don't see a path.
Cornerbacks/Nickel
A once problem area is morphing into an embarrassment of riches. The riches aren't in the form of high profile 1st round draft picks (at least not yet), but rather in multiple high level college players all battling for snaps.
Terrance Brooks and Gavin Holmes give Texas legitimate man-to-man coverage capabilities but they achieve it differently. Holmes is gazelle-footed, long, quick. Good lateral quickness and he can match a receiver's route. Brooks is a horsepower cornerback: powerful, bigger, straight line fast. He doesn't match the route, he DIRECTS the route. You saw that on what he did to Worthy on a 2nd half go route. Payback for Worthy using his superior quickness on him in the RPO game.
Ryan Watts was really good. Great tackle early in the run game and then laid a big lick on DeAndre Moore late going about 50% speed so he didn't hurt a teammate. He's just too big, sound, aggressive and athletic to keep him off of the field, even if some feel Brooks or Holmes may be better pure man-coverage guys.
Jahdae Barron had a non-contact jersey on. I don't know if he had any injury. More likely the staff knows he's the second least replaceable player on the entire defense and chose discretion over valor. Interesting on rewatch how frequently Barron was in on a big play, but pulled off due to his non-contact status.
Ian Boyd and I discussed the possibility of Texas playing a lot of dime coverage this year on the Everyone Gets A Trophy Spring Game Defensive Breakdown. I won't rehash why here, but if you want to understand the premise, give it a listen.
Final
I'm pretty confident that Texas will play good defense. Ultimate upside will be defined by offseason development, adding a key portal piece or two, the Catalon wildcard, and the defensive brain trust hitting the white board creatively to find ways to create pass rush with defensive line depth and a blitzing Anthony Hill (from several spots) while taking full advantage of four coverage assets in Watts, Holmes, Brooks and Barron who can attack the short and intermediate routes that so many Big 12 offenses live on.
The less conventionally Texas thinks through some of these challenges, the better this defense will be.
The post 2023 Texas Spring Game Postmortem: Defense appeared first on On3.