2024 4-Star C John Bol Hoping to Land Kentucky Offer: 'I Know I Will'
3 min read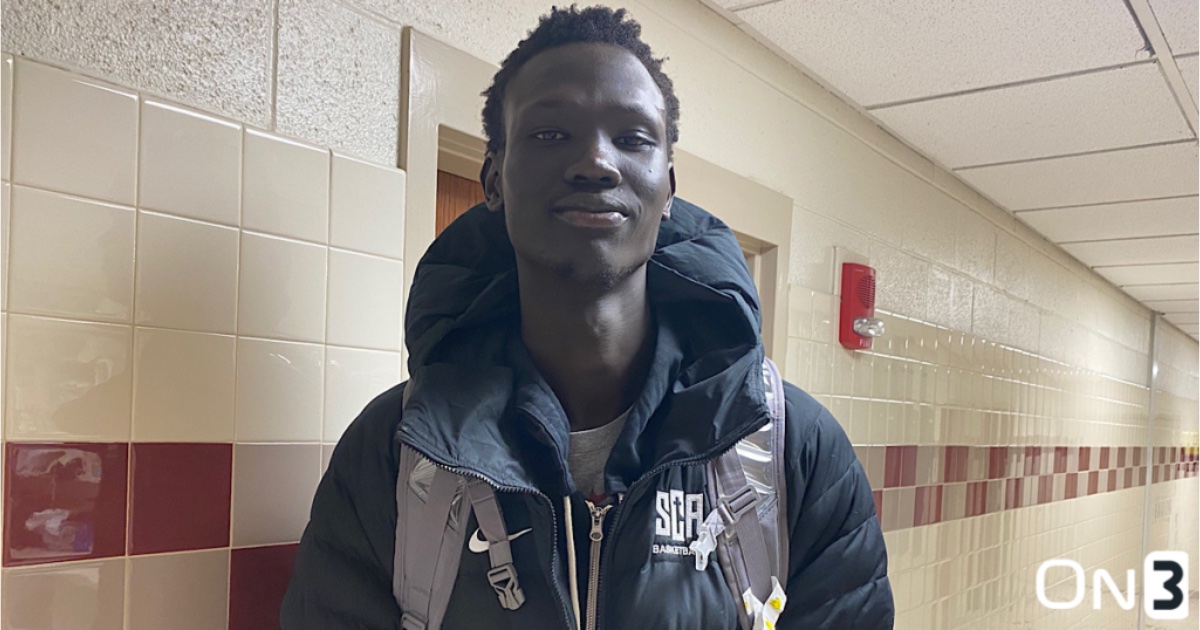 John Bol, a class of 2024 four-star center out of Kansas, is hoping that a Kentucky offer is coming.
The 7-foot-2, 190-pound center from Bel Aire (KS) Sunrise Christian told KSR+ that he is hearing from Kentucky assistant coach Orlando Antigua "almost every day." 
"Kentucky is a really, really good school," Bol said. "I love Coach O [Orlando Antigua]. He's a really good dude." 
And although Bol is yet to receive an offer from Kentucky, he's confident that it's coming.
"I'm hoping that I will get it and I know I will," he said. "I'm just really interested in Kentucky." 
For Bol, Kentucky's history is a key draw to the program. 
"A lot of guys playing in the league came from Kentucky," he said. "It's a big name, blue-blood. The history of Kentucky is huge. Them talking to me right now is actually a privilege. It means I'm doing something good on the floor. I'm actually happy they're talking to me." 
Given the program's success with sending players to the NBA, Bol believes he would be a good addition to the team. 
"The program has a lot of success sending players to the league, players like Anthony Davis and all the big dudes that went in and made it to the league," he said. "Like last season with Oscar Tshiebwe, I see myself fitting in there well because of how they play and run their offense." 
Bol is still unsure that he will be taking a visit to Kentucky, given his busy schedule ahead of him.
"I'm hoping that I will [visit]," he said. 
His Wider Recruitment
John Bol hosts a very active recruitment with the likes of Missouri, Michigan, Florida, Texas, and Texas Tech all on his trail. 
Bol has already taken visits to Missouri and Michigan with his next visit coming up very shortly. 
"I'm about to take another visit next week," he said. "I'm going to Florida." 
What does Bol think of the Gators? 
"It's a big school too," he said. "They play well. They weren't that good last year, but to go to the league, I need to put myself in positions where I can be elite. Florida is one of those schools because it's a big school, lot of appeal." 
As far as a commitment, Bol said he wants to make his decision this upcoming summer after Peach Jam. 
"I have to go to a school that has the best interest in me," he said. "For me to actually do that, I have to put myself in the position I can. I also want to go to a school that feels like a family. There's a lot of things that will play into it. It's not just basketball." 
John Bol's Game
John Bol is the No. 29 player in the 2024 On3 Industry Ranking, a complete and equally weighted industry-generated average that utilizes all four major recruiting companies. 
Standing at 7-foot-2, Bol is most well-known for his shot-blocking abilities, earning him 2022-23 Defensive Player of the Year honors with the NIBC.
"I'm a really, really good, elite shot blocker," he said. "What I'm good at right now is rim-running, getting the ball and finishing with both hands. I'm a good shot-blocker, a good teammate." 
Moving forward, Bol is looking to stretch out his game, including his shooting abilities. 
"One of the things I'm working on is to be able to pull up on a mid-range and shoot threes, knock down open threes, and make more reads," he said. 
The post 2024 4-Star C John Bol Hoping to Land Kentucky Offer: 'I Know I Will' appeared first on On3.