2024 Long Snapper Kaden Seller Recaps Kentucky Visit: 'It Was Great'
3 min read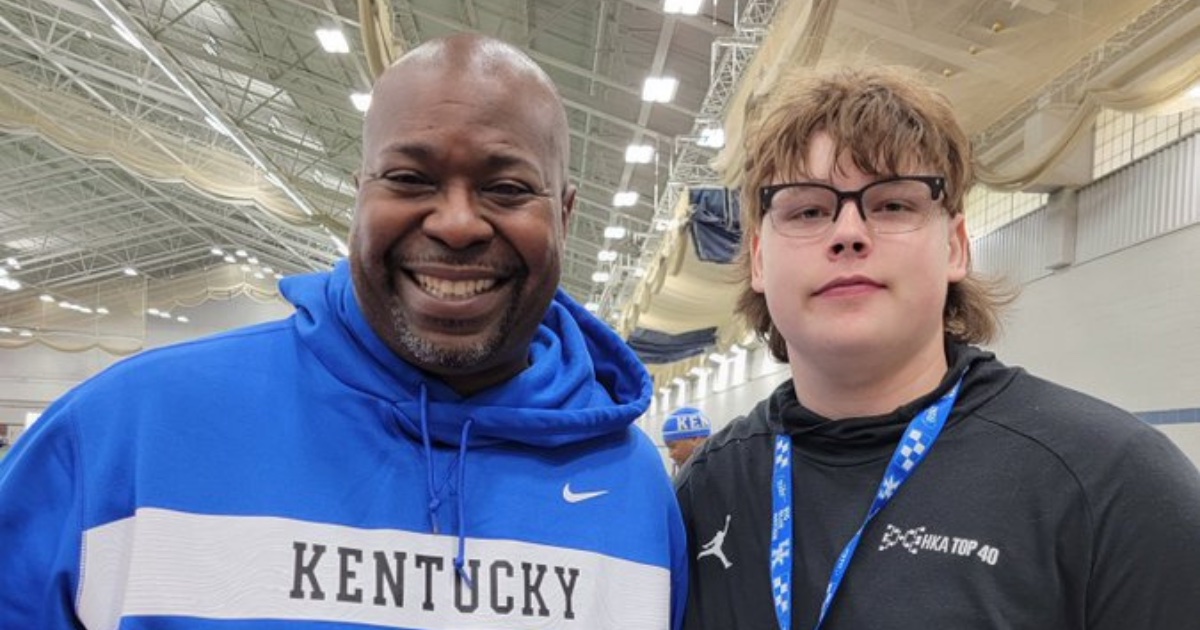 Kaden Seller, a 2024 special teams prospect out of Ohio, recently made his way to Kentucky for a visit, getting the opportunity to meet with several coaches. 
The 6-foot-3, 260-pound long snapper visited Kentucky on April 8 and told KSR+ that he had the opportunity to spend time with special teams coordinator Jay Boulware and special teams quality control coach Mike Priefer Jr. on his trip. 
"What appeals to me is that I feel like everybody loves each other," Seller said. "I feel like I'm a part of their team." 
Seller was also impressed by the effort of the team during practice. 
"Everybody seemed like they wanted to be there," he said. "Everybody seemed like they wanted to try hard. That's what appeals to me." 
During his visit, Seller got the chance to meet Kentucky's current long snapper Clay Perry. 
"He's a really cool guy," Seller said. "With the 2023s coming on and me, being a 2024, I feel like I'd fit in as a good long snapper. I fit the style there. With my size and athleticism, I feel like I really fit in with the kind of scheme they've got going down there." 
Seller also considers himself a "community-oriented" person, which makes Kentucky an appealing option. 
"I love being in an area where I feel like people care about you," he said. "When I talk about Kentucky, I feel like that's a big thing. A lot of people love Kentucky and people in Kentucky really love the school. That's huge. If I were to go to Kentucky, I would want people to know that I really care about the community." 
His Wider Recruitment
Kaden Seller is being recruited by several power five programs and has already taken some visits. 
Seller said he has visited Pittsburgh numerous times, as well as Cincinnati earlier this month. He is also hearing regularly from West Virginia. 
He said he's looking for a school with a family atmosphere. 
"I want a school that really cares about their players and isn't just sitting back, letting them do their own thing," Seller said. "I want a school that's really involved and really builds a family. I've been doing that right now at my school and that's a big thing for us – family and leadership." 
Kaden Seller's Game
Kaden Seller currently plays long snapper and center at the high school level but is likely to play long snapper at the next level. 
He considers his athleticism, in relation to his size, as a great strength. 
"I'm able to move pretty well," he said. "Other than athletic ability and all of that, it's my mental game. I feel like I have really strong mental toughness. If I line up against a guy, a big recruit, I wouldn't be the type of person to back down. Mental toughness is a big part of my game." 
Moving forward, Seller said he can improve on getting more athletic. 
"I would like to keep building on that," he said. "I want to get faster, get more mobile. That could just help anywhere. You can never be too good at one thing. Obviously, that and getting stronger, so I can get better as I transition into college football." 
The post 2024 Long Snapper Kaden Seller Recaps Kentucky Visit: 'It Was Great' appeared first on On3.