2025 4-star QB Cutter Boley announces commitment date
2 min read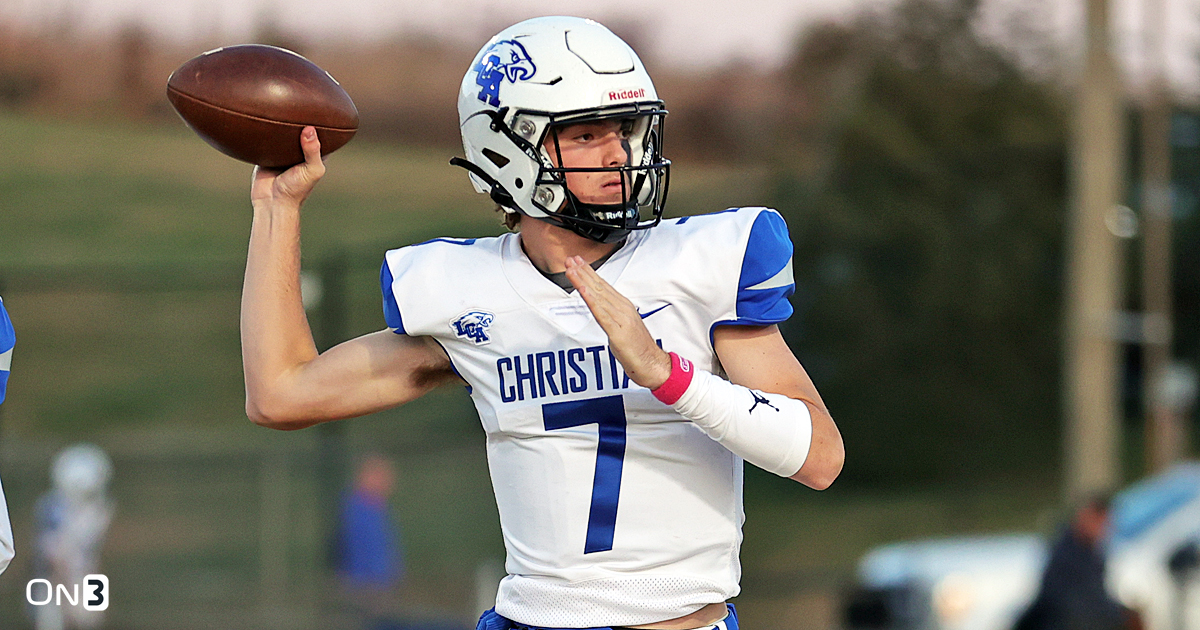 Hodgenville (Ky.) Lexington Christian Academy four-star quarterback Cutter Boley revealed his top 10 schools on May 12. He will be picking a college destination less than a week later.
Boley is announcing his commitment on May 18. His finalists are Alabama, Florida State, Kentucky, Miami, Michigan, Notre Dame, Oregon, Penn State, TCU and Tennessee.
"There's going to be a lot of things that go into (my decision)," Boley told KSR on April 27. "Scheme, people, and everything. I just want to make sure I'm going to make the right decision."
Boley is the No. 40 overall prospect and No. 3 quarterback in the 2025 cycle, according to the On3 Industry Ranking, a weighted average that utilizes all four major recruiting media companies. He is also the No. 1 player in Kentucky.
On3 rates Boley higher than other recruiting services, according to the Industry Comparison. Per the 2025 On300, he is the No. 30 overall prospect in the country.
Boley is looking at top programs in college football
The 6-foot-5, 200-pound signal-caller has visited some of his finalists this spring. They include Florida State (April 6), Michigan (March 26), Notre Dame (March 25), Kentucky (March 23 and March 11), Tennessee (March 21) and Penn State (March 18).
Boley is also taking an official visit to Kentucky on the weekend of June 10. Last month, KSR reported that the NCAA approved Boley's trip to the Wildcats because he has enough academic credits to be considered a junior in high school.
"It's just the culture there," Boley told On3's Chad Simmons on Jan. 25. "Everybody seems to love it. I'm in Lexington, I live in Lexington, so sometimes I'll see the players out at the mall or whatever it is. It's just cool being able to go right there beside me and be able to check stuff out while they're also recruiting me really hard. I just like going back cause of all the people there."
The four-star also enjoyed his trip to Knoxville two months ago.
"They were just telling me how much they like me as a player and a person," Boley told Matt Ray of Volquest on March 24. "They were talking to me about how great of a fit it would be for me, and they were just showing a lot of love toward me. Tennessee was one of the first schools I started talking to, so for them to be in my recruitment for this long really means a lot to me."
The post 2025 4-star QB Cutter Boley announces commitment date appeared first on On3.