2025 TE Nate Roberts breaks down Notre Dame visit
2 min read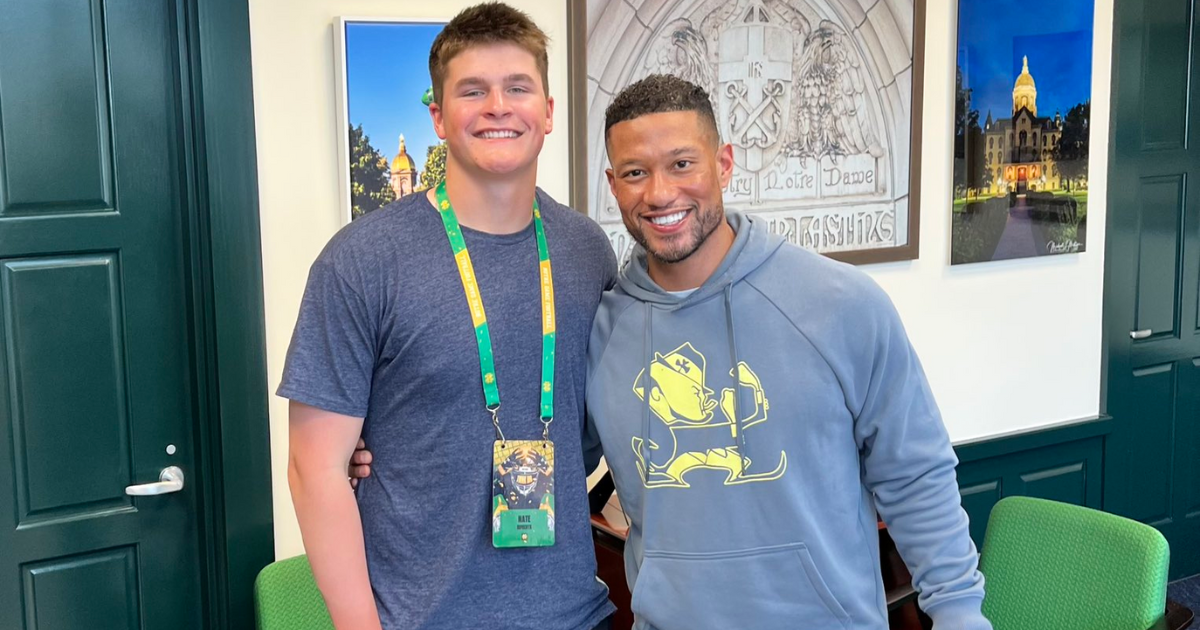 Washington (Okla.) High's Nate Roberts was a marquee visitor for Notre Dame over the weekend, as the impressive class of 2025 tight end prospect made his way to South Bend early on Friday to get a full-two experience on campus.
For his first day, he and his family went through a handful of meetings, which included learning more about the academics, sitting down with offensive coordinator Gerad Parker and head coach Marcus Freeman.
During the conversation with Parker, they discussed the first-year Irish offensive coordinator's journey to his current position, the offense he runs and how Roberts will fit in it.
"He's a very open guy," Roberts said of Parker. "He talks highly of me and my game. He was really happy I was able to make the trip. Coach Parker is genuine and down to earth. He's not a salesy guy like a lot of coaches can be. He's the real deal. I really like Coach Parker."
Notre Dame's practice was another highlight of the trip.
"That was really good," he said. "I liked the tempo of practice. I saw Coach Parker coach his guys, which I liked a lot. The tight end room was really good, and I think I'd fit in there."
Roberts raves about Notre Dame
The 6-4, 225-pounder gushed about his time in South Bend with Blue & Gold.
"The campus is the most beautiful campus I've ever seen," he said. "We got to see everything. It had that old-timed feel, but it all looks brand new. I'm in love with the campus. Notre Dame's campus just fits me well.
"I loved all of the coaches. They treated me like I'm already family. Coach [Marty] Biagi was our main guy; he showed us all around campus Friday. He's the best guy you can ask for. We've known him from North Texas [where Biagi previously coached and Roberts' older brother played].
"Coach [Gino] Guidugli, I love him. He recruited me when he was the tight ends coach at Wisconsin. He offered me there. He's another big part of my recruitment, and we have a really good relationship."
Biagi and Parker will make their way down to Oklahoma to see Roberts during the spring evaluation period, and Roberts is looking to make it back to South Bend in early June for the Irish Invasion camp.
And if all goes well between now and the early June visit, Roberts could potentially join the Irish's 2025 commitment list.
"If I like Notre Dame enough, then it might be the place for me," he said.
Oklahoma, Baylor, Penn State and Kentucky are among the schools on Roberts' offer sheet.
The post 2025 TE Nate Roberts breaks down Notre Dame visit appeared first on On3.