3 Things You Didn't Know About Kentucky Quarterback Devin Leary
3 min read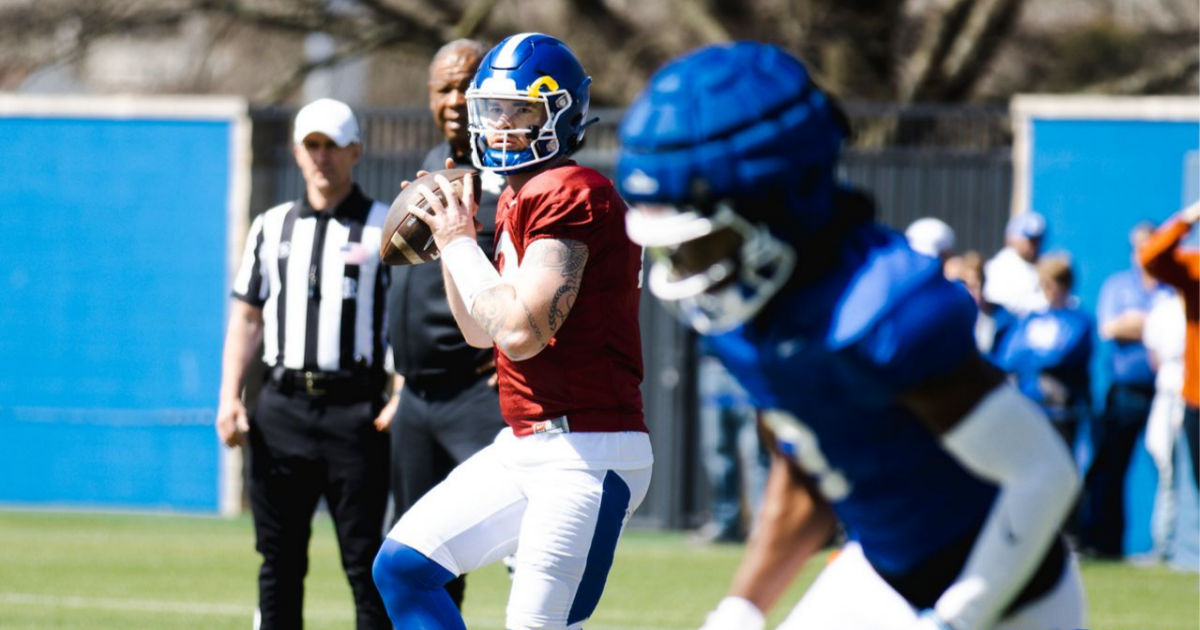 Devin Leary is good at throwing footballs. We knew that when he entered the transfer portal and committed to Kentucky. It was quickly confirmed during multiple open spring practices.
Here at Kentucky Sports Radio we have written at least 37 articles about the quarterback. I thought I knew everything I needed to know about Devin Leary until the start of fall camp. That's when friend of the program, Connor O'Gara, threw us a curveball. The Saturday Down South columnist shared a few things from his recent podcast with Leary that were enlightening. Allow me.
Devin Leary has a Younger Brother Playing Power 5 Football
Playing quarterback at the Power Five level is the Leary Family Business. Donovan Leary was a three-star talent and a top 25 recruit from the state of New Jersey when he signed with Illinois in the class of 2022. He redshirted during his true freshman season as the Fighting Illini went 8-5 for Bret Bielema.
Devin Leary takes his role as big brother seriously. It's one of the many reasons why he was so determined to overcome injuries and return to football.
"What motivated me was, if I could get through this and overcome all this adversity, I'm just gonna prepare him this much more, to give him feedback and let him know what I've been through," Leary told O'Gara. "I just want to let him know, this is what comes with the sport, this is what comes with the position. You've got to embrace it."
Devin Leary is Ambidextrous
Leary's other brother is the reason why he throws a football with his right hand. Devin writes with his left hand. When it came time to play sports, there wasn't a left-handed glove lying around the Leary household. He picked up Andrew's baseball glove and learned how to throw with his right hand. That's human ingenuity at its best.
The Offseason Pec Surgery was Low-Key Scary
Devin Leary has everything you want in a quarterback, with one glaring red flag: he's suffered multiple season-ending injuries. It's been well-documented, particularly the torn pec he suffered last fall. We knew it was a serious setback, albeit one he overcame in time to participate in Kentucky spring practice. What we didn't know was the severity of the injury and the potential risks involved when he agreed to undergo surgery with Dr. James Andrews.
"The first thing I hear is '(Andrews) has never done a pec surgery on a quarterback before,'" Leary said on The Saturday Down South Podcast. "They told me, 'He's never done this before and he's honestly not sure when I'd be able to throw again and if I'm even gonna be able to throw again the way that I used to.' Immediately, my heart just sank."
It's not just that Andrews had never done the surgery. After doing his research, Devin Leary couldn't find any surgeon that had repaired a torn pec muscle of a quarterback's throwing arm. It was a risk, one he feared may end his career, but it paid off.
"Here I am today just throwing the ball like nothing ever happened," DEvin Leary said.
The post 3 Things You Didn't Know About Kentucky Quarterback Devin Leary appeared first on On3.