3&Out: Three developments we learned about Michigan State's offensive line during Tuesday's briefing
4 min read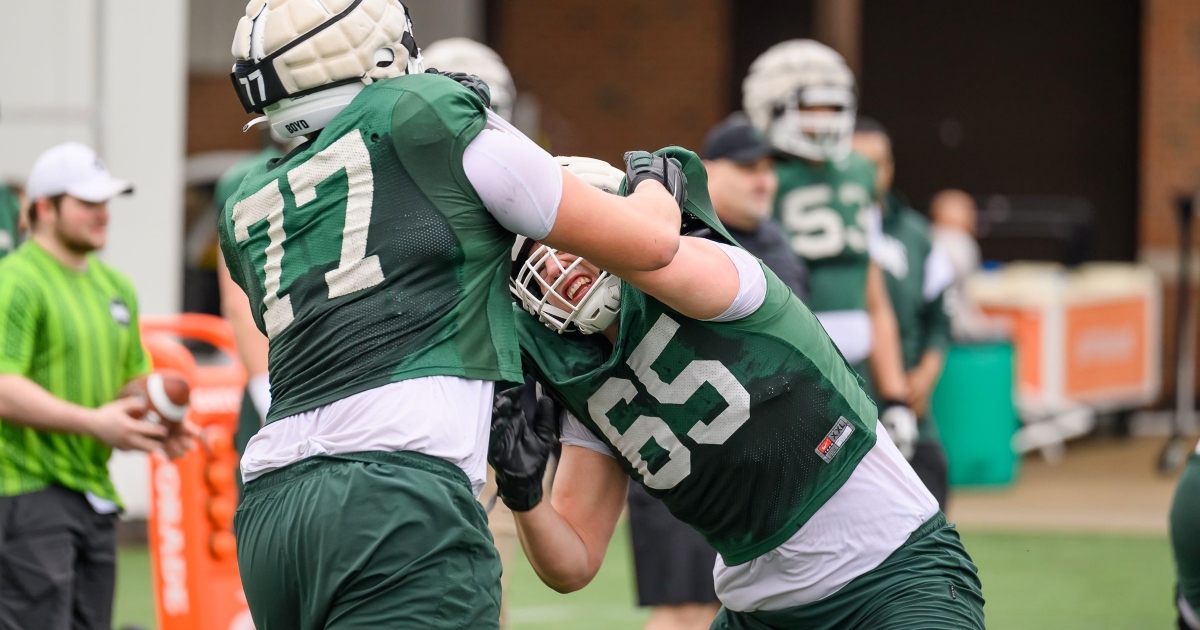 East Lansing, Mich. – With Michigan State getting into the last week and a half of its spring football season, the luxury of depth and experience along the offensive line is leading to moves that could create further versatility.
That development is among three things we learned from Tuesday's press briefing with offensive line coach and run game coordinator Chris Kapilovic:
1. JD DUPLAIN AND NICK SAMAC ARE FLIP-FLOPPING
On Tuesday, JD Duplain, a fifth-year senior, repped at center for the first time all spring, and the first time in ages. Duplain (6-4, 300, Strongsville, Ohio) has started 35 game at left guard in the last four seasons, including all 25 games in the last two seasons.
He knows the left guard position, to the max. He's feeling good. So Kapilovic made the call to move Duplain to center, and flop Nick Samac from center to guard. Samac (6-4, 300, Mentor, Ohio) has started 22 games at center. 
Kapilovic said the moves were to create more depth through versatility, and also to service Samac and Duplain's pro marketability by stretching their ability to play all three interior positions. 
Perhaps most importantly, the moves create options in case of injury. For instance, if Samac went down, would second-string center Dallas Fincher automatically get the call to go in? Or does Michigan State have a better option of sliding Duplain to center and bringing a guard off the bench like Kevin Wigenton?
And if Duplain were to go down, would Michigan State be better off sliding Samac to guard to replace Duplain and bring Fincher in at center, rather than automatically elevating second-string left guard Wigenton into the top group?
Those are questions and scenarios fit for April experimentations.
"For a guy like JD, if we get in a situation where we need somebody, he's ready to go," Kapilovic said. "And for his future, I think being able to play center is a huge plus. The same thing with Nick. Moving him to guard for some work helps his marketability."
Kapilovic said more moves could come, but did not specify.
"It's something we had talked about before," Kapilovic said. "The next five practices we have left, I'm going to move some guys around. We were pretty stable in the first six, seven, eight practices, just making sure everybody understood the install and knew what they were doing. So now I'm moving some guys around just to build depth.
"It's about getting your five best guys out there," Kapilovic added. "Who knows? If that back-up center becomes one of the top five guys, then you could move him in and you could move Nick to guard. It's creating competition. It's creating experience at different positions and it just helps the overall depth."
2. MICHIGAN STATE'S ROOKIES LOOK GOOD
Kapilovic had strong compliments for true freshman mid-year enrollees Stanton Ramil (6-7, 310, Alabaster, Ala.) and Cole Dellinger (6-4, 290, Clarkston, Mich.).
Ramil has been repping at tackle and Dellinger at guard.
Meanwhile junior college transfer Keyshawn Blackstock has been focusing on left tackle, where he is a back-up to Brandon Baldwin but getting in position to push for that job in the fall. 
Blackstock came to Michigan State with the planned versatilty of being able to play tackle or guard. But he's repping only at tackle this spring as Kapilovic tries to soak him with knowledge at one position.
"He is doing a good job," Kapilovic said of Blackstock. "It's a transition. He's doing a good job with it. When we first got him he had a few nagging injuries from juco that we have been rehabbing. Not he is really starting to progress. 
"You can see his athleticism out there. He is starting to comprehend the offense a little bit so I expect him to take off here in his last couple of weeks. He will make huge strides over the summer, with the strength staff and just understanding what we're doing getting into fall camp.
"With him, Ramil and Dellinger, I was thinking back. I don't know that I've had three kids come in at mid-year and be as good as those three have been, as far as just understanding what to do. 
"With those two freshmen, it's pretty impressive. They don't miss a beat. They understand everything. They understand the scheme and the techniques that we're doing and they are effective in there. That's been – I don't know if I want to say it's a surprise – but it is (a surprise) to see the kids get in there and do what they're doing. I'm pleased with that."
3. COMPETITION IS STRONG (FOR A CHANGE) AT O-TACKLE
Baldwin and Blackstock are competing for first-string status at left tackle. Baldwin has been regarded as a high-ceiling athlete since arriving from junior college two years ago. Blackstock is similar, but a little more rugged. 
At right tackle, Spencer Brown is the incumbent, and a functional one at that. But massive redshirt-sophomore Ethan Boyd (6-7, 325, East Lansing) has closed ground.
"We have some competition, and that's a plus," Kapilovic said. "We haven't had a lot of competition at tackle since I've been here. We had a little bit (in 2021). Having the possibility of four or five guys that can play tackle will be big for us."
The post 3&Out: Three developments we learned about Michigan State's offensive line during Tuesday's briefing appeared first on On3.