4-star '24 TE Dylan Mesman visiting Kentucky this weekend
3 min read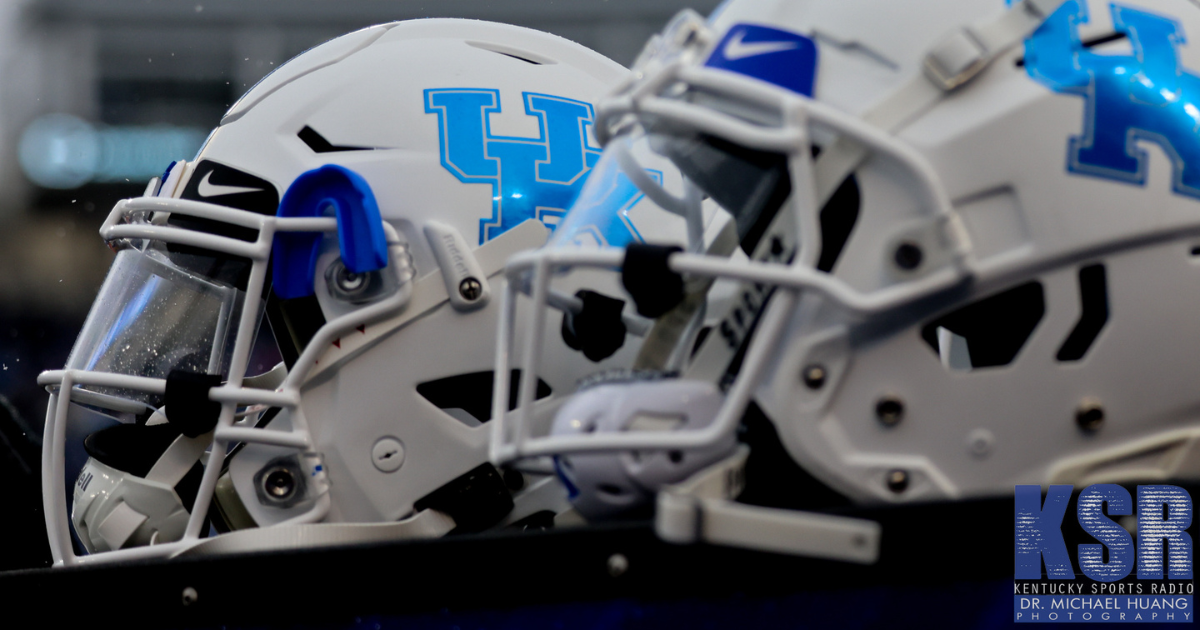 Dylan Mesman is beginning to wind down his recruitment.
The 6-foot-5, 230-pound tight end out of Saline, MI expects to announce his college decision on April 28, just a few weeks away. But before he makes the final call, he has some last-minute trips to take. Mesman, who is considered a four-star prospect (No. 361 overall) from the class of 2024, will trim his list from the Top 10 he dropped in January down to just five or six in the runup to his commitment. Between now and then, he plans to visit all of his finalists.
Kentucky will be one of them. Mesman tells KSR that he'll be in Lexington on Friday, April 14 to check out spring practice. Louisville will also receive a visit from him the following day.
This will be Mesman's third trip to Kentucky during his recruitment, the first coming back in the fall when UK took on South Carolina at Kroger Field and the second in January for the program's annual Junior Day. Associate head coach Vince Marrow, who also serves as Kentucky's tight ends coach, along with quality control assistant CJ Conrad, have been making Mesman feel like a priority.
"I've been talking with Coach Marrow mostly, and the assistant tight ends coach (Conrad)," Mesman told KSR. "I've been talking to them like every day, every week, we've always been staying in touch.
"Coach Marrow and Coach Conrad, they really make me feel at home. They were super welcoming to me, even with all the people that was there (for Junior Day). There was hundreds of people there and they still made me feel individually welcome. I super appreciated that."
Marrow, in particular, has been making a major impression on Mesman throughout the recruiting process. Marrow extended an offer back in Sept. 2022 and the two sides have remained in constant contact ever since.
"He's definitely made his mark on me," Mesman said of Marrow. "True professionalism while being a comedic guy. He's really fun to be around, you can see why people are gravitated to him, kinda like Khamari Anderson and players like that. You can definitely see how they're very connected with him, and I feel connected with him too. I think he's a great individual."
Mesman, who plays up in Michigan at Saline High School, mentioned Anderson, a freshman tight end for the 'Cats who was also a four-star recruit out of Michigan, as someone he's looked up to lately.
Speaking of the state of Michigan, Mesman is being heavily recruited by the nearby Michigan State Spartans. Both of Mesman's parents suited up for MSU back in their college days (mom played basketball, dad played football) and he lives about an hour away from campus. Throughout his recruitment, he's visited the Spartans' campus roughly six times. Because of this, Michigan State is the perceived leader in the race for his commitment (On3's Recruiting Prediction Machine puts MSU's chances at 98 percent), but it's hardly cut and dry.
Mesman insists his recruitment is still open, which is one of the reasons why he intends to take so many visits over the next few weeks. While he understands where the predictions are coming from due to all of his connections to Michigan State, other schools, particularly Kentucky, are in serious contention. In the end, it'll come down to which set of coaches he feels has the closest relationship with him.
"I believe the deciding factor is the coaches," Mesman added. "If I am able to talk to them like I'm able to talk to one of my friends or my family, I feel like that's the fit for me. Because I'm gonna be with them every day for the next four, five years. So I want to make sure that the people around me are my family."
The post 4-star '24 TE Dylan Mesman visiting Kentucky this weekend appeared first on On3.