4-star ATH Aaron Butler moving closer to his commitment
3 min read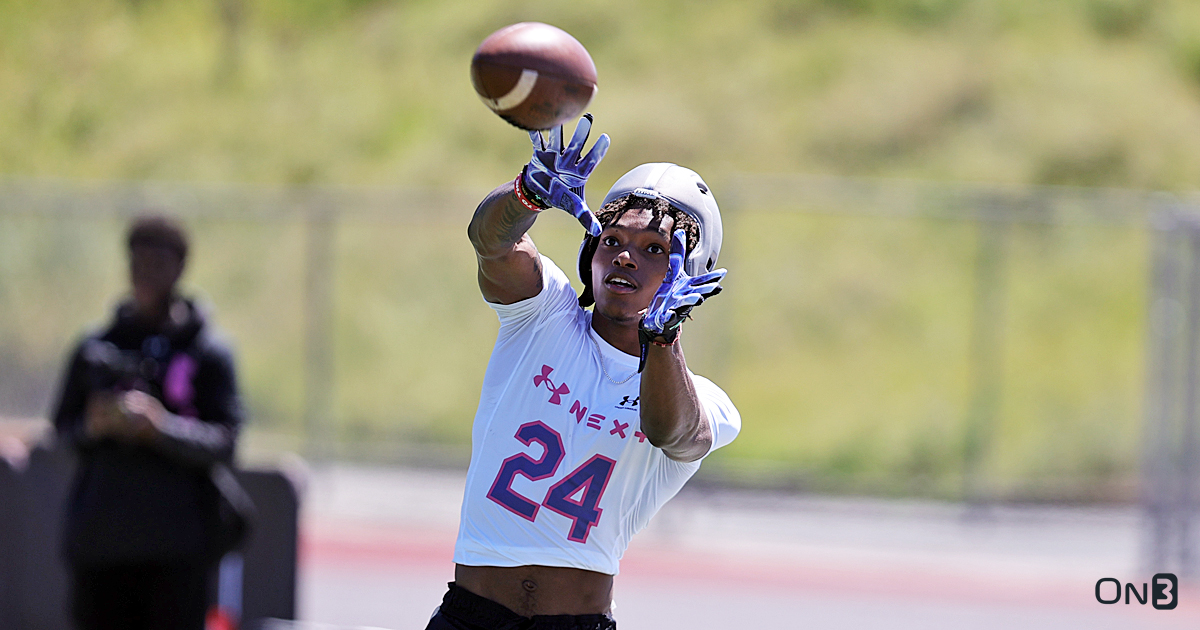 Calabasas (Calif.) four-star athlete Aaron Butler originally planned to commit on his birthday in July, then moved a decision up to April. Now, he does not have a date set because he wants to "make sure every box is checked for me."
However, Butler has also scheduled multiple visits. He will be taking an unofficial to Oregon on April 6-8, an official to Georgia on the weekend of April 15 and an official to Colorado on the weekend of April 22.
"I am going to spend the weekend up there and get to meet coach (Will) Stein and hang out with coach (Junior) Adams and coach (Dan) Lanning," Butler told On3 about his trips to the Ducks. "Coach Lanning was at my school to check on me in January and I know he really wants me… Oregon is recruiting me hard and I want to really see what they are all about on this next visit."
The three aforementioned programs made Butler's top five, along with Alabama and Washington. At the moment, Butler is planning to officially visit the Crimson Tide in late April or May.
Regarding Georgia, the 5-foot-11.5, 165-pound recruit is excited to meet new offensive coordinator Mike Bobo. He took over for Todd Monken this offseason.
"I want to see what coach Bobo is about, what type of offense he is running and see how I could be featured in it," said Butler, the No. 81 overall prospect and No. 5 athlete in the 2024 On3 Industry Ranking. "I know Georgia has great players and my interest in them is still very high."
One of Butler's most recent visits was to Colorado on the weekend of March 18. He spent time with quarterback Shedeur Sanders while in Boulder.
"Coach Prime (Deion Sanders) has put a lot of eyes on Colorado and I saw that myself on my visit," Butler said. "It was new energy and I want to get back. Coach (Sean) Lewis is big for me too. I am his top guy. He says I am the missing piece for his offense. I know he wants me. I saw the team practice last time, I spent some time with the coaches and I got to see what the life for Shedeur was like.
"Coach Prime has changed the whole mentality out there. Now I want to see the spring game, see how the team competes and Colorado is moving up. People are in love with Deion and what he is doing. He has changed that culture."
Butler discusses his interest in Alabama and Arizona
At Alabama, Butler speaks with wide receivers coach Holmon Wiggins. He is also confident in new Crimson Tide offensive coordinator Tommy Rees.
"I didn't know what to think about that move at first, but Alabama is going to be Alabama," Butler said. "They have shown they will throw the ball, get their best players the ball and feature guys like me. I know Jermaine Burton well and I have been talking to him a lot. He is loving the offense and he says good things about coach Rees."
Even though Arizona did not make Butler's top five, the Wildcats are "coming on hard" in his recruitment. The four-star last visited Tucson in 2021 and hopes to get back there soon.
"They throw the ball and get the ball to their playmakers," Butler said. "They had two receivers go over 1,000 yards last season and that stands out to me. I want to go play where they throw the ball, feature their guys and get them big numbers. Coach (Jedd) Fisch runs a great offense. I have been talking with them a lot more, they want to get me on campus and I am thinking about taking an official visit out there too. They are making a real push."
The post 4-star ATH Aaron Butler moving closer to his commitment appeared first on On3.