4-star ATH Boo Carter knows four schools will get official visits
3 min read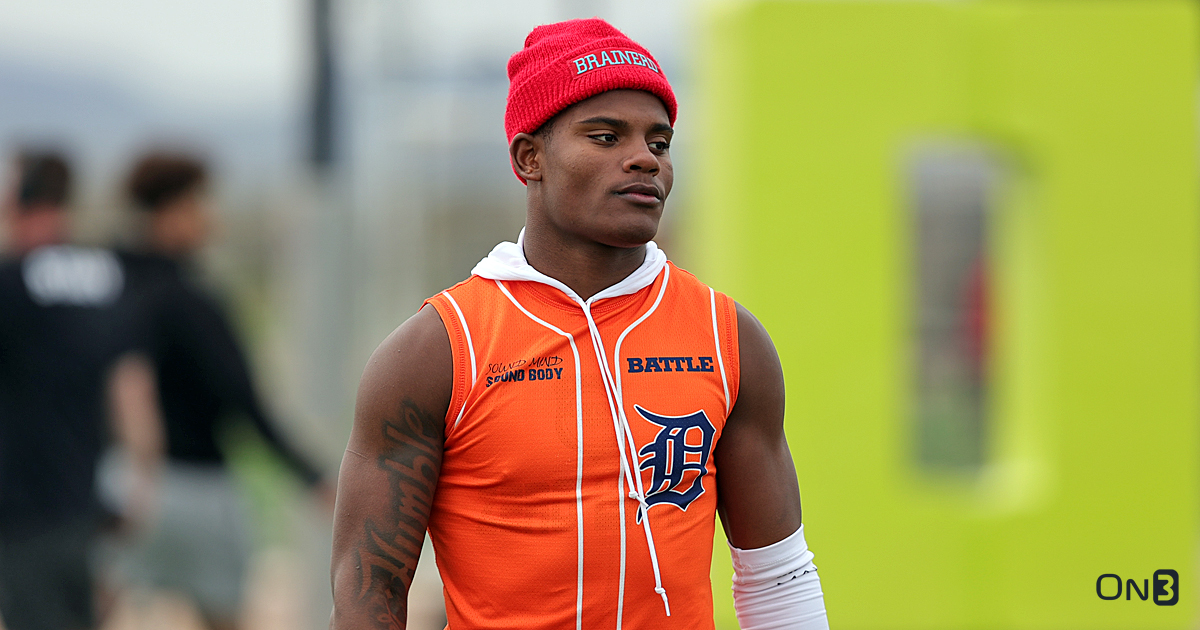 Chattanooga (Tenn.) Brainerd four-star athlete Boo Carter is in the midst of a busy spring between 7-on-7 and college campus visits.
He was in Phoenix last weekend for Overtime's OT7 West Regional, and he took visits to both Miami and Tennessee in the past few months. That's in addition to playing basketball for his high school team, which just ended on Friday.
Now, he's turning his attention to recruiting, where he has a couple unofficial visits on his mind.
"My next visit is to Tennessee. I will be back on March 25," he told On3. "I may get to Michigan on March 21, but that is not 100% yet."
Carter has official visit locked in with Ohio State
In addition to his unofficials, Carter has secured his first official visit with Ohio State on the weekend of June 18. The Buckeyes like the dynamic playmaker as a running back at the next level.
"I have a great relationship with the staff," Carter said. "They are always showing love to me and my family. Tony Alford is my main coach and he bonds with me, my family and with my coach.
… Ohio State wants me at running back, and Coach Alford is a great coach and a great guy, too. We talk every week, we're very straight up with each other, and I like him a lot.
Three other schools set to get official visits
Carter added that he knows Michigan, Oregon and Tennessee are going to get official visits, too. There are no dates set yet, but he wants to see all three of those programs. As for the fifth official, Carter says Miami is making a strong push, but other schools are still in the mix.
"Miami is probably the school that would get that fifth official visit right now," he added. "That is not set yet though. Other schools are in the mix. I was down at Miami in January and they hare making a big move. They are coming hard and I am hearing from Demarcus Van Dyke a lot. I want to get back this spring."
Carter also broke down what each of the other three programs in line for officials bring to the table:
Michigan: "Me and Coach Clinkscale have a tight bond. Clink has been with me from day one, and I like how he coaches and how he operates. He will coach me hard and he is not scared to play freshmen. I also know players going there, and we can make great chemistry. I was there for the Michigan State game and I want to get back soon."
Oregon: "I haven't been there yet, but it is a place I am interested in. I talk to Coach Meat (Demetrice Martin) a lot, and we have a great connection. I also know his son, too. Cole Martin just signed with Oregon and we have that connection as well. We talk and text a lot, and it would be cool to play with him. Coach Meat been on me since he offered me. And Jordan Anderson, one of their wide receiver commit, talks to me a lot, too. Me and him are cool; he wants me there."
Tennessee: "They're coming really hard; the in-state school wants me bad. The staff shows love, Tennessee's fan base is crazy and it is a place I could stay home and play at. I hear a lot from them, and they move differently than the other schools. It is just different how they recruit me; the staff treats me like I am their guy and they want me. It is the whole staff — Willie Martinez is where it starts, but Tim Banks, Coach Pope, Coach Heupel, they are all coming for me."
The post 4-star ATH Boo Carter knows four schools will get official visits appeared first on On3.