4-star EDGE Jordan Ross locks in three official visits, knows a fourth school that will get one
4 min read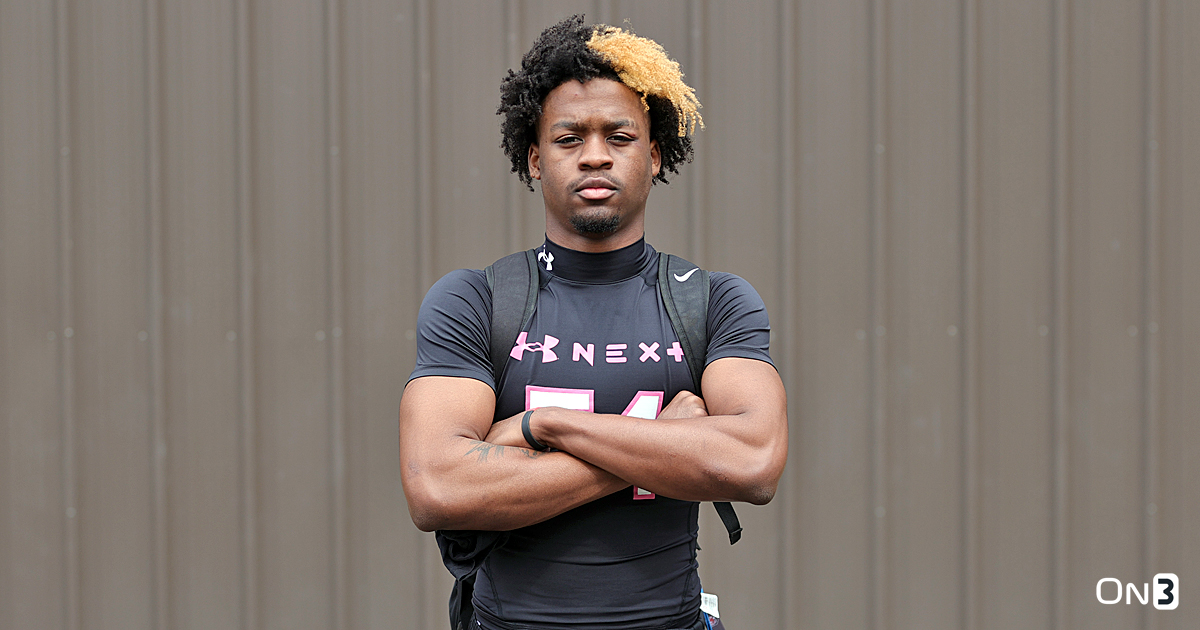 Birmingham (Ala.) Vestavia Hills four-star EDGE Jordan Ross may commit before his senior season. As a result, he is in the process of setting official visits.
Ross has already finalized officials to Georgia (June 9-11), Texas (June 17-19) and Tennessee (June 23-25). The 6-foot-5, 215-pound pass rusher also knows that Florida will get an official visit from him.
"I just feel like I should find the best place that fits me," Ross told On3. "I want to find a new home."
Ross will be at Tennessee this weekend before going to spring games at Alabama (April 22) and Oregon (April 29). LSU, who Ross visited on April 1, and the Ducks are two other programs under consideration.
While the Crimson Tide and Auburn are hoping to keep Ross home for his college football career, the four-star is planning on leaving the state. That is epitomized by his official visit plans.
"I want to start something different," said Ross, the No. 37 overall prospect and No. 5 EDGE in the 2024 On3 Industry Ranking. "I feel like I've been in Alabama too long, I feel like it might be time to get out. I will see how it goes with these visits."
Georgia and Florida have impressed Ross on multiple fronts
Ross last visited Georgia on March 25. He wants to return to Athens largely because of the coaching staff.
Both head coach Kirby Smart and outside linebackers coach Chidera Uzo-Diribe are making Ross a priority. He likes how Smart wants to bring out the best in his players.
"Coach Kirby knows what he's talking about," Ross said. "He's a pretty humble guy when he's speaking about winning back-to-back national championships. He was telling me how it's a great place. He doesn't really tell me, 'Oh, you should come to Georgia.' He said, 'Pick the best place that's for you and that can build you into a man and into a player.'"
When watching spring practice, Ross noticed Smart's energy and willingness to correct players' mistakes. The Alabama native also got a firsthand look at the Bulldogs' defensive talent.
Georgia has churned out multiple first rounders over the past few seasons, including Travon Walker, the No. 1 overall pick in the 2022 NFL Draft. Ross is well aware of that impressive trend.
"They're a great development program," Ross said. "They developed Nolan Smith and he became a dawg."
Meanwhile, Florida is also in heavy pursuit of Ross. The Gators communicate daily with the four-star, who at one point was not interested in visiting the Gators.
However, Ross' perception of the program changed during an "amazing" trip to Gainesville on April 6. He not only learned about Florida's depth chart and program, but also its campus and what the Gators offer off the field.
"The academics there are really good and for what I want to go to college for — business and sports communication — they have a perfect program for that," Ross said. "The coach at my position is Mike Peterson, so that's even better. He has more experience college-wise."
Ross has noticed the success of Tennessee and Texas
Ross communicates with multiple Tennessee staffers, including head coach Josh Heupel and defensive line coach Rodney Garner. The Volunteers' head man is a key reason for his interest in the program.
"He's a great coach," Ross said. "He knows how to make it feel like home to recruits and he does a great job talking to you. He keeps connecting with you to build a great relationship. Also, the players seem like they have a great relationship with the whole coaching staff."
Ross has yet to experience a game day at Neyland Stadium, which is something of great interest to him. However, he saw a Tennessee basketball game during his last trip to Knoxville on Jan. 14.
Since the Alabama native is returning to the Volunteers before his official visit, he has an idea of what he wants to learn more about.
"I'm just really trying to see what they have with their academics and their campus," Ross said. "I also want to see what their depth chart is at my position."
Texas took a different recruiting approach with Ross. The Longhorns only offered him a few months ago, and did not show serious interest in him until he wanted to visit Austin.
Since then, Texas has pulled a full-180 and been pushing hard for the four-star. Ross currently speaks most with defensive coordinator/inside linebackers coach Pete Kwiatkowski.
"The city and the state are beautiful," Ross said. "Texas is a beautiful place. I am excited to see it and see how they develop players. It will be my first time there. I've seen one of the players, Justice Finkley, play. I think he was playing as a sophomore. I was on the phone with the coaches and they were telling me he's experienced. He knew what he was doing."
The post 4-star EDGE Jordan Ross locks in three official visits, knows a fourth school that will get one appeared first on On3.