4-star OL Chauncey Gooden being recruited by Auburn QB signee Hank Brown
3 min read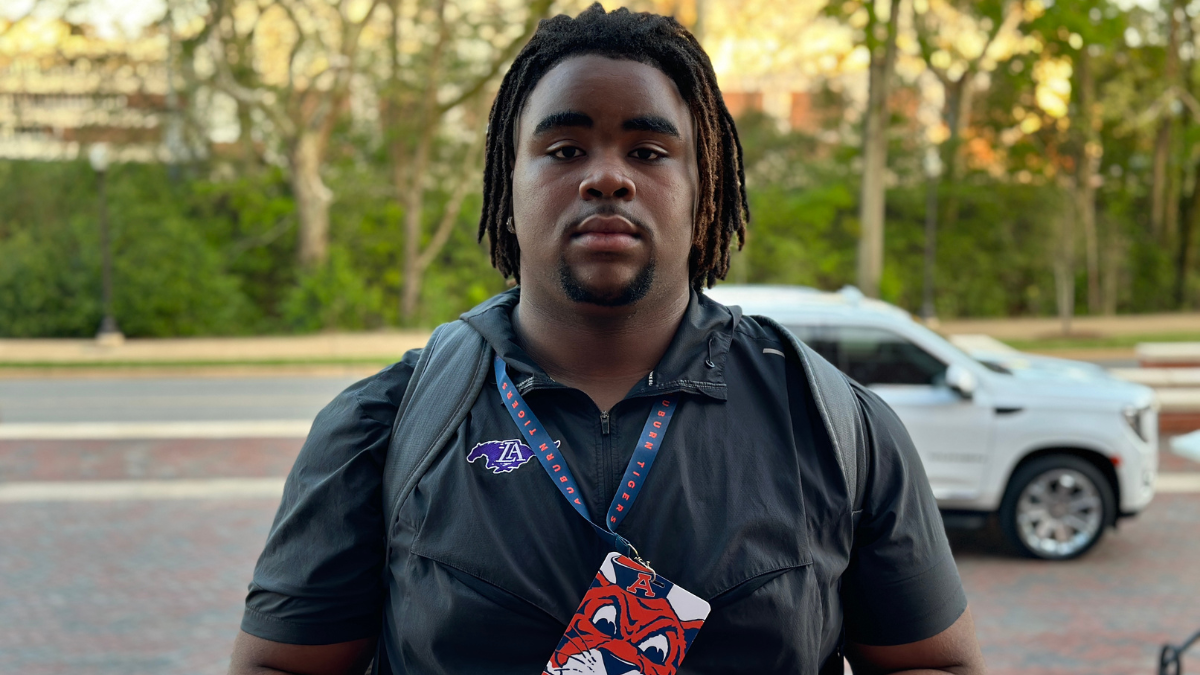 AUBURN – Auburn hosted another top offensive lineman on campus Monday. Chauncey Gooden, a 2025 offensive lineman from Nashville (Tenn.) Lipscomb Academy, made the trip with his 4-star teammate (4-star Tennessee DB commit Kaleb Beasley) and Tigers' quarterback signee Hank Brown.
Gooden is already ranked as the No. 102 overall prospect in the nation for the class of 2025 according to the On3 Industry Rankings. He is also the No. 3 best interior offensive lineman and the No. 5 player in the state of Tennessee for his class.
Along with the Tigers, Georgia, South Carolina, Clemson and of course in-state Tennessee are some schools standing out early on for Gooden.
Knowing that his former teammate, and quarterback, is headed to Auburn is a big deal for Gooden.
"You know, Hank, that's my boy," Gooden said. "He's been telling me this is the place I should be. I love it because Hank is a great quarterback. I didn't let him get touched all year of course. He threw dimes, he won us games so I really enjoyed him for that."
Second trip to Auburn was 'amazing'
Gooden enjoyed his first full trip to Auburn. He spent a good bit of time at practice watching offensive line coach Jake Thornton in action.
"Oh it was amazing," Gooden said. "You know, I got to chop it up with all of the coaches, got to talk to Coach (Jake) Thornton for a long time. He was just telling me how much he wants me here. He told me things they need to work on, things I need to work on."
Thornton's coaching style stood out to the talented offensive lineman.
"I really liked the way that he coaches and the passion he has for his players," Gooden said. "Just the way he shows love. He shows like a different type of love. He's not really going to cuss, he just isn't going to yell at you for no reason. If he does, you just need to lock in and do what you need to do."
Another highlight was talking to Auburn head coach Hugh Freeze.
"I got to talk to Coach Freeze, he was just telling me his pitch: he needs this class," Gooden said. "He got here late for the 2023 class, but he's really trying to make something happen for the 24′ and 25′ classes. They were really telling me this is big time and this is a great environment and they really want me here."
'They had everything I wanted'
Gooden was at Auburn for a game earlier in the 2022 season.
"This was actually my second time," Gooden said. "I visited this past season for the Texas A&M game. That was a good time."
The facilities met his expectations.
"This was the first time I've seen the new facilities, they were great," Gooden said. "I mean big, nice, pretty, they had everything I wanted."
Auburn made a strong impression on Gooden, no doubt.
"Oh, they're definitely up there," Gooden said. "I had a fantastic visit today, I really enjoyed it. I could definitely see me and Auburn having a good future."
The post 4-star OL Chauncey Gooden being recruited by Auburn QB signee Hank Brown appeared first on On3.