4-star S Jason Mitchell talks visit plans, commitment date
4 min read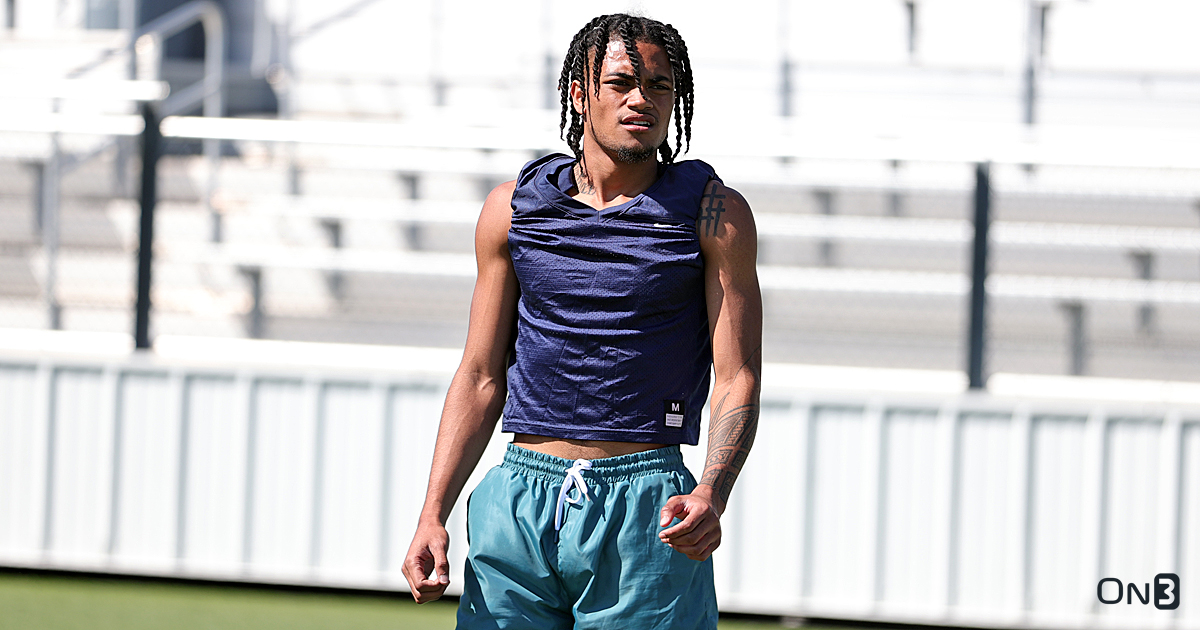 Jason Mitchell has had a very busy month of March. And he doesn't plan to slow down in April. Since recruits were allowed to take visits again starting March 1, the four-star safety out of Bellflower (Calif.) St. John Bosco has been busy on the road. Mitchell has visited LSU, Ohio State, Penn State, Pittsburgh, Texas, Texas A&M, UCLA, USC and Washington.
April starts in a couple of days and he is already scheduled to be at Tennessee this weekend. Mitchell is planning to be at Georgia, Miami and Oregon for spring games next month as well.
These visits will help the No. 226 prospect in the On3 Industry Ranking push toward a decision. He set a commitment date for Sept. 16 and it will be a special setting he announces that decision.
"We are playing in Hawaii that day," Mitchell told On3. "It will be a big day for me and my family. We play against Kahuku and I have family out there. Not many know, but I have a lot of family in Hawaii, so it will mean a lot to commit with a lot of my friends and family around.
"My plan right now is to commit at halftime of that game. The details are still being worked out, but I plan to commit on Sept. 16 in Hawaii."
Between now and then, Mitchell will trim his list of schools. The first cut could come in April, but likely in May. Mitchell will start with 10, then work his way down to one from there.
"I am hoping to cut my list down as soon as possible. With more visits coming up, I should have an idea when I get done with those. After these unofficial visits, I will know who really wants me and how I feel about a lot of different schools. My goal is to be down to 10 schools this spring. I know I am getting there."
Mitchell is high on LSU, Oregon and USC
There are no locks to be on that list of schools yet according to Mitchell, but LSU, Oregon and USC are very close to it. He was in Baton Rouge a few weeks ago for the first time and loved it. Oregon has hosted him a couple of times already and he will return to Eugene in April. His father played at USC, so the Trojans are going nowhere.
"Nothing is for sure yet for top schools and no dates are set for official visits, but I think my skin could look really good in LSU, Oregon or USC uniforms," Mitchell said. "I am really liking those three schools and I would say they are likely to get official visits from me. When I talk about schools, those three just really sound good to me."
Mitchell called USC a "no-brainer" for him.
"I mean, come on, my father played there. Nothing else has to be said. I have been there multiple times, I grew up a huge fan and it was my dream school. There is really nothing more to it. It is USC. My father played there."
Oregon started recruiting Mitchell early on. The new staff has come on strong and made the No. 22 safety in the country feel like a priority.
"Oregon is a top school and I have always had an interest in them. Every time I am there, it feels great. I am ready to get back for the spring game. Their coaches are real, the vibe is strong and I just enjoy it up there."
LSU is a little different. It is not on the west coast. It is an SEC program. LSU is farther from home, but Mitchell has a real interest in the Tigers.
"LSU is a school I have always watched. It is DBU. It is that simple. They always produce top defensive backs. I was there a few weeks ago and I had a great time. I want to get my family out there with me next time. The coaches, the atmosphere and the players at LSU make them stand out. LSU is different."
Mitchell's final decision will come after five official visits
Even though Mitchell is committing in September, he is not expected to stop visiting schools at that time. He is going to make sure he gets it right when all is said and done.
"Even if I commit first, I will take all five of my official visits," Mitchell said. "I will probably take a couple before I commit, then the rest afterward. I am still figuring that out.
"This is a lifetime decision, so I plan to commit on Sept. 16, then still take other official visits after that. I am not sure 100% when I will take the official visits."
The post 4-star S Jason Mitchell talks visit plans, commitment date appeared first on On3.