4-star TE Kylan Fox excited for Miami Hurricanes visit following months-long contact with Jacurri Brown, coaching staff
3 min read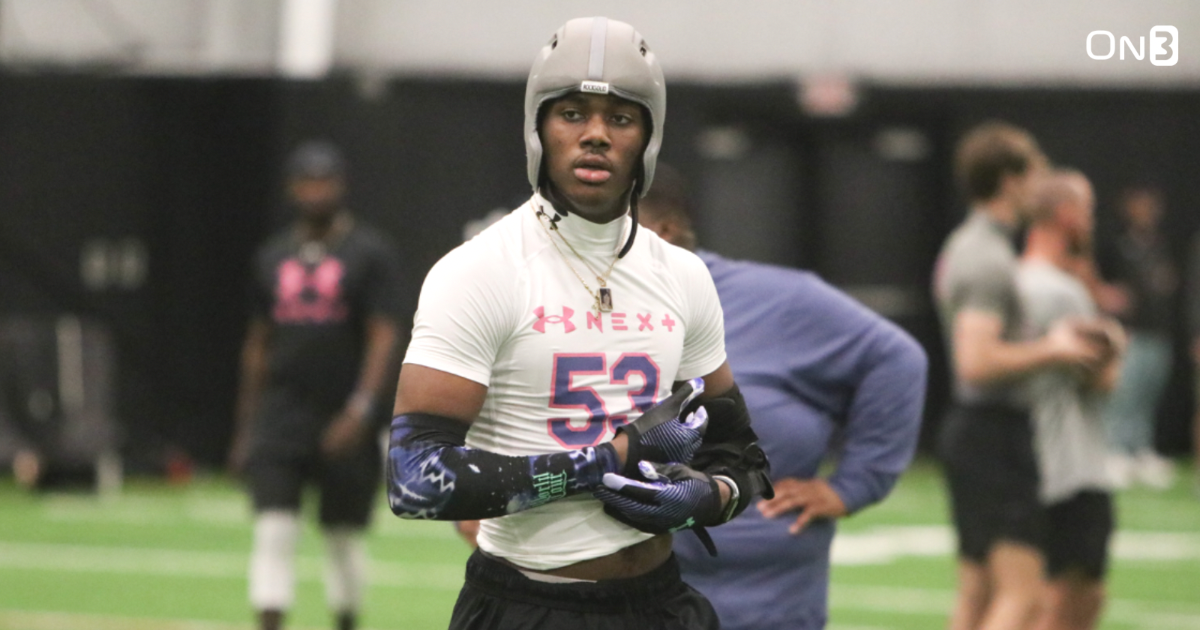 Loganville (Ga.) Grayson four-star 2024 tight end Kylan Fox has kept his eye on Miami thanks in no small part to Hurricanes sophomore quarterback Jacurri Brown.
Brown is Fox's friend from high school, and is playing a role in Fox's recruitment as the Hurricanes try to bring another blue-chip Georgia target to South Beach – Fox will visit Miami for the first time Saturday. He's been hearing daily from Miami tight ends coach Stephen Field and head coach Mario Cristobal, who set his unofficial visit date more than a month ago, but Brown has continued to pitch Coral Gables to Fox as well. And Brown is one of the reasons Fox is eager to get to Miami.
"(Brown said) just everything down there is good," Fox said, adding that the two communicate weekly. "He says coach Cristobal is good. He says that program is about to be back to how it used to be. It's a about to be a top-10 program again, so I've gotta see it. Quarterback comes from the same town as me, that'd be good to play two years under (him)."
Miami's overall recruiting effort of Fox, including his regular communication with Brown, has the Hurricanes standing out as one of his top schools along with Florida State, Stanford, Georgia Tech and Cincinnati. He dropped his top 15 schools last month, which also included Alabama, Ohio State, Tennessee, South Carolina, Florida, Auburn, North Carolina, Ole Miss, Colorado and Louisville.
Georgia Tech is currently the favorite to land Fox with a 15.2% chance, according to the On3 Recruiting Prediction Machine. Georgia, Florida State and NC State follow in second, third and fourth, respectively. Miami's recruiting effort has been consistent since he was offered Jan. 13, and Field traveled to Georgia during January to visit Fox in person.
"I just felt like I needed to get on campus, and meeting everybody in person will be important," Fox said. "Just to see will I feel like I'm at home when I get down to Miami? Do I fit in the offense? Do they plan to develop me? Et cetera."
This weekend will also mark the first time Fox has interacted in person with new offensive coordinator Shannon Dawson, who he said he is eager to build a relationship with. Fox took note of Dawson's offensive success as Houston's play caller, although Dawson's contact with Fox has been extremely limited to this point in his recruitment.
Fox said he plans to cut his list down further after he completes his spring visits before announcing his official visits.
CaneSport's Take
Fox visited Georgia Tech March 5 and will visit Ole Miss April 1, he told On3's Jeremy Johnson, and his recruitment is continuing to pick up. A solid visit this weekend alongside plenty of other elite 2024 targets could solidify Miami's place as one of Fox's top schools.
The post 4-star TE Kylan Fox excited for Miami Hurricanes visit following months-long contact with Jacurri Brown, coaching staff appeared first on On3.