5-star DL Williams Nwaneri knows four schools will get official visits
3 min read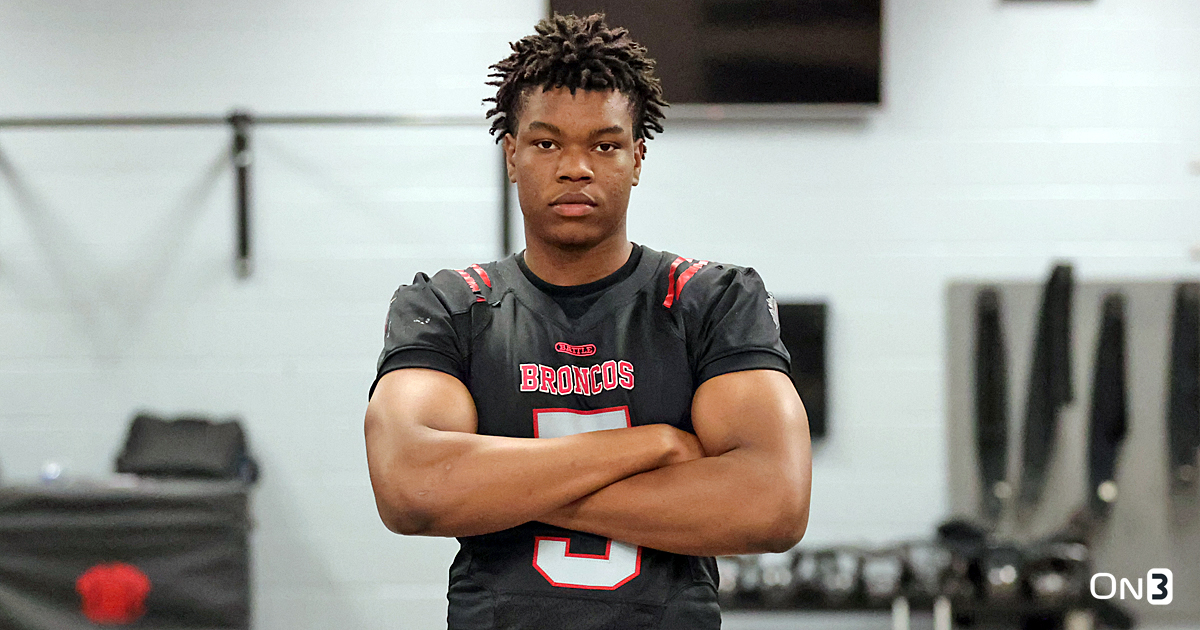 Lee's Summit (Mo.) Lee's Summit North five-star defensive lineman Williams Nwaneri is the nation's top defensive lineman in the 2024 class, and he's ready to begin focusing his attention on a handful of schools.
On Sunday, he told On3 that four schools will definitely get official visits from him: Missouri, Oklahoma, Oregon and Tennessee.
Georgia, Colorado, Arkansas and Nebraska are among the contenders for the No. 2 overall prospect in the On300 rankings, but none of those programs have solidified themselves in his top five. A decision is expected this summer, as Nwaneri would like to get recruiting off of his plate by the time his senior year starts.
Tennessee continues to make a strong case
While they might not have been a major contender at this time last year, Tennessee has come on strong for Nwaneri. His visit in January put the Volunteers on his radar in a major way, and his recent trip only confirmed that.
"I already knew from my first visit that it was gonna be a spot that I was going to consider," Nwaneri said. "Their visit was just another plus. Ever since they started recruiting me, they've been consistent. Every time I'm on campus, it just seems like a place I can go and be successful."
Nwaneri talks primarily to longtime defensive line coach Rodney Garner, who he believes can develop him at the highest levels.
Oklahoma and Missouri have made him a top priority
No program has been recruiting Nwaneri for as long as in-state Missouri has, with the Tigers hosting him in Columbia nearly half a dozen times to this point. Head coach Eli Drinkwitz and defensive line coach Kevin Peoples have led the way, and he feels comfortable on campus there.
"They've been real consistent, ever since they started recruiting me," Nwaneri added. "And it being in-state, that does add a plus, but I'm also not scared to leave the state. It feels every time I'm on campus like somewhere I can go, focus on school and just be successful."
At the same time, he's built the strongest connection with Oklahoma's coaching staff, where Brent Venables, Miguel Chavis and Todd Bates are looking to build an elite defense around him. He's been in Norman 'three or four times' already, and he also connections with a player on the current roster, offensive tackle Cayden Green.
"For the most part, the coaches I feel like they stay consistent," he said. "It's not like it's two totally different people from recruiting into being there now. … I feel like I've had one of the best connections with their coaching staff. With Coach Chavis and Coach Bates, I have a real strong connection with both of them."
Both programs are expected to get official visits in the latter half of June.
Oregon is making a run at Williams Nwaneri
Nwaneri doesn't yet have a date in place for an official visit to Oregon, but the Ducks will get one. His first visit to Eugene, along with the pursuit from the coaching staff, has made them a contender.
"On that first visit, I was blown away by everything," he said. "From the facilities to the whole Nike thing, it was just somewhere I could go, be taken care of and be successful. I talk to them pretty often, I'm in a group chat with their coaches."
Nwaneri doesn't have set criteria for what it will take to get him to choose a school, but did say the official visits will likely play a big part. Each is expected to happen this summer, with a decision coming down in either August or September.
The post 5-star DL Williams Nwaneri knows four schools will get official visits appeared first on On3.