5-star EDGE Colin Simmons is visiting… can Texas A&M make up any ground?
3 min read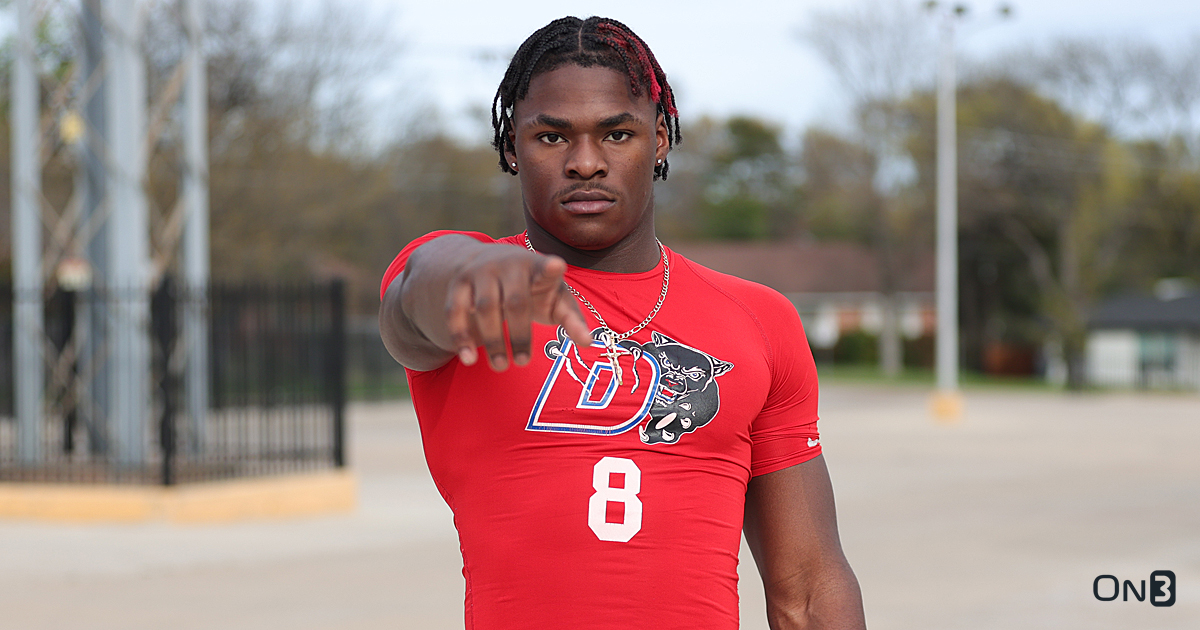 One of the absolute premier prospects in the 2024 class is Five-Star Plus+ EDGE Colin Simmons out of Duncanville (Tex.) High. At 6-foot-2.5, 225 pounds, Simmons possesses elite length and athleticism in the pass rush department, making him one of the most sought after defenders in the 2024 cycle. His offer sheet is a 'who's who' of power programs.
The Dallas-Fort Worth native's recruitment is obviously national but he is making sure to hit all the Texas stops as well as other regional powers. Over the past year, Simmons has frequented Texas, TCU, LSU, SMU, and Oklahoma. One of the only power schools in the region he has not visited multiple times in the past year is Texas A&M, but that is about to change.
Simmons is visiting Texas A&M today, April 1.
Simmons and Texas A&M have not exactly been on the same page to start his recruitment. Not that either side disliked the other, they just haven't shown to have a great relationship, shown by the lack of visits.
However, with this new visit taking place today, can the Aggies take advantage of his appearance on campus as a chance to make up ground in this recruitment and become a contender for Simmons?
Texas A&M is no stranger to national recruitments, especially for those on the defensive line. This is where Texas A&M strives. These are the recruitments that send waves through the country, causing fans to wonder what the Aggies are up to.
What happens with a strong visit?
Well I do find it likely that the visit today between Simmons and Texas A&M will go smoothly and he will come away impressed. Again, it's not that he hasn't liked the Aggies, he just hasn't been back to campus in over a year, and everyone knows visits are crucial for a recruit highly ranked as Simmons.
This visit will likely allow the two to be on comfortable terms with each other. The rest, such as return visits, and potentially an official visit follows later.
If the Aggies can do that, they throw a wrinkle into a recruitment that needed a twist. I mean, what five-star on the defensive line doesn't at least visit Texas A&M a few times?
LSU is considered the leader in the clubhouse at 44.1% odds in the On3 Recruiting Prediction Machine. But this recruitment could very well come down to a final of regional powers Texas A&M, Texas, LSU, and others such as Oregon, Ohio State, and Georgia or Alabama.
Buckle in for this recruitment, it could get wild. And if things go well today in College Station, Texas A&M will be right in the thick of it.
On3 Scouting Summary on Simmons
Long-limbed EDGE prospect who stars for one of the top high school programs in Texas. Measured at around 6-foot-2.5, 225 pounds with a 34-inch arm prior to his junior season. Grew around an inch as a sophomore. Primarily lines up at defensive end for Duncanville. Uses first-step quickness, play speed and dip to create issues for opposing offensive tackles. Shows good curvilinear movement with his ability to turn corners as a pass rusher. Length aids in disengaging from offensive linemen, finishing plays and disrupting passing lanes. Looks to play with a good effort level. Plays against top competition and made an impact on a defensive front that featured older, Power 5 prospects.
The post 5-star EDGE Colin Simmons is visiting… can Texas A&M make up any ground? appeared first on On3.