9 things to know about new Penn State commit Quinton Martin, Lions Class of 2024
4 min read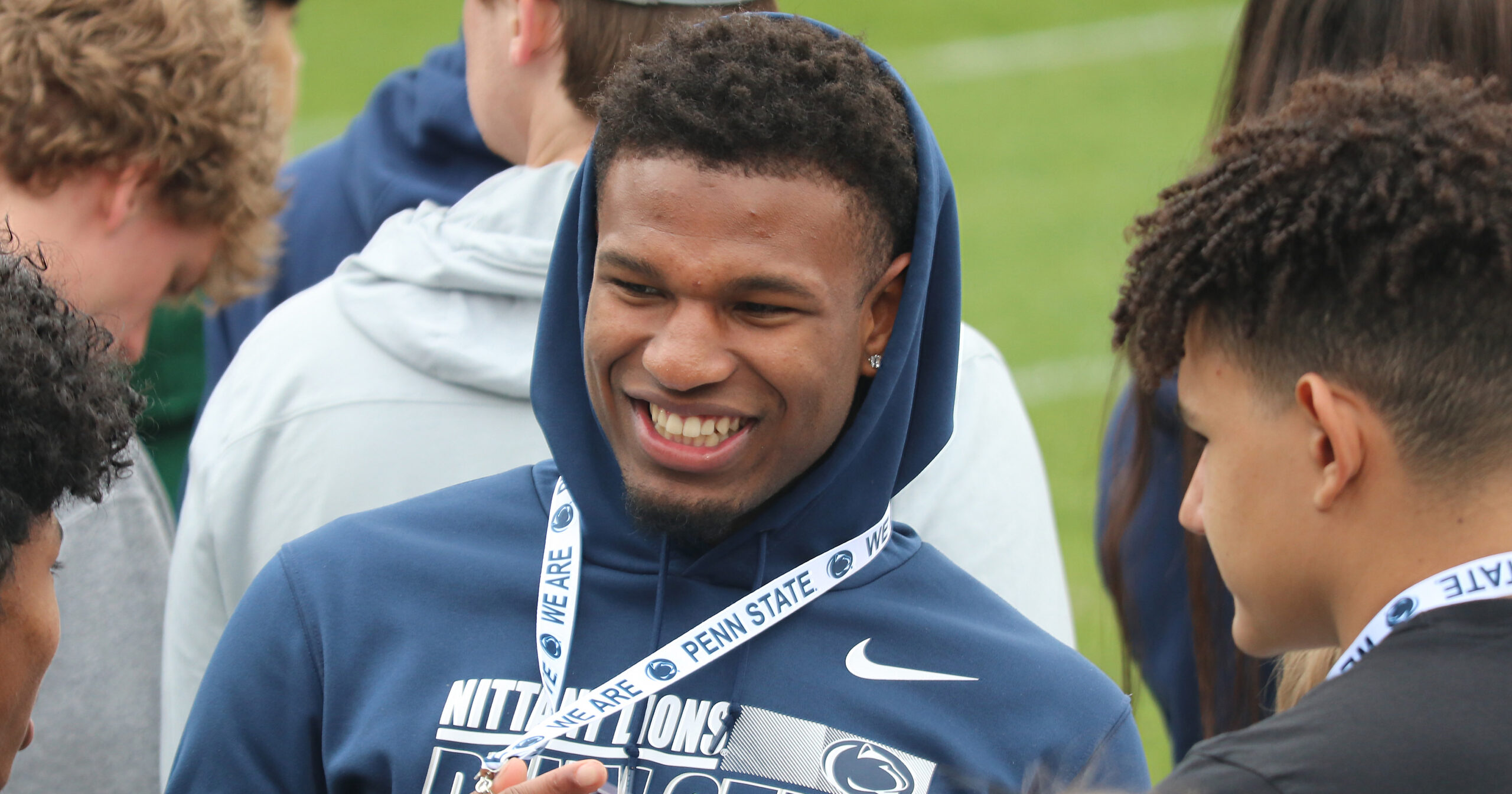 Penn State made its biggest splash yet in the Class of 2024 on Friday night when four-star Pittsburgh, Pa., Belle Vernon running back Quinton Martin committed to the Nittany Lions.
Get to know the 6-foot-1, 185-pound junior and learn more about the rest of the Class of 2024 in our exclusive commitment impact breakdown below.
1. How it started
Unsurprisingly, Pittsburgh was the first school to offer Martin way back in November of 2020. Penn State was the fifth program to join the race for a player that would eventually claim more than 20 offers.
2. Who else was involved?
Martin carried on a quiet recruitment from a media perspective. But, the Keystone State standout was not shy about taking visits. In full, he took 20 unofficial visits. Eight of them were to Penn State, which hosted him more than any other program. Pitt was second on the list. The Panthers hosted him four times. Ohio State was the only other program to get him on campus multiple times, as Martin saw the Buckeyes in April and October in 2022.
Five programs, then, hosted him once: Virginia Tech, West Virginia, Michigan, Florida State, and Miami.
Only the Panthers and Nittany Lions, however, hosted him in 2023.
3. Path to a decision
As we noted above, Martin did not reveal many clues about his recruitment. He never released a top schools list. The junior also did not share his commitment plans until he announced his choice on social media.
However, we can note that the fact he only saw Pittsburgh and Penn State so far this year was telling. He also set just one official visit, which is on the docket to see the Nittany Lions on a 48-hour all-expenses paid trip in June. That indicated who the clear favorite was. Otherwise, though, there were few breadcrumbs, save for Sean Fitz's Friday 'S Zone', that suggested an announcement was near.
4. Rankings and accolades
Before we get going here, it's important to note that, while every recruiting outlet ranks Martin as an athlete, he is expected to be a running back at Penn State.
With that said, the On3 Industry Rankings call Martin a four-star prospect who is the No. 41 player in the country, the No. 3 athlete in the country, and top player in Pennsylvania. On3, then, calls Martin the No. 99 player overall, the No. 4 athlete, and No. 1 player in the Keystone State.
As for the industry comparison, 247Sports ranks Martin as the No. 48 player in the nation, No. 4 athlete and No. 1 player in Pa. Rivals, then, ranks him at Nos. 37, 2, and 1, respectively, while ESPN checks in at Nos. 27, 3, and 1, respectively.
5. What has he said about Penn State?
BWI's Ryan Snyder caught up with Martin a few times during his recruitment. The four-star had this to say last September:
"They talk to me way more than a lot of schools. They just care; they ask me how I'm doing mentally, how I'm doing physically. They've just shown that they care about me and that they want me there."
Martin also offered his opinion on Penn State following a March unofficial visit.
"Coach Terry [Smith] also made it very well-known that I was a priority," Martin said. "He showed me their defensive core and who they have coming back there. Coach Seider was going over their running back information. He was really getting me into the rhythm of what it's like to play college football. But the majority of the day was us just chilling with my whole family."
6. Scouting report
Here is how the On3 team, which is led by On3 Director of Scouting Charles Power, evaluates Martin:
"One of the best runners in the 2024 cycle and would be considered among the top running back prospects in the nation. A threat to score on any play, regularly ripping off long runs and returns. Gets downhill quickly and has the speed and long stride to pull away in the open field. Uses contact balance and an emerging stiff arm to run through tackle attempts. Returned several kicks for touchdowns. Doubles as a very good high school basketball player. Has some genuine positional ambiguity but looks like a top prospect, regardless of where he ends up at the college level."
7. Penn State Class of 2024 timeline
April 7, 2023 – Pittsburgh, Pa., four-star athlete Quinton Martin.
April 1, 2023 – Jacksonville, Fla., four-star cornerback Jon Mitchell.
March 25, 2023 – Westford, Mass., three-star tight end Luke Reynolds
March 3, 2023 – Philadelphia, Pa., three-star cornerback Kenny Woseley Jr.
Feb. 28, 2023 — Bloomfield Hills, Mich., three-star linebacker Kari Jackson
Jan. 17, 2023 — Pittsburgh, Pa., four-star linebacker Anthony Speca
Jan. 29, 2022 — Erie, Pa., four-star interior offensive lineman Cooper Cousins
8. How Penn State's Class of 2024 breaks down by position
Linebacker – 2
Cornerback – 2
Running back – 1
Offensive lineman – 1
Tight end – 1
9. How the Lions' Class of 2024 breaks down by state
Pennsylvania – 4
Michigan – 1
Massachusetts – 1
Florida – 1
The post 9 things to know about new Penn State commit Quinton Martin, Lions Class of 2024 appeared first on On3.