Adrian Peterson explains why he committed to Oklahoma over Texas, blames Mack Brown
3 min read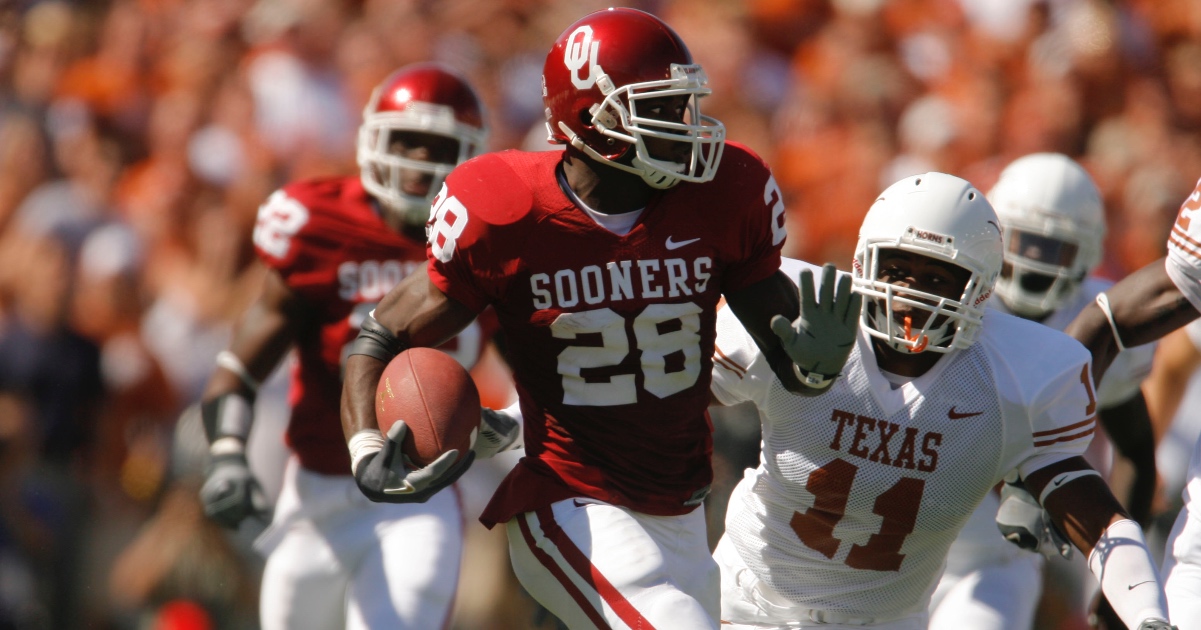 Even nearly 20 years later, some people still do not understand why Adrian Peterson decided to cross the Red River to play for Bob Stoops and the Oklahoma Sooners. Programs across the country were recruiting the Palestine (TX) product and those in Austin wanted him wearing burnt orange. As it turned out, it was Texas' own undoing as to what led Peterson to Norman.
"For the people finding themselves mad at me going to Oklahoma, this is what I would say," Peterson began. "If you're going to be mad at anybody, be mad at Coach Mack Brown."
Peterson explained the story, referencing recruiting visits with Brown, Pete Carroll (USC), Nick Saban (LSU), and Stoops. Of the four, Brown was the only one who answered his simple question in a different way. He says because of the head coach's answer, he decided to spurn Texas in favor of Oklahoma.
"I sat in Coach Brown's office," Peterson said. "And I asked him the same thing I asked everyone else. 'Coach Stoops, will I have the opportunity to come in and compete?' 'Yeah, sure.' Pete Carroll. 'Will I have the opportunity to come in and compete for a starting job if I come?' "Yeah.' Nick Saban.
"Mack Brown? 'If I come here, will I have the opportunity to come in and compete for the starting job?' He was like 'Well, Adrian, I'm not going to lie to you. Cedric Benson, he decided to come back for his senior year. So, we're going to be loyal to him and we're going to let him ride it out. But after that, you can compete for it.' I said 'Okay, appreciate it' and that was it. I never told him that I wasn't coming. But that was the decision I made based off that."
To make matters worse, Peterson grew up wanting to play for Texas. He flashed back to attending games at Darrell K Royal-Texas Memorial Stadium — just over three hours away from Palestine — with his uncle growing up.
"I remember going out and watching them play," Peterson said of the Longhorns after being inducted into the Texas Sports Hall of Fame. "I remember sitting outside of the stadium, waiting for my uncle to come out. And I am looking like 'I'll be back here one day.' I was Texas all the way."
Had Brown given the answer Peterson wanted to hear, there might have been a couple of dangerous combinations on the Texas roster. Beginning with the 2004 season, where Benson and Peterson could have created the best one, two-punch in college football.
Both finished in the top six of Heisman Trophy voting and combined for 2,846 yards and 31 touchdowns.
Jamaal Charles then broke out as a true freshman during the 2005 season at Texas, helping the Longhorns win a national championship. Add in the threat of Vince Young and Brown would have quite the trio of runners at his disposal.
Fortunately for Oklahoma fans, this is all hypothetical. Peterson wound up excelling under Stoops and even made Texas regret their decision at the Cotton Bowl. In three Red River Shootout games, Peterson rushed for 344 yards and a touchdown.
Peterson is now in the Texas Sports Hall of Fame but for some in the state, they will only have fond memories of his high school days. His college achievements reside in Norman before an incredible NFL career, primarily with the Minnesota Vikings.
An unfortunate miss by Mack Brown, to say the least.
The post Adrian Peterson explains why he committed to Oklahoma over Texas, blames Mack Brown appeared first on On3.