Alabama football: Reviewing what we've learned so far this spring (DL/OLB)
7 min read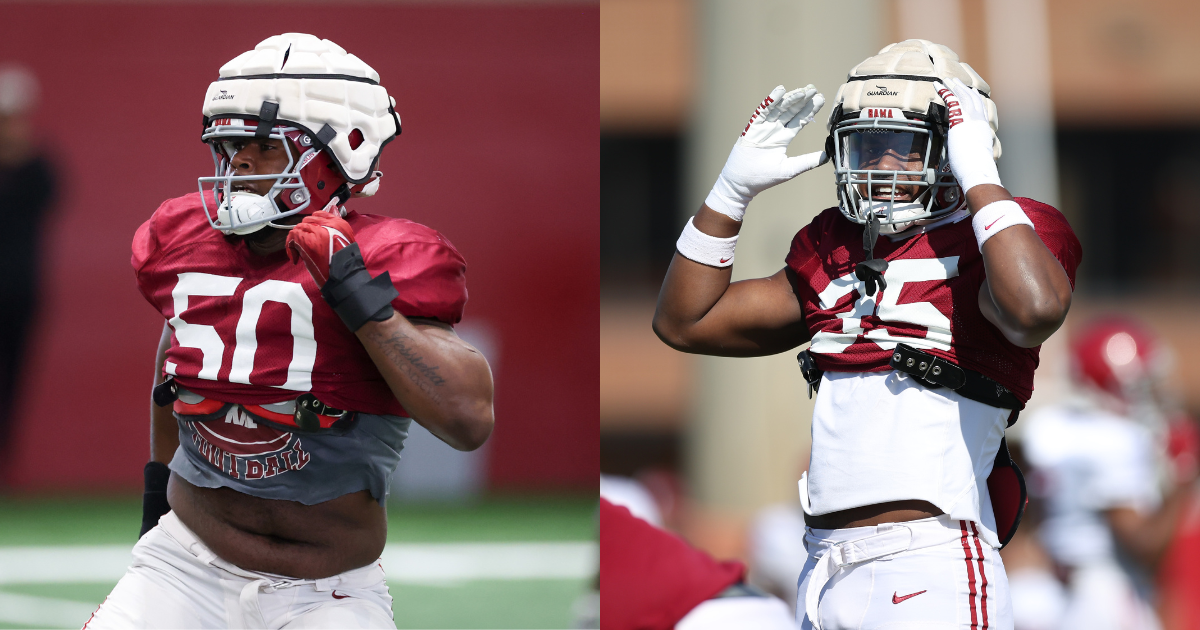 TUSCALOOSA, Ala. — The Alabama football team is now over the halfway point of spring practice. On Friday afternoon, the Crimson Tide held their first of two scrimmages ahead of the annual Golden Flake A-Day Game, which is set for Saturday, April 22.
With nine of 15 practices now complete, we thought it was a good idea to review some of what we've learned through the first half of the spring. Since there's so much information to process and analyze, we're breaking it up into four articles. We started with the quarterbacks, running backs and wide receivers. Then we followed it up with the tight ends and offensive line.
Now, we're focusing in on the defensive line and outside linebackers.
*** Sign up for the BamaInsider Newsletter so you don't miss any of the action ***
Defensive Line
Alabama is getting a lot of its younger, less experienced players valuable reps this spring. First off, multi-year starters Byron Young and DJ Dale are both off to the NFL after combining for 2,990 snaps and 59 starts over the past four years. Plus, they've got Justin Eboigbe — who has played 1,101 snaps with 14 starts — still trying to get back to 100% after a neck injury last season.
Eboigbe's participating in practice, but coach Nick Saban did say that he'd be limited throughout the spring. That includes him "just playing on third downs" during last Friday's scrimmage. Getting after the quarterback is less taxing on the body than trying to hold the point of attack and stop the run. So the decision to limit Eboigbe to exclusively passing downs makes sense.
Due to the departures and limitations with the guys above, Alabama has gotten to see a lot more from guys such as Damon Payne, Jamil Burroughs, Tim Keenan III and five-star freshman James Smith. Burroughs and Keenan had a solid scrimmage, according to at least one source. Smith has consistently been getting action with the first-team defense, too.
All of these guys can help fill out the depth chart, but will any of them emerge as true contributors?
Last year, Burroughs was in on 161 snaps while playing mostly in passing situations. His role increased once Eboigbe went down with his injury, and he showed a promising pressure rate (14 pressures on 101 pass rush snaps). He's a likely bet to remain in the rotation, but we might not see his role increase much compared to 2022. We'll find out soon enough.
Payne saw 69 of his 86 snaps over the team's last six games, including 25 snaps against Kansas State in the Sugar Bowl. He's a much better run defender than pass rusher at this point in his career, and that's a role you'll likely see him in — at least to some degree — this upcoming season. At the very least, the former blue chip recruit provides run-stopping depth in the event of an injury.
Tim Smith is a steady veteran presence who can — and has — played multiple roles in Alabama's front. We're still hoping for that break out year, but whether it comes or not, he's still a good player to have on the roster. Alabama's most intriguing defensive lineman continues to be Jaheim Oatis though. The sophomore saw 295 snaps as a freshman while also getting 10 starts.
I think the starting role even surprised Oatis, who said in March that he "didn't think he was going to play" his freshman season due to his weight. When he arrived on campus in January of last year, he was 400+ pounds. By the time fall camp rolled around, he was down to 342. Now, the Columbia (Miss.) product is tipping the scales at only 320. He's trying to replace some of the weight though.
"Right now, we're trying to get to 330, but my weight right now is 320," Oatis told reporters last month after revealing that he'd lost almost 100 pounds over the last year. "I'm good around 320 to 330-ish."
With him being 6-foot-5, staying in that 320-330 range feels right. You still want him to be a big, space-eating nose tackle who commands plenty of attention, but you also want him to be lean and athletic enough where he won't be a liability as a pass rusher. Similar to Jordan Davis out of Georgia, I don't think sacks will ever be a strong suit for Oatis, but he can still be disruptive as a pass rusher.
Oatis has the potential to be a headache for opposing offensive coordinators. James Smith does, too — if he's ready to assume an immediate role. I'd be curious to see what the two players could do playing alongside each other in certain packages or situations. I also wouldn't mind seeing Oatis and Smith lining up in a heavy front with Eboigbe and one of the outside linebackers.
Outside Linebacker
Similar to the defensive line, Alabama's young outside linebackers have gotten some added opportunities this spring. Will Anderson Jr. is gone after totaling 204 tackles, 58.5 tackles for loss and 34.5 sacks in just three years. Not only that, but Dallas Turner (1,018 career snaps) is out for the spring after having surgery and Chris Braswell (443 snaps) missed the scrimmage on Friday.
Turner and Braswell are still expected to headline the group come the fall, but there's a lot more depth in the room than just those two guys.
"They're getting all the reps. I think they're learning. I think they're more confident," Saban said after the scrimmage when asked how the outside linebackers were doing with Turner and Braswell out. "Whether it's (Jeremiah Alexander), Keanu (Koht), Q (Quandarrius Robinson), they're all getting lots of reps and doing a good job, a couple freshmen.
"Those guys [Turner and Braswell] are good players. They're leaders on the team. We certainly miss their presence out there. I think that's one of the biggest things right now is the guys that would be some of the best leaders are not guys that are being able to participate. But the good news is the other guys that play with them and behind them are getting a world of experience, which is gonna be very beneficial to them in their development."
There's so much truth in Saban's statement.
Sure, it's unfortunate Turner can't be out there this spring. It's also unfortunate Braswell wasn't able to participate in the first scrimmage. These are the two guys being tasked with replacing most of the production left behind by the best defensive player of the Saban era. They both have a lot of experience, but it'd be nice to see them on the field taking more leadership roles as upperclassmen.
At the same time, it's easy to see the benefit of their absence from a depth standpoint.
Emil Ekiyor Jr. and a couple of the other offensive linemen missed last spring, and that gave players like Tyler Booker a chance to earn a role by the time the season rolled around. Turner and Braswell both being held out — whether it's for the entire spring or just a scrimmage — is giving younger guys a chance to show what they can do.
Alexander is a former five-star recruit who has spent the offseason changing his body.
Last year, he checked in at 6-2, 258 pounds, which made him the biggest outside linebacker on Alabama's roster. Now, he's listed at 249. That drop in weight should improve his explosiveness. From what we saw in high school, he's already a quality edge setter. The goal now is to become more of a complete edge. I'm excited to see what he can do in the A-Day Game next Saturday.
As for Robinson and Koht, they're both older guys who — like Alexander — were highly-touted recruits coming out of high school. We haven't seen either of them play a lot on defense (33 snaps in five combined seasons), but they're both considered good depth. Robinson is a little bit further along though.
The freshman Saban was referring to is five-star Qua Russaw.
There were a lot of people — myself included — that thought Russaw would play off the ball, and it's still possible for that move to happen at some point. But for now, the listed 6-2, 242-pound defender is playing on the edge. It's stacked position at the moment, but from what we've heard, this guy has the work ethic and talent to find his way onto the field.
Russaw plays with strength and leverage. He's got a certain violence to his game which allows him to stack-and-shed blockers despite not being overly long (6-1 1/2 with 31 3/4-inch arms). His motor is always running too, which plays well with his impressive burst and closing speed. The lack of length hurts him as an edge prospect, but I still think he can make an impact.
Russaw's experience as both an off and on-ball linebacker should help him. Not only is he comfortable and confident playing on the line of scrimmage, but he's also familiar with dropping into coverage. That makes him an ideal replacement for Turner at Sam linebacker, whether that be due to an injury or an early departure.
Usually, a program would have a difficult time replacing a talent such as Will Anderson. I'm not saying it'll easy for Alabama, but I think the Crimson Tide are better equipped to handle such a task than anyone else in college football. That'll especially hold true once reinforcements (Keon Keeley and Yhonzae Pierre) arrive this summer.
The post Alabama football: Reviewing what we've learned so far this spring (DL/OLB) appeared first on On3.