Alabama football: Reviewing what we've learned so far this spring (QB/RB/WR)
10 min read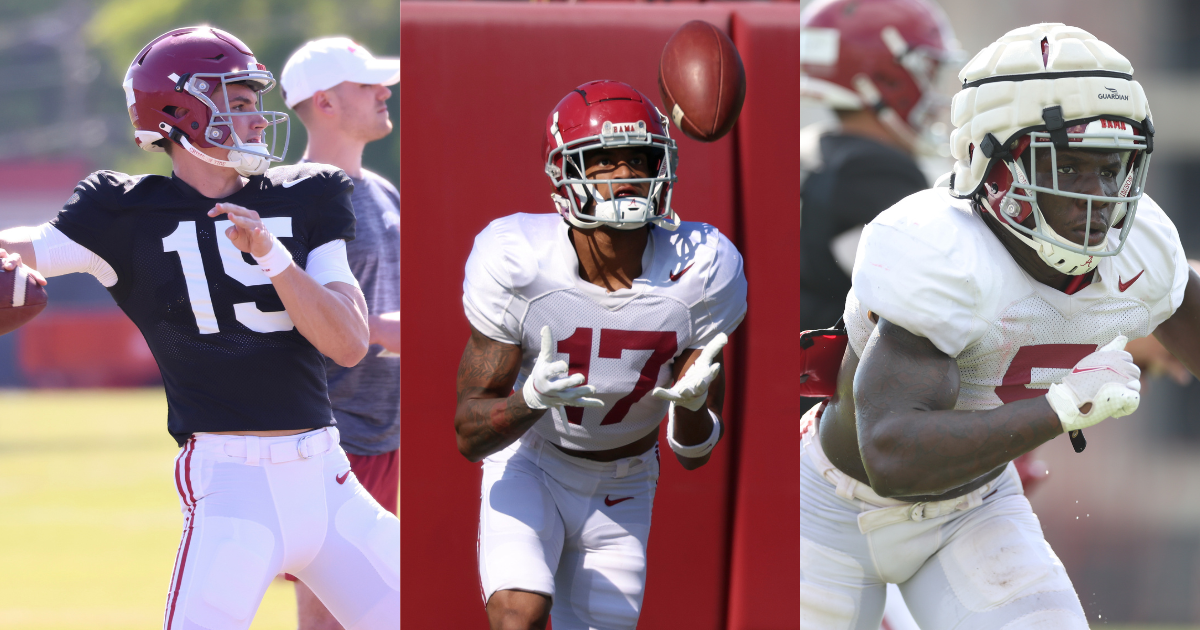 TUSCALOOSA, Ala. — The Alabama football team is now over the halfway point of spring practice. On Friday afternoon, the Crimson Tide held their first of two scrimmages ahead of the annual Golden Flake A-Day Game, which is set for Saturday, April 22.
With eight of 15 practices now complete, we thought it was a good idea to review some of what we've learned throughout the first half of the spring. Since there's so much information to process and analyze, we're breaking it up into four articles. We'll start with the quarterbacks, running backs and wide receivers.
*** TALK OF CHAMPIONS: Alabama Basketball Transfer Portal Central ***
Quarterback
By now, everyone knows that Alabama has an ongoing quarterback battle. We knew that going into the spring with two-year starter Bryce Young moving on to the NFL, and nothing has changed the last three weeks. We might be getting some clarity, however. No, nothing between Jalen Milroe and Ty Simpson yet, but I did notice something interesting that Saban said following the first scrimmage.
"Both quarterbacks [Milroe and Simpson] played equally well," he told reporters on Friday. "Both of them got opportunities, and both of them — I thought — did a nice job out there managing the game."
Now, I want you to compare that statement to what we heard from Saban following Alabama's first spring practice when he said, "Look, I think everybody has an opportunity. None of the guys have a significant amount of experience. … Development at that position is really gonna be a critical thing for our team this year because I like the players that we have around them."
Did you notice it?
After the first practice, Saban made sure to mention that everybody (meaning all four quarterbacks) have an opportunity. Eight practices later, and he's saying that both (meaning Milroe and Simpson) played equally well. This doesn't mean true freshmen Eli Holstein and Dylan Lonergan are out of the competition. Far from it actually.
Saban's comments do make me feel like Milroe and Simpson are ahead of the two new guys. Granted, that isn't earth-shattering information, but it did provide some support that this battle looks like a two-man race at the moment. We'll see if that changes, but the reports that we've gotten have suggested the same.
All of the quarterbacks were impressive during the scrimmage though.
Milroe has reportedly shown strides as far as his processing — both pre and post-snap — and overall command of the offense. To me, those were his biggest issues in his start against Texas A&M. Well, those things and then not protecting the football while in the pocket. Milroe simply wasn't seeing what the Aggies were giving him enough. You even saw him guessing a couple of times.
Did the former top-100 recruit who was generating buzz last offseason just disappear though?
Maybe in that one game after becoming overwhelmed, but I don't think it's permanent. I'd argue that performance against Texas A&M will actually help, not hurt him in the current quarterback battle. I'm not saying he's a shoe-in to win the competition, but he knows what it's like when things go live against an SEC opponent.
Simpson is apparently showing flashes. A lot of flashes, too.
We don't have much on the college level to evaluate, but we understand why he was a five-star recruit coming out of high school. He's got the tools to be an elite signal-caller, and those tools are now backed up with a newfound comfort in Alabama's system. According to one source, Simpson made a couple of big-time throws during the scrimmage on Friday.
"I've seen a lot of improvement from him," senior wide receiver Ja'Corey Brooks said last Wednesday when asked about his impression of Simpson. "Both quarterbacks, they're both competing, hard working. They're getting the job done."
I've long said that Simpson feels like a better fit for the new offense under Tommy Rees. That doesn't mean Milroe can't play winning football from under center though. If he's truly improving his confidence, processing and command, he's still got a great chance of becoming a top-tier starting quarterback.
This competition is far from over.
Running Back
Alabama has lost its top running back from last season in Jahmyr Gibbs. The Tide also lost a seasoned veteran in Trey Sanders, who had 116 carries in his career. Yet, I still think Saban feels really good about this position. The room remains loaded with former top-100 recruits, including four who are already on campus and participating in spring practice.
"It's been great. All guys have done well. All four guys have had really, really good springs," Saban said of the running backs after the scrimmage. "They're all very productive players. All those guys can contribute to the team in some way. They're doing really, really well. As long as we can stay healthy at that position, I don't think that's an issue on our team."
Now, that last part is key.
We've already seen what happens when injuries begin to mount at this position. In 2021, we saw Jase McClellan and Roydell Williams both go down with season-ending injuries. Sanders was still recovering from his car accident in 2020, and true freshman Camar Wheaton never saw the field after suffering an injury of his own during the preseason.
If you remember, things got so bad that wide receiver Christian Leary and inside linebacker Demouy Kennedy had to switch positions. This year, there's a much better emergency option in the event of injuries with wide receiver Emmanuel Henderson, but that's never a scenario you want to find yourself in. Saban understands that, especially with an emphasis on creating offensive balance.
Based on his recent comments, Saban seems pleased with this group.
Veteran Roydell Williams was limited to start the spring, but we learned from Saban on Friday that the Hueytown (Ala.) product is back participating at full speed. At 5-foot-10, 214 pounds, Williams is an powerful, well-built runner who plays big behind his pads. You'll oftentimes find him punishing tacklers. But with only 10 career catches, I'd like to see what he'd do with more opportunities as a receiver.
Getting looks out of the backfield proved difficult while sharing a backfield with Gibbs. Now, Williams has another issue potential standing in his way: the current depth at running back. I believe Saban when he said "those [four other] guys can contribute to the team in some way." Obviously, that includes guys like Jase McClellan and Jam Miller.
McClellan is the projected starter, and Miller — as we have said numerous times since last season — deserves more opportunities in Year 2. I recently shared my thoughts on how the carry/touch distribution might look this year, and that included more of a committee approach with three, maybe even four guys seeing respectable workloads.
Do I think that rotating four guys at the position is ideal?
No, I believe using 1-2 players would be sufficient enough (and maybe even ideal), but there are too many good options in Tuscaloosa. McClellan might run out there for the first snap, but you're likely to see Williams, Miller and Justice Haynes, too. In fact, you might see the five-star freshman more than you think given the other returning players.
From what we've been hearing this spring, Haynes has been outstanding.
On Friday, the 5-11, 205-pound runner took his first carry (which came against the first-team defense) 30+ yards. It wasn't his only eye-popping run during the scrimmage either. Haynes showed plenty of power and grit while churning his way to a red zone score, and we're hearing that's become a regular thing this spring.
I love that he can create yardage for himself when he needs to, but he also wins in other ways. Like other guys on the roster, Haynes brings three-down potential. I will be curious to see where he's at with his pass protection though. We've heard nothing this spring that makes us concerned about it, but I'm just curious to see how it's coming.
Last year, Alabama's backfield took more of a finesse approach. Don't get me wrong, there were some power elements with McClellan, Williams and Miller, but Gibbs was the featured back in most games. The identity of the run game — as it is in most cases — reflected his skill set, which didn't include a lot of physicality or power.
This season, I expect the identity of this room to change pretty drastically.
Mostly because you're replacing an elusive, more finesse runner in Gibbs with a bigger, more well-rounded Haynes, but other guys have also added more weight and strength this offseason. Williams is up to 214, and Miller has gone from 201 to 211. Naturally, that should lead to more power.
We're still awaiting the arrival of freshman Richard Young though.
Wide Receiver
While the wide receiver room underperformed in 2022, it's loaded with talent. We've already discussed why at length this offseason, but the reviews coming out of spring practice continue to be positive. On Friday, Saban mentioned that the position has "developed really nicely," but he did share that consistency remains a point of emphasis.
"I think (Jermaine) Burton made some big plays today. Ja'Corey Brooks made some big plays today. [Malik] Benson has had a really, really good spring and is capable of stretching the field and making big plays. Good all-around player. He certainly is going to help us. Isaiah Bond has had a really good spring and has done a really good job. So receiver corps has developed really nicely. Consistency in performance is what we need to continue to work on."
Friday wasn't the first time Saban has mentioned that word "consistency" regarding this group either. After raving about Burton's consistency last offseason, the seven-time national championship-winning coach said last month that he wanted the veteran to focus more on getting the little things right.
"I think what Jermaine needs to do is, he's got a lot of talent, a lot of ability. I'd say consistency in performance, which would come from trust and the belief in doing the little things right. Whether it's getting the right depth on a route, seeing the coverage as it is. Holding himself a little bit more accountable to paying attention to detail and doing the little things right. When he does that, he's an outstanding player. He's got great ability and hopefully if we can get him to do that he'll be able to play with a little more consistency."
If Burton doesn't make the necessary adjustments, he could find himself ceding work to other receivers such as Benson, Bond, Kobe Prentice or Kendrick Law. They're also working on consistency, but they have more of an excuse due to youth. Burton has seen almost 1,500 snaps in his career with 27 starts. At this point, consistency should be a strength, not a weakness.
Benson seems to be picking up things quickly.
Not only has the top JUCO product put weight on his frame (185 pounds to 195), but he's also shown the added poundage won't affect his explosiveness. From what we've heard, Benson's showing an ability to win at all levels of the field. You already saw Saban mention his field-stretching capabilities, but he's also shown a knack for creating after the catch.
Benson brought in an acrobatic catch during the scrimmage on Friday that went for explosive play. Plus, we've heard that he's shown good chemistry with both Milroe and Simpson. He's got that "it" factor, which is a major reason why we believe he can be Alabama's top pass-catcher before it's all said and done this season.
He's certainly gotten the attention of several veterans.
"I feel like he's a good receiver, very competitive," junior cornerback Kool-Aid McKinstry told reporters back in March when asked about Benson. "He wants to play. He knows what he's doing. He's working very hard to be a great player for us."
McKinstry wasn't the only player to compliment Benson's approach, too. Brooks, a third-year receiver who became known for his work ethic as a freshman, loves the energy he's seeing from the On3 five-star receiver who has been compared to former Alabama receiver Henry Ruggs III.
"I've been loving his energy, man, since he came in. Since the bowl game, he's been coming in and working, bringing positive energy. You know, I always want that leadership quality. So, I've been liking his energy so far," Brooks said last week.
There are a lot of receivers bouncing back and forth between the first and second teams right now, which points to another deep rotation in 2023. I think condensing the number of receivers used would be beneficial for the offense, but I'm not sure who I'd want to leave out. I do love the combination of skill sets though.
Benson gives the offense a true vertical threat while Brooks is a bigger-bodied receiver with more potential as a 50-50 guy than some realize. Then you've got Burton, who can hopefully provide a balance between vertical prowess and the ability to win underneath. We haven't even mentioned the trio of second-year receivers either.
By the end of last year, I thought Bond showed more potential than anyone coming back on the roster. That isn't a knock on the other guys either. Bond just brings elite speed and can play any receiver spot. He saw about 40% of his freshman snaps in the slot with the other 60% coming outside. Playing him alongside guys such as Benson and Burton should make it easier for Alabama to move guys around and exploit matchups.
The possibilities for Rees are seemingly endless.
The outlook for the receivers hasn't changed much since the start of spring practice, but that isn't because no one is stepping up. Quite the opposite, actually. Some of the younger guys are pushing the veterans, which should make everyone better. We continue to expect a big step forward from this position.
Oh, and freshman Cole Adams is a name to monitor for the future.
The post Alabama football: Reviewing what we've learned so far this spring (QB/RB/WR) appeared first on On3.