Alabama Roster Breakdown: Where things stand on offense
5 min read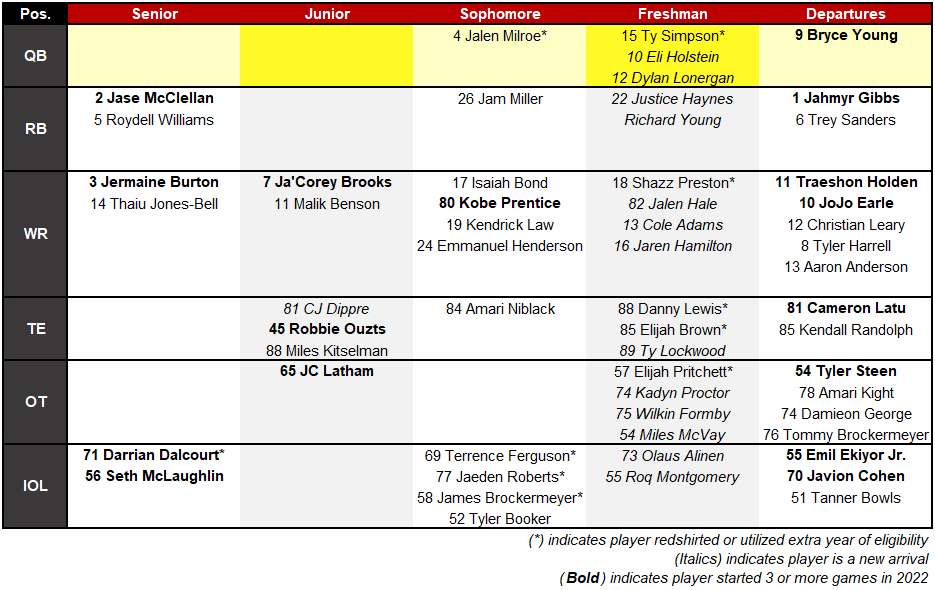 The Alabama football team is currently in the middle of spring practice.
After going back-to-back seasons without winning a national title, fans are hoping this year's team is good enough to earn coach Nick Saban his seventh championship in seventeen seasons. Below, we're looking at each position and giving you up-to-date roster changes for the offense.
So far, it looks like 17 players lost on offense with 14 new players being added, whether that's from the high school ranks or through the transfer portal. Those losses include five leaving due to graduation, 11 entering the transfer portal and two leaving early for the 2023 NFL Draft.
So, let's dive in and see where Alabama's roster stands as of April. Afterwards, be sure to check out our up-to-date scholarship numbers at the end. Then if you want, bookmark this article and check back in periodically to see if anymore changes or updates have been made. At some point after the spring, we'll be doing an updated version of this though.
Alabama Roster Breakdown: Where things stand on defense (coming soon)
Quarterbacks (4)
Departures: Bryce Young (NFL)
Seniors: None
Juniors: None
Sophomores: Jalen Milroe*
Freshmen: Ty Simpson* / Eli Holstein (EE) / Dylan Lonergan (EE)
Quick thoughts: Right now, it feels like this competition is truly wide open, especially between Milroe and Simpson. With Tommy Rees as the new offensive coordinator, whoever ends up starting at quarterback won't have to post Superman-like performances in the same way we saw from Young. There should be more balance offensively, which would alleviate some of the pressure on the signal-callers. Still, this remains one of the more important position battles on the roster. Why? Because you can't consistently win in today's college football without quality play at quarterback.
Running Backs (5)
Departures: Jahmyr Gibbs (NFL) / Trey Sanders (TCU)
Seniors: Jase McClellan / Roydell Williams
Juniors: None
Sophomores: Jam Miller
Freshmen: Justice Haynes (EE) / Richard Young
Quick thoughts: Young is the only running back who isn't on campus for the spring. Granted, Alabama has seen Williams miss a little time due to an injury, but he seems to be back healthy. This position continues to be a head-scratcher, as I have no idea how the touch distribution is going to play out. I like McClellan and Williams a lot, but Miller deserves more opportunities in Year 2 and Haynes is generating a lot of buzz. Does Alabama get back to that four-man committee like we saw in 2017 with Damien Harris, Bo Scarbrough, Josh Jacobs and Najee Harris? We'll see.
Wide Receivers (12)
Departures: Traeshon Holden (Oregon) / JoJo Earle (TCU) / Christian Leary (Georgia Tech) / Aaron Anderson (LSU) / Tyler Harrell (transfer)
Seniors: Jermaine Burton / Thaiu Jones-Bell
Juniors: Ja'Corey Brooks / Malik Benson (JUCO)
Sophomores: Isaiah Bond / Kobe Prentice / Kendrick Law / Emmanuel Henderson
Freshmen: Shazz Preston* / Jalen Hale (EE) / Cole Adams (EE) / Jaren Hamilton (EE)
Quick thoughts: Alabama lost five receivers to the transfer portal, and yet, I think the position is in better shape now than it was last season. Benson has generated plenty of buzz ever since arriving on campus for Sugar Bowl practices, and it's not outside the realm of possibility for him to be this offense's No. 1 wide receiver. You've also got the veterans in Brooks and Burton, as well as the ascending talent in Bond, Prentice and Law. The depth goes beyond those six, but that's where the conversation should start. I'm hoping the rotation gets cut down some, as seven receivers played 190 or more snaps last season.
Tight Ends (7)
Departures: Cameron Latu (grad.) / Kendall Randolph (grad.)
Seniors: None
Juniors: CJ Dippre (Maryland) / Robbie Ouzts / Miles Kitselman
Sophomores: Amari Niblack
Freshmen: Danny Lewis* / Elijah Brown* / Ty Lockwood (EE)
Quick thoughts: Latu played 90-100% of the snaps in almost every game he participated in last season. Now, he's moved on to the NFL with Alabama bringing in Dippre as a replacement option. Dippre isn't the same player, but I think he can do similar things for the offense. We're all expecting big things out of him with Rees as the new play-caller. Ouzts is the likely move tight end, but we're keeping a close on Niblack's development. He could add a wrinkle to this offense that makes it much more difficult to defend. Will he get more opportunities to flex out this season? That's the hope.
Offensive Tackles (5)
Departures: Tyler Steen (grad.) / Amari Kight (UCF) / Damieon George (Florida) / Tommy Brockermeyer (TCU)
Seniors: None
Juniors: JC Latham
Sophomores: None
Freshmen: Elijah Pritchett* / Kadyn Proctor (EE) / Wilkin Formby (EE) Miles McVay (EE)
Quick thoughts: At one point, we thought Latham would kick over to left tackle after starting all 13 games at right tackle in 2022. There's still time for that to be the case, but from the limited B-roll we've seen, he's remained on the right side with Pritchett manning left tackle. With Latham at 6-foot-6, 335 and Pritchett at 6-6, 312, that actually makes sense. Don't forget about Proctor though. He's capable of playing tackle or guard, and I fully expect him to work his way onto the field at some point this season. Formby has a bright future, too.
Interior Offensive Line (8)
Departures: Emil Ekiyor Jr. (grad.) / Javion Cohen (Miami) / Tanner Bowles (Kentucky)
Seniors: Darrian Dalcourt* / Seth McLaughlin
Juniors: None
Sophomores: Terrence Ferguson* / Jaeden Roberts* / James Brockermeyer* / Tyler Booker
Freshmen: Olaus Alinen (EE) / Roq Montgomery (EE)
Quick thoughts: Dalcourt choosing to return was big for Alabama's offensive line. The team is still a little thin at the position compared to year's past, but I think the starters and key depth are as good as ever. Plus, fans have to feel good about offensive line coach Eric Wolford leading the way. Dalcourt is getting some opportunities at left guard this spring with McLaughlin sticking at center. We know Ferguson is also getting some run at guard and center, but keep an eye on Alinen. He might surprise some people. Oh, and Booker remains one of the best interior offensive linemen in the country.
Total Scholarship Distribution
Offense: 41
Defense: 44
Specialists: 2
TOTAL: 87 SCHOLARSHIPS (TWO OVER)
The post Alabama Roster Breakdown: Where things stand on offense appeared first on On3.