ANALYSIS: Key things we've learned with five Miami Hurricanes spring practices remaining
6 min read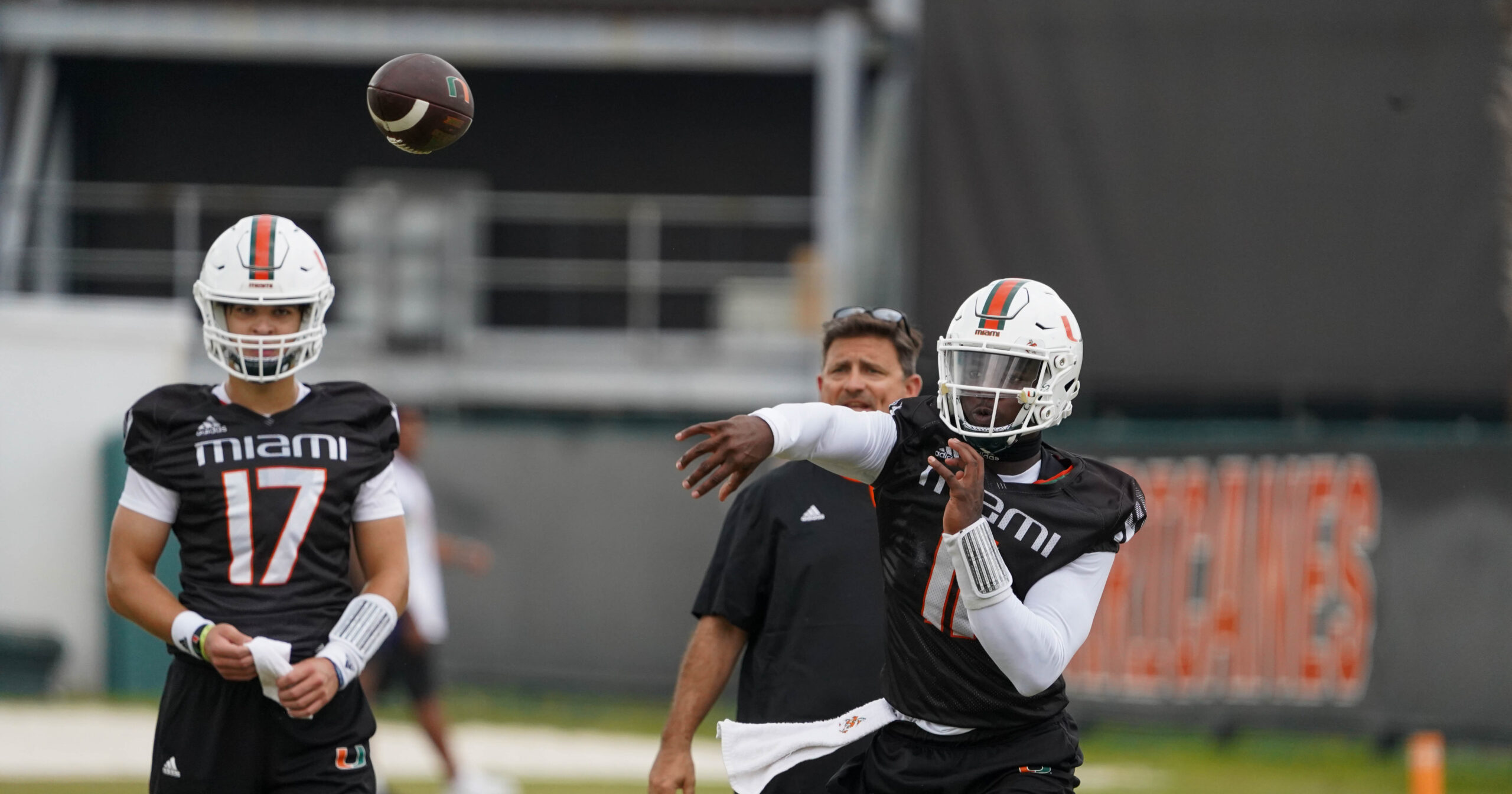 The Miami Hurricanes wrapped up their second spring scrimmage on Saturday and practice again tomorrow … and will hold three more sessions following that leading up to the April 14 Spring Game.
Here are five keys we've gleaned to this point of spring drills:
5. MIAMI QB JACURRI BROWN HAS A BRIGHT FUTURE
The backup quarterback situation was a big question mark entering this spring, with Jacurri Brown struggling last year when Tyler Van Dyke was injured and fellow backup Jake Garcia transferring out. It's never a great situation to have a starting QB and nothing you can trust behind him, so it's a great sign for Miami that Brown has looked a lot better this spring than he did in practice last fall (note that the other scholarship QB is true freshman Emory Williams, who will have the usual college learning curve).
Brown's been much better with his accuracy, and while he's still working on some footwork issues he continues to make strides in his second year at Miami. And his running skills are outstanding as a dual-threat QB who can make you pay with his legs and arm.
Assuming he continues to hone in on his consistent accuracy, Brown is an excellent fit in Shannon Dawson's new offense. Keep in mind that last season with a dual threat QB at Houston, that offense saw Clayton Tune set a conference record with 40 passing TDs while adding a team-high 544 rush yards and five more scores.
4. OL PLAY WILL BE BETTER
Let's start with this: Your first and second team Miami offensive lines so far this spring…
FIRST TEAM (L to R): Jalen Rivers, Javion Cohen, Matt Lee, Anez Cooper, Francis Mauigoa
SECOND TEAM (L to R): Samson Okunlola, Laurance Seymore, Ryan Rodriguez, Logan Sagapolu, Michael McLaughlin
Now reflect back on the five starters up front in the season ending game vs. Pittsburgh last year: DJ Scaife, Laurance Seymore, Jakai Clark, Anez Cooper, John Campbell.
The only name you see still on the first team is Cooper who played as a true freshman in 2022 … and might be relegated to backup status if Zion Nelson returns healthy this fall and bumps Rivers (who was injured much of last year) to guard.
Miami's line play was simply not good a year ago, in part due to injuries but also simply because guys were not physical enough to hold the point of attack. The team allowed 36 sacks and backs averaged 3.7 yards per carry.
With Javion Cohen coming in from Alabama and UCF center transfer Matt Lee coming in (Cristobal singles to Lee in particular on the entire team as a guy who is making a massive impact simply with his knowledge and work ethic), plus a pair of five-star recruit arrivals in Mauigoa and Okunlola … well, this is a new-look offensive line.
So far the reviews are positive, but we'll learn more when the spring game comes around since that will be our first chance to really see scrimmage scenarios and how these guys are holding up … or not.
But so far the reviews of this unit are all excellent.
3. MIAMI WR JACOLBY GEORGE IS ENJOYING A BREAKOUT SPRING
It was expected this spring that Xavier Restrepo would start in the slot and Colbie Young would be a starter on the outside. The third WR starter? That wasn't so clear. But it's been Jacolby George with the initial first team from practice 1, and he hasn't relinquished that spot. In fact, if anything, he's stating his case for perhaps being a surprise breakout player at a position that sorely needs one.
George added 10 pounds of muscle since last season and just looks the part with speed, soft hands and solid route running. He's excelled in scrimmage situations, although coaches want the details kept under wraps.
As a refresher: George arrived at Miami as a 4-star highly touted playmaker out of Lauderhill (Fla.) Plantation High School, where he had 1,030 receiving yards as a senior and was an Under Armour All-American. His time at Miami didn't go quite as smoothly as some envisioned back then. As a freshman in 2021 he played in nine games off the bench and had seven catches for 183 yards, then this past season he was suspended for the first two games and never had more than 39 yards in a game (vs. Pitt). He ended with 13 receptions for 130 yards. George also handled returns and had five PR with a long of 18 yards; his lone kickoff return went for 21 yards. So he simply has not been able to showcase his explosiveness to this point. Per Pro Football Focus he graded out at 64.2 percent on offense last season in 168 reps and had a 62.3 receiving grade with two dropped passes on 17 targets.
It appears something has now clicked for George, and Miami needs him to continue to step up and close out the spring strong and carry that into the fall.
2. NUMEROUS TRUE FRESHMEN ARE LIKELY TO BE ON TWO DEEP
As you look at the spring depth chart you already see several newcomers working their way up.
On the offensive line it took all of two practices for Francis Mauigoa to emerge as the first team right tackle. And fellow five-star signee Samson Okunlola is working as the second team left tackle.
Also on the offensive side speedster Robby Washington is lining up with the twos to start practices, and he can be a difference-maker in certain situations on the outside.
Plus we think true freshman RB Mark Fletcher will carve out a role for himself and perhaps even compete to start when he gets on campus this summer.
On defense?
Up front Rueben Bain is impressing right off the bat and we think it's a good bet he's in the two-deep when the season rolls around. On the interior Joshua Horton isn't here yet but we're hearing he will get every chance to push for reps and is likely to be on the two-deep. That's just how high coaches are on him.
At linebacker Bobby Washington has been a standout this spring, with the combination of speed and physicality coaches want. Don't be shocked if he's a two-deep guy.
And in the back end Kaleb Spencer looks the part as a big, physical safety and we could see him getting reps there this season.
Then there's punter Dylan Joyce – the signee will be the team's starter there this season.
So a lot of newcomers are likely to be getting on the field this season, and that's going to give us a glimpse of what most expect is a bright future.
1. CULTURE IS IMPROVED
After the scrimmage last weekend, coach Mario Cristobal didn't talk about performances … but discussed the team culture. And that might just be the most important area for Miami this spring.
"Overall you saw a much better response," Cristobal said following the scrimmage. "We have to train that, have to keep fixing culture. You can't have a front running mentality. When stuff doesn't go well you have to bust your butt and keep going forward and your best players have to show. There were moments today we showed that and others we have to get better at.
"We have a couple of new coordinators (Lance Guidry and Shannon Dawson) so schematically we are different. But just coaching culture, coaching how you finish plays, technique and fundamentals, those things are starting to show up more consistently and they have to show up more. And then how you finish plays, the effort behind it. So that part's coming along, we still have a ways to go, and we have to push that as coaches. On Greentree you have to practice hard, push players hard."
The culture on last year's 5-7 team wasn't there, and getting guys who are all about the work and have that Kam Kinchens study-film-at-all-hours mentality is needed. That's starting to show up, and has to continue to progress to really get this program where Cristobal envisions it.
A talented team that works hard and listens to coaches is the formula for championship football.
The post ANALYSIS: Key things we've learned with five Miami Hurricanes spring practices remaining appeared first on On3.