ANALYSIS: Spring Game Balls ready to be handed out to worthy Miami Hurricanes performers from Friday night
3 min read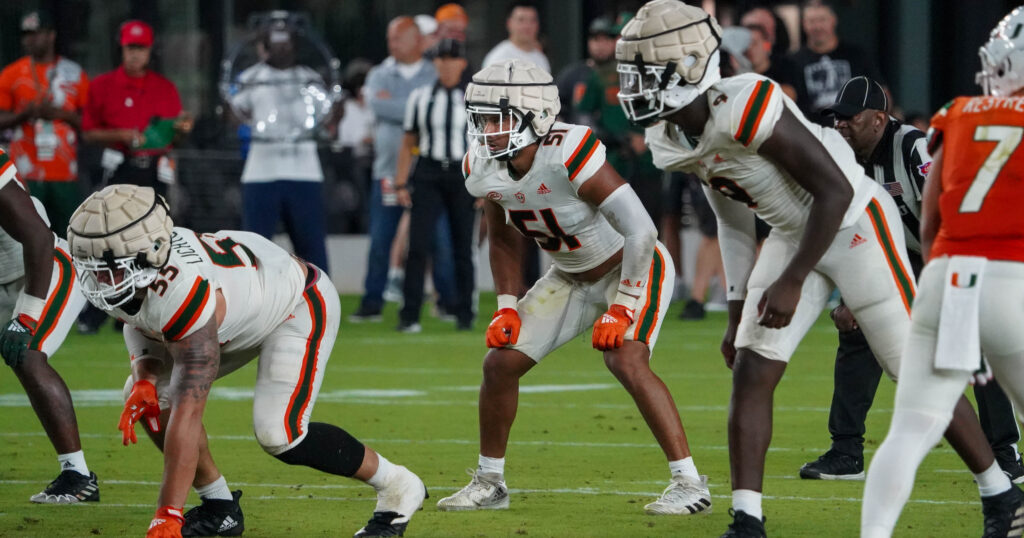 The Miami Hurricanes held the annual spring game on Friday night in Fort Lauderdale, and while it was relatively vanilla on offense and defense there were several game balls that CaneSport will deservedly hand out after some standout performances.
Here are the Miami players that are worth of five game balls, ranked from No. 5 to 1 based on the Spring Game:
5. WR Ray Ray Joseph
The 79-yard TD on a busted coverage on the final play aside, Joseph looked twitchy and fast, and he likely would have scored another long TD if not for a Jacurri Brown pass that was off the mark. Joseph has game-breaking speed and could be a slot or outside weapon in the Shannon Dawson attack. There is no doubt he will be on the field a lot this season and from the looks of it he just plays at a different speed than what we saw at receiver for Miami last year. And go ahead and give an honorable mention game ball to Xavier Restrepo as well – he had three 20-yard plus catches in the scrimmage and showed great effort laying out for a tough ball he couldn't reel in.
4. WR Jacolby George
George had two catches for 46 yards in the first half, including a 15-yard TD on a perfect toss from Tyler Van Dyke over his shoulder. But for us his best catch was a short inside throw he took in stride and then exploded past the defense for a gain of 31 yards before Francisco Mauigoa took a good angle to chase him down. George showed an explosiveness and speed we haven't seen from him in the past at Miami, and there's a reason he was with the first team all spring.
3. LB Francisco Mauigoa
Francisco Mauigoa (photo by Neil Gershman)
Maybe Mauigoa didn't have the same splash as Ray Ray Joseph, who had the 79-yard TD to end the scrimmage, or Jacolby George with his two TDs. But don't underestimate the impact that Mauigoa had on the field. He showed a great nose for the ball, attacked gaps and even tracked down speedy Jacolby George when he broke free by taking a good angle. Otherwise that's a long TD. Mauigoa also had a key tackle for a loss when the offense was in the red zone, one of his two TFLs on the day. With Corey Flagg out injured, Mauigoa took advantage of the opportunity and it appears he's the clear favorite to start at MLB based on what he showed this spring and in the Spring Game.
2. Rueben Bain
Bain didn't flinch lining up inside and at end, performing well at both in the Miami Spring Game. He ended with three sacks and was within a hair of a fourth. For Bain to have beaten veteran starter Jalen Rivers several times is a testament to what this true freshman can accomplish. Heading into spring practice it was expected that either Nyjalik Kelly or Jahfari Harvey would start this season opposite Akheem Mesidor. Now? It seems obvious Bain will have a significant role in Year 1, and Kelly and Harvey (who missed spring) better watch out because Bain is coming for them.
It was great to see a Van Dyke that isn't just back healthy but also functioning as if he's run the Shannon Dawson offense for years. He was adept at the line getting guys lined up, made quick reads and on target throws. The first half was all that really counted, with the second half a running clock and no tackling to the ground, and Van Dyke hit on 13 of 19 throws for 184 yards with a perfectly placed over-the-shoulder 15-yard TD toss to Jacolby George in the right corner of the end zone. Van Dyke added a second TD to George in the second half, from one yard out. With guys like George, Restrepo and Joseph stepping up in the Miami Spring Game, and others you know can be playmakers like Colbie Young and maybe even Isaiah Horton, etc., Van Dyke appears poised for a huge season.
The post ANALYSIS: Spring Game Balls ready to be handed out to worthy Miami Hurricanes performers from Friday night appeared first on On3.