Angel Reese, Alexis Morris discuss LSU win over Virginia Tech
11 min read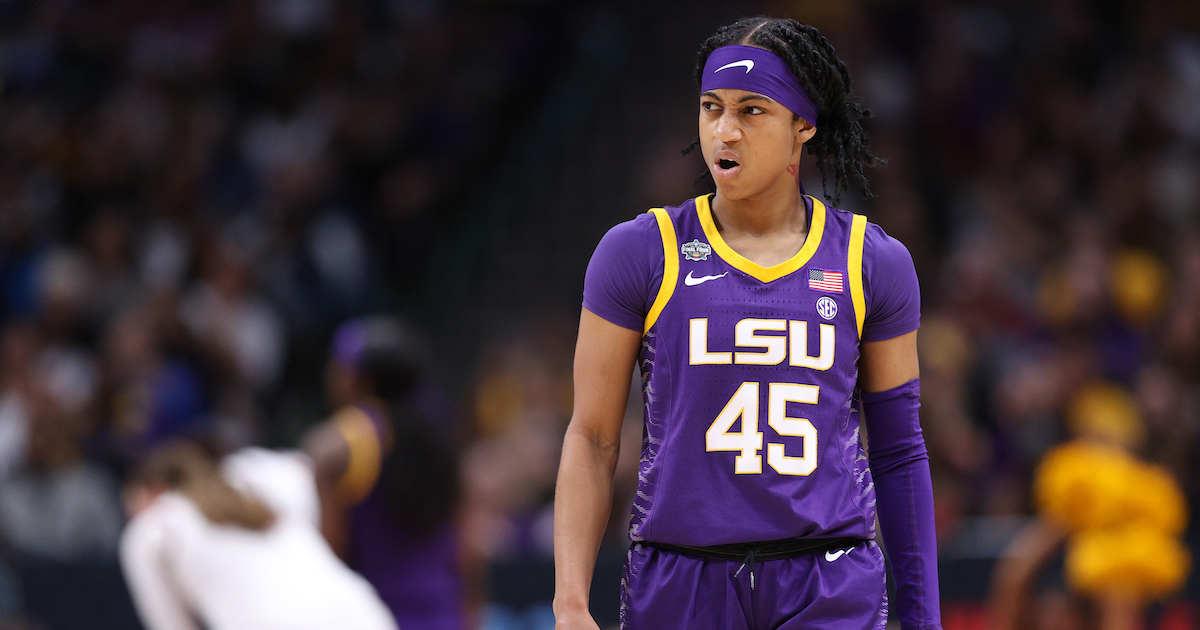 LSU stars Angel Reese and Alexis Morris talked with the media after the Tigers beat Virginia Tech Friday night to advance to the National Championship game. Here's everything they said in their press conference.
Q. This is for both Angel and Alexis: First of all, Alexis, the emotion. You were on top of the table. You were having a great time.
ANGEL REESE: I didn't see that.
Q. Talk about the emotion that you feel. All you've been through, the journey, reuniting with Coach Mulkey. Just talk about how you feel.
ALEXIS MORRIS: Just the comeback, it's bittersweet that I have to leave, but it's like I'd rather leave on top than anything, compared to anything. So I'm just super excited.
If you know me, I'm never satisfied. I'm super excited that we won, but I'm hungry, like I'm greedy. I want to win it all so I can complete the story and complete the comeback. I've been through so much, so much that you all don't even know.
So I'm just super excited. It was just — you know, I wanted to show some appreciation to our fans. They were amazing tonight. I feel like they cheered us on to victory.
Q. Alexis, this was your goal. You wanted your senior night to be on Sunday in the National Championship Game. Now that you finally accomplished that, just what did tonight's performance mean to you?
ALEXIS MORRIS: It's just another game. Like I said, I have bigger goals. I shifted my focus to Sunday, and that's where my focus is now.
Nothing to discredit my performance tonight. I think I had a great performance. I think my team, we did a great job tonight. I'm just locked in on the prize.
Q. For both of you, it seems like this year has been magical, but y'all have been that underdog. Now you're going to be in the National Championship. What goes through your mind?
ANGEL REESE: It's like a dream. It still hasn't hit me that I'm at the Final Four. I'm just not even believing this right now. Like it's crazy how much my life has changed in one year, how much I've grown on and off the court.
And then to be with this amazing program, LSU, and to be with my amazing teammates and amazing coaches — I just don't know how to feel right now. Just to be able to believe in each other. All we had was each other. We believed in each other more than anybody else.
I'm just happy, I'm excited. I'm full of emotions right now.
ALEXIS MORRIS: Angel pretty much said how I feel right now too. It still hasn't hit me. Maybe if we're the standing champions at the end, then maybe I can just let go and just be like ahhh, like relief.
But I'm super excited. It's amazing. We just made history too, the first LSU team to ever compete for a National Championship. Men or women.
ANGEL REESE: Herstory.
ALEXIS MORRIS: Herstory.
Q. Bigger than the game, bigger than everything, you all are hometown heroes. You're from Beaumont, Texas, you know what that means. And you're from Baltimore. What does it mean for y'all to be hometown heroes and on this stage right now?
ANGEL REESE: Man, we're doing it for the city, man. Baltimore. I don't know if anybody has gotten to the National Championship from Baltimore, I am not sure. But I know so many people have reached out to me — the mayor, the Baltimore Ravens, the Orioles — like everybody's standing behind me right now.
And the support I have — my mom, my brother, my whole family, they came out as well. To be the one to be able to do this and be able to lead by example, I'm just proud because not a lot of people can say they do this from Baltimore.
ALEXIS MORRIS: Being an inner city kid, I just hope I'm empowering the youth and showing them you can choose the right way instead of the wrong path. Beaumont is Beaumont, you can look it up. It's a small town. It's not really much to offer.
So hopefully the kids in the younger generation can look to me and be like I can be somebody. It don't matter, girl or boy. So, yeah, I know my city's standing behind me too. Beaumont, I love you.
I can't even really tell you how — I don't even know. I think we probably got a few pros, probably like two or three that has ever made it out of Beaumont basketball-wise, so yeah.
Q. Facing a nine-point deficit going into the fourth quarter, what was said going into that last ten minutes of being able to just stick together and come out and be able to make the game deciding run from there?
ANGEL REESE: Coach told us in the huddle play this next two minutes and see how far it can take you, and those next two minutes, I think we went on a 6-0 run, 7-0 run. So being able to just listen to the coaches and trust them — she's been here before. So we have to at this point trust in them and let the defense speak for itself.
The game was going to come down to our defense. They have great players on their team. Amoore, she's a great player, but we have Alexis Morris as well that hit a lot of big shots coming down.
So just coming down to leadership and being able to stay together at the right time was important for us.
ALEXIS MORRIS: Staying poised and staying calm, never get rattled. Like that's going to take you further in those situations when you're down. You've always got to have somebody that keeps everybody on one accord. Just keep everybody levelheaded.
Q. Did you guys — LSU was 0-5 in the Final Four. Did you carry the burden of any of that history? Seimone Augustus and Sylvia Fowles didn't get where you all are tonight. What does that mean?
ANGEL REESE: We just wanted to make history. They supported us in everything we've done. We had Seimone out. I'm not sure Sylvia was here, but they support us in everything we do.
Having Coach Bob Starkey, he knows what it takes. He'd been to the Final Fours with them. He's been encouraging us knowing what it takes to get there. I'm just happy we're doing it for LSU and the program. I think LSU itself has put women's basketball on the map. We have. We've grown women's basketball just being who we are, and I embrace that.
I don't want anybody to ever tell us don't do that because I think that this is who we are and this is why we've gone this far because we have that swag.
ALEXIS MORRIS: Facts.
Q. Angel, Lex has done a lot of talking tonight, but what about her game? From start to finish, she set the tone. There's a chip there, we all know it, and she had something to prove tonight.
ANGEL REESE: Her game speaks for itself. She told you in the last press conference, that Georgia had a handful on her hands. Alexis Morris was the one who came out, and she had a handful of her. Alexis Morris is a pro. She's a first rounder. She's been through everything. You admire what she does. She's the comeback kid. She came back from everything and she's done everything they said she couldn't do.
I'm proud of Alexis. Alexis Morris is Alexis Morris, but when it's Luthor time, it's Luthor time. I'm just so proud of her.
Q. Just how big was the offensive rebounding in terms of coming down the stretch as you look to came — as you did come back and win tonight's game?
ANGEL REESE: I remember they came in at halftime and said they had 11 offensive rebounds over us maybe. More rebounds — they had 11 more rebounds than us, and I took that personal because I'm supposed to be the one that gets the rebounds. So I didn't want to let my team down and just trying to do whatever it takes to win.
Kitley is a great player. She's a great post player, and she does her job well, with her supporting cast Soule and King coming in and getting some rebounds as well. Just being able to take it personal and go in there and be gritty and be physical. I think the refs let us do a lot tonight. So just doing whatever it takes to win.
Q. This question is for Alexis: In the fourth quarter, how were you able to find the space? How did your team make sure you were in the position to hit those shots that you hit that put the game away?
ALEXIS MORRIS: Screens. My teammates were setting great picks for me. Coach is calling plays for me, iso'ing me. Obviously I was the hot hand down the stretch. You go with who was hot. Fortunately, I was hot tonight.
Just playing, man. You just got to keep playing through the course of the game and staying aggressive. I was due a good game. I owe my team this game, so yeah.
Q. Alexis, throughout this tournament, you talked a little bit about how the team has not been doing as well offensively, but the defense has been carrying. So what about tonight the offense is working? And for both of you all, did you have the Sharpie rings on tonight?
ALEXIS MORRIS: I'll answer the second question. No, we didn't have the Sharpie rings on, but it's definitely on our mantles. For the first question — oh, okay. We had a solid offensive night, but I know my team, I know we can be better.
Like I said, our offense is not what got us back in the game. It was our defense. We turned our intensity up another notch, and that's what gave us the spark on the other end of the floor. That's how we were able to be victorious tonight.
Q. Alexis, this question is for you: You mentioned earlier your journey and things you have gone through that we as the media of course would not know about. You say basketball has been your safe place. What does the game of basketball mean to you?
ALEXIS MORRIS: Basketball is like my playground, and it's not that I just have a horrible life or like, you know, but everybody has their thing. This is my escape. This is my arcade. This is my maze.
Basketball has taught me a lot of life lessons. I've been able to find my identity away from the court when I was away from the sport.
One day I'm going to write a book. I'm going to have a documentary. I'm going to have some charities for kids, be a mentor, maybe even coach someday because I feel like I have a lot of wisdom from my experiences that I'm willing to share and help somebody else.
Basketball has put me in a position to bridge gaps, and I'm very fortunate for that, for those experiences. Thank you.
Q. I apologize if it's already been asked, but Flau'jae tonight, the plays she made defensively, offensively. She went up and got one rebound, and the guy behind me said, oh, my God, did you see how high she got up? Can you talk about her performance for LSU, especially down the stretch?
ANGEL REESE: That big steal that she had in transition, and she finished that. I think that gave her a lot of momentum. Flau'jae has matured so much during the season, just being able to come in. Even if she doesn't score a lot, she comes in and rebounds and plays defense.
She's a freshman. You have to realize she's a freshman. I remember in the fourth quarter, it was one of those last plays, where she had blocked Kitley's shot. They called a foul. I thought it was a block. And I said that was soft because I said, Flau'jae, you're a freshman, and you're playing against an All-American right now, and you just blocked her shot, and I'm proud of you. Sometimes as a freshman you don't want to go against matchups like that, and Flau'jae is not scared of anything.
We can't win games without Flau'jae. Her being a supporting role and doing what she does, we need that.
ALEXIS MORRIS: As a senior, you have to like let the younger ones know that it's not just about scoring, it's the little things, like that still gave us a spark. It gave us a boost, gave us some confidence on the defensive end.
Flau'jae, she just got swag, man. Some people just don't have it. Swag and she got heart. That's two things you can't teach. She's Flau'jae.
Q. Angel, LaDazhia goes 7-of-9 from the field and guards Kitley. What can you say about her performance?
ANGEL REESE: I wanted to tell you all that before the game. LaDazhia was going to be the one that was guarding her from the beginning, and she played her well to the T. LaDazhia, they may not say she's All-American, but in my eyes she is. She in a supporting role and she does her job every single night. She finishes around the basket. She rebounds. She usually guards the best post player.
She's amazing. I love LaDazhia. That's the best post player I ever played with, and her journey just continues as she keeps getting better and better and better.
Q. Lex, for you, I'm curious, you take the floor tonight, it's the Final Four, you're back in your home state. Can you just share maybe that last pregame thought that went through your head and what maybe transpired tonight through your play or performance that may have reflected what those final thoughts were?
ALEXIS MORRIS: The last pregame thought, I think I was thinking about my best game I ever played in high school. That's what I was thinking about, those moments when I just felt like unreal. You know, I was just playing out of my body. I was in the zone. I was focused.
I was just thinking about a lot of those moments, just kind of reminiscing. Maybe it could spark and give me a little edge on the court, a little more confidence.
You know what else I also thought about? I thought about the matchups. You all kept asking me about the matchups, the matchups, the matchups, but I appreciate that because you put a chip on my shoulder.
And being back home, it just means everything to me. I'm a Texas kid. I was born and raised here. Just to have my supporters and people I grew up around, people that have been knowing me since I was a child, and now they can see how to persevere and be relentless. Like it's pretty special, man.
The post Angel Reese, Alexis Morris discuss LSU win over Virginia Tech appeared first on On3.