Angel Reese, Flau'jae Johnson partner with Campus Ink to release limited edition basketball jerseys
3 min read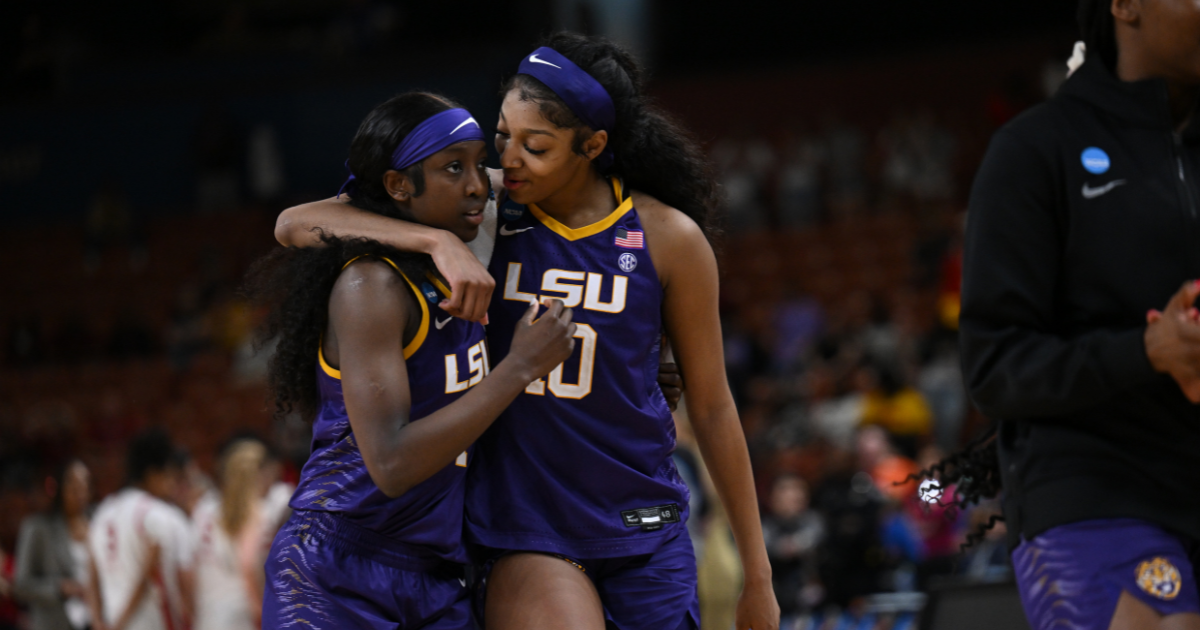 Angel Reese and Flau'jae Johnson have each seen their Instagram profiles fly past a million followers since Sunday night.
The LSU basketball stars helped deliver the program's first national title. Already major names off the court, the duo has cashed in on their name, image and likeness rights throughout the past season.
Now they'll each have their own limited edition basketball jerseys that fans can buy. Through a partnership with Campus Ink, the apparel and merchandise company has opened up pre-orders for limited edition jerseys.
As part of the agreements, each athlete will profit between $8 and $15 per each jersey sold, Campus Ink Director of Athlete Development and Partnerships Adam Cook confirmed to On3.
With a cost of $89.99, the uniform comes in purple with a tiger print running down the side. Each athlete's jersey features LSU and their number on the front, with their name and number featured on the back.
Sizes run from youth small to a 3XL; jerseys are expected to ship on May 24.
"We're thrilled to work with Angel and Flau'jae to bring their NIL merchandise to the market at such a momentous time in their careers and in what is undoubtedly a period of inflection for collegiate women's basketball as a whole," Cook said. "Across our entire ecosystem of NIL stores, we take immense pride in helping athletes celebrate their biggest moments, and most importantly, paying them industry-leading royalties. In less than two years we have made our athletes more than $250,000 in earnings."
Campus Ink, which runs the NIL Store platform, has athlete-centric stores and licensing agreements with a 10 schools including Florida State, Michigan State and UConn. The company is in the midst of expansion, which will include an LSU NIL Story. Cook said LSU softball and baseball jerseys are in the works.
Angel Reese, Flau'jae Johnson primed for NIL growth
Both Reese and Johnson have already begun to cash in following the Final Four. Reese has released "Bayou Barbie" merchandise and has seen her Cameo price, now up to $2,000 for a business. The duo have also signed deals with Raising Cane's and spent part of Wednesday working at the fast-food restaurant's Baton Rouge location.
They also had strong seasons. Reese her 34th double-double of the season in the national title game, finishing with with 15 points and 10 rebounds. Johnson added 10 points and seven rebounds in the win, helping an LSU team that finished 34-2 on the season.
Johnson's On3 NIL Valuation is now $752,000, roughly a 12% growth in the last week. She ranks No. 5 in the women's basketball NIL rankings. Reese has seen her social media take off, now sitting at nearly 2.7 million followers. Her On3 NIL Valuation has soared, up 124% to $876,000.
The On3 NIL Valuation is the industry's leading index that sets the standard market NIL value for high school and college athletes. A proprietary algorithm, the On3 NIL Valuation calculates an athlete's NIL value using dynamic data points targeting three primary categories: performance, influence and exposure.
While the algorithm includes deal data, it does not act as a tracker of the value of NIL deals athletes have completed to date, nor does it set an athlete's NIL valuation for their entire career. The On3 NIL Valuation calculates the optimized NIL opportunity for athletes relative to the overall NIL market and projects out to as long as 12 months into the future.
The post Angel Reese, Flau'jae Johnson partner with Campus Ink to release limited edition basketball jerseys appeared first on On3.