Another 5-star visitor for Auburn on Wednesday with Mike Matthews heading to the Plains
2 min read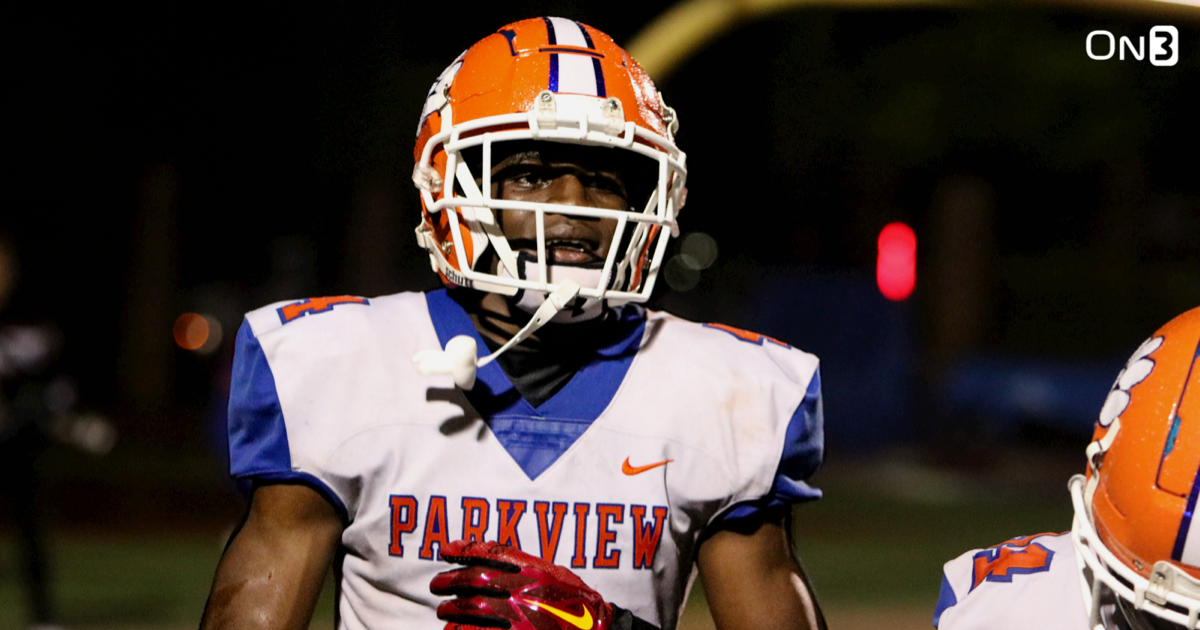 On3 five-star offensive tackle Jonathan Daniels will visit Auburn on Wednesday, but he won't be the only five-star recruit on campus. Mike Matthews, the No. 8 overall recruit in the 2024 class, will be there as well.
"I'm visiting (Auburn) tomorrow," Matthews, from Parkview High in Lilburn, Ga., told On3 Tuesday night.
The trip will be Matthews' first known visit to Auburn since Hugh Freeze took over the program in November. His teammates, four-star defensive back Jalyn Crawford and three-star defensive back Antonio White, both visited Auburn on March 13.
Matthews, Crawford and White, in addition to being teammates, are close friends. The trio has discussed playing together in college.
Auburn has work to do with Matthews, who is ranked the No. 3 wide receiver in the class. According to the On3 Recruiting Prediction Machine (RPM), in-state Georgia leads the way with 24%, followed by Clemson at 21% and USC at 18%. Matthews has visited both Georgia and Clemson at least four times each. He's visited Southern Cal once and already has locked in an official visit for June 17-18.
Matthews on Tuesday released a top group of schools. He narrowed his long list of offers down to 12. Auburn, Clemson, Georgia and USC made the list. So did Alabama, Colorado, Tennessee, LSU, Michigan, Texas A&M, Arkansas, and Ohio State.
Matthews' On3 Personal Life tab
Mike Matthews earned all-region, all-county and all-state honors in 2022 after catching 48 passes for 1,031 yards and 10 touchdowns. He also starred on defense with 23 tackles and two interceptions. Matthews is also a successful basketball player and juggles both football and basketball at the high school level. Matthews prides himself on his work ethic.
"I want people to know you can always count on me," he said. "I want to be one of those guys. To be known for that rather than just being one of those five-star guys. I don't really take breaks, even during the week. After practice, I'm always working and making extra effort. I'm about the effort and extra work."
Matthews' On3 Scouting Summary
Two-way playmaker with elite ball skills who has blossomed into one of the top wide receiver prospects in the 2024 cycle. Measured at 6-foot-0.5, 185 pounds with a 6-foot-6 wing-span prior to his junior season. Lines up at both receiver and safety for Parkview High. Pairs that length with advanced coordination and hands to result in a considerable catch radius.
Catches the ball away from his body and has shown the ability to win in contested situations on Friday nights and in 7-on-7 settings. A bouncy athlete who doubles as a standout basketball player in high school and on the AAU circuit. Still developing as a route-runner, but is showing progress as a junior. One of the top overall prospects from the state of Georgia regardless of class.
The post Another 5-star visitor for Auburn on Wednesday with Mike Matthews heading to the Plains appeared first on On3.