Around the Horn: Nebraska baseball opens Big Ten play against Illinois
5 min read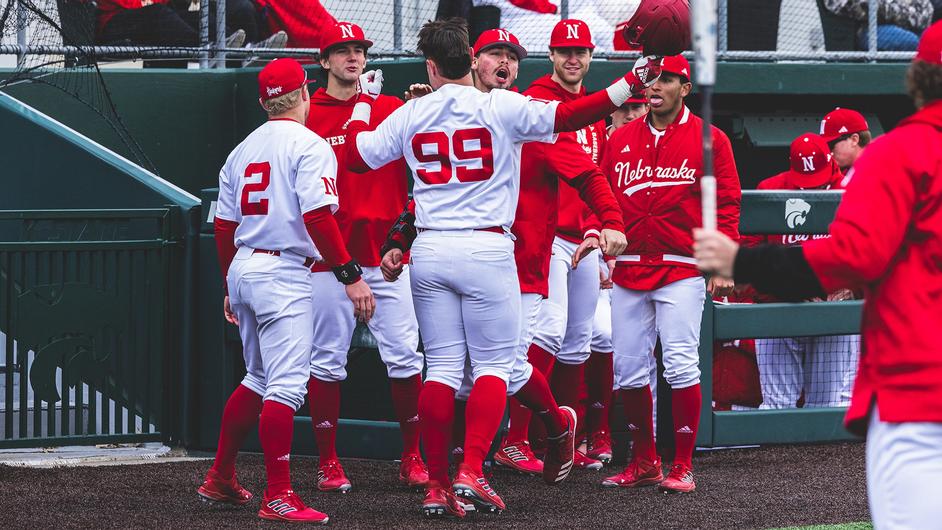 The Nebraska baseball team (11-7-1) will begin Big Ten Conference play on Friday as they are set to take on Illinois (10-7) in a three-game series. After the Huskers hit a two-game skid with losses to Nicholls and Creighton, NU has a chance to bounce back in its first conference series.
The Big Red have a chance to
Click here for a limited time, register, and get full access until the start of the next football season for only $29.99
Projecting the pitching
Note: These are projections and will be updated once starting rotations are officially announced.
Friday, 6:05 p.m., LHP Emmett Olson (3-1, 3.34 ERA) vs. RHP Riley Gowens (1-0, 4.33 ERA)
Saturday, 2:02 p.m., RHP Jace Kaminska (4-0, 1.86 ERA) vs. RHP Julius Sanchez (0-2, 8.31 ERA)
Sunday, 1:05 p.m., TBA vs RHP Jack Wenninger (2-1, 5.03 ERA)
What to watch for the Huskers
A new shot at the Big Ten
Last season the Huskers struggled to compete when it came to conference play. Coming off their Big Ten title winning season, the Big Red won just two of their eight conference series last year.
Prior to its first Big Ten series last season, Nebraska was 8-11, having started the season 1-6 through the first 7 games of the year. This year the circumstances are more favorable. NU's win percentage is positive, and even after a rough start to the year, they sit at 11-7-1.
With a new conference season ahead of them, the Huskers have a chance to push for another conference title. That's something they didn't come close to last season.
In 2022 NU narrowly missed out on the Big Ten tournament after finishing the season 10-14 in conference play. Going into 2023, the minimum that this team expects is to qualify for the Big Ten tournament. Everything after that would remind them of the strong 2021 run.
Hot bats from the veterans
Max Anderson and Brice Matthews have put a jolt into the Husker offense with their hot bats. Both of the juniors are hitting above .400, putting them both in the top four averages in the conference.
Anderson is sitting in second place with a .449 average behind Michigan State's Brock Vradenburg who is hitting an astounding .455. Matthews trails closely behind with a .414 average.
With those leaders, the offense as a whole leads the Big Ten in batting average, hitting .329 with 219 hits and 165 runs.
If the numbers don't lie, this team could be in for an exciting Big Ten season offensively.
Back at home
Nebraska will be back in Haymarket Park after 10 days away from home. The Huskers were forced to play last weekend's series in Manhattan, Kansas due to weather.
Being back at home means Nebraska will play in front of the home crowd. A place where they have won four of the five times they've played there this season.
Looking back to the past, teams under Will Bolt have gone 28-19 at home in the past three seasons. On the contrary, they have been 24-25 on the road.
Although the weather may not be perfect, being in front of a home crowd could be a major positive for this Big Red team.
Nebraska baseball notes
***The Husker offense leads the Big Ten in four major categories: batting average (.329), doubles (49), on-base percentage (.427), and slugging percentage (.556). Nationally they rank in eighth in batting average.
***The Big Red have improved vastly when hitting with runners in scoring position. in 2022, NU hit .261 with RISP, but this season they have hit .330.
***Nebraska's Saturday started Jace Kaminska has not allowed an earned run in his last 18.2 innings pitched.
***Max Anderson ranks 14th in the nation in batting average (.449). He ranks second in the conference with that mark.
***Brice Matthews ranks first in the Big Ten in on-base percentage (.527). This percentage puts him 50th in the nation.
Know the foe: Illinois
***Illinois took two of the three games in this series last year. That series was held at Illinois Field. This is the Illini's first trip to Lincoln since 2019, a series that they won 2-1 as well.
***The Illini sit in 10th place in the Big Ten batting average, hitting .269 as a team. Their leading batter, Cam McDonald, is hitting .307. That mark puts him in 40th place in the conference.
*** Illinois head coach Dan Hartleb is looking to set program history in all time wins. He sits at 517 wins and is just two away from overtaking Lee Eilbracht (518) for the most in the program's history.
***Drake Wescott for the Illini has hit six home runs this season. This number is third most in the Big Ten, tied with Nebraska's Brice Matthews.
***Illinois leads the all-time series over NU 15-13 through 28 games.
Around the Big Ten
Here are a few Big Ten games to keep tabs on this weekend. With Big Ten play starting, here are the three other Big Ten only series going on.
Penn State (12-5) @ Michigan (9-11)
Ohio State (12-7) @ Indiana (14-7)
Purdue (9-10) @ Michigan State (11-7)
Conference standings
SCHOOLCONFPCTHOMEROADOVERALLPCTHOMEROADNEUTRALLAST 10STREAKIowa0-0.0000-00-016-3.0007-02-27-18-2W6Penn State0-0.0000-00-012-5.0003-01-38-27-3W3Indiana0-0.0000-00-014-7.00011-02-61-19-1W4Ohio State0-0.0000-00-012-7.0003-14-05-68-2W1Michigan State0-0.0000-00-011-7.0001-05-45-37-3W6Nebraska0-0.0000-00-011-7-1.0004-13-4-14-26-4L2Maryland0-0.0000-00-012-8.0008-24-30-38-2W2Rutgers0-0.0000-00-012-8.0003-08-61-29-1W3Illinois0-0.0000-00-010-7.0001-15-54-16-4W1Purdue0-0.0000-00-09-10.0001-10-58-44-6L3Michigan0-0.0000-00-09-11.0002-33-34-55-5L2Minnesota0-0.0000-00-04-18.0003-121-30-32-7W1Northwestern0-0.0000-00-01-14.0000-01-140-01-9L2
Broadcast Information
TV: Friday & Sunday, B1G+ (HERE) Saturday, Nebraska Public Media
Radio: Huskers Radio Network (Radio simulcast found HERE)
Stations: Lincoln (1400 AM), Omaha (590 AM)
The post Around the Horn: Nebraska baseball opens Big Ten play against Illinois appeared first on On3.