Assessing the progress made at EDGE during Texas spring practices
4 min read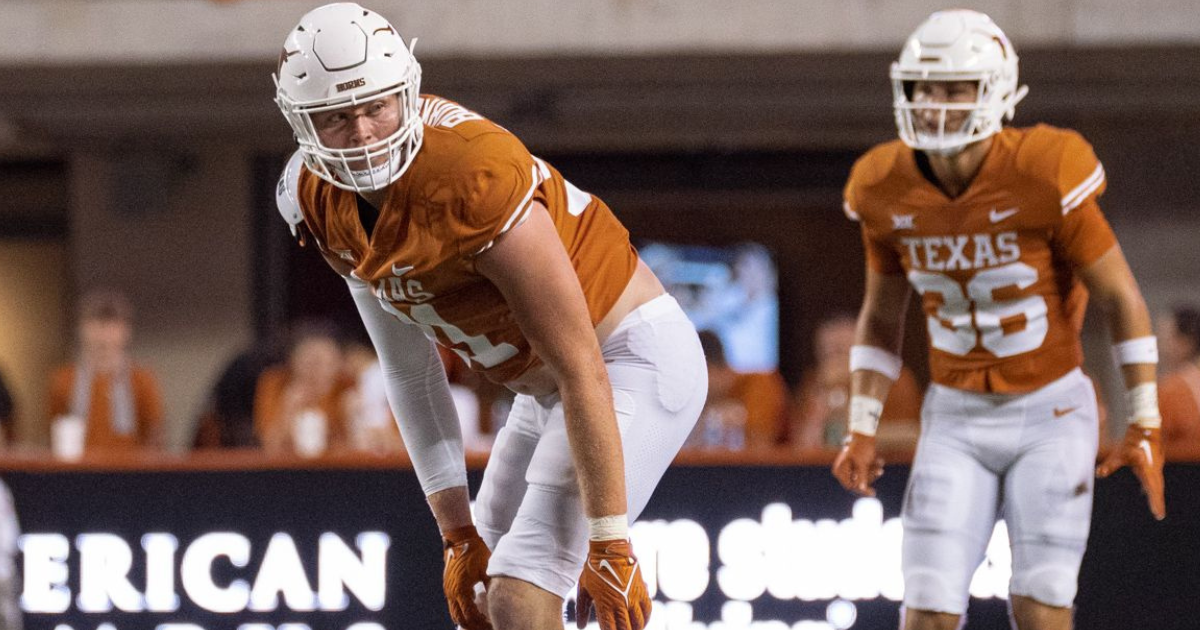 At the beginning of spring football, Longhorns head coach Steve Sarkisian was asked a question about the EDGE positions on his defensive line. He said it was an area where he would need a few practices worth of data before making an estimation about the position.
[Get FOUR MONTHS of Inside Texas Plus for only $1!]
Then on March 21, Sarkisian said, "we've got a long way to go at that spot."
On Tuesday, Sarkisian was asked again about EDGE now that the Horns are two-thirds of the way through spring practice. With the data available from reps his defenders have taken versus Kelvin Banks, Christian Jones, and others, Sarkisian highlighted a handful of players.
"Whether it's a Barryn Sorrell, whether it's an Ethan Burke, whether it's a J'Mond Tapp, a Justice Finkley, a Colton Vasek, whether we can get some of the linebackers to the edge with what they can do, I think ultimately we do measure it against those guys and I do think they're all improving and growing," Sarkisian said.
Does playing rep after rep against Banks and Jones, or other highly-rated but young tackles on the roster, give Sarkisian any reason to temper what he sees from EDGE?
"I don't like to temper anything," Sarkisian said. "Ultimately, our job is to beat the best teams that we play on our schedule, and ultimately put ourselves in position to compete for a championship. If you're in that role, they've probably got good tackles, too. So I do measure it against what does it look like when they go against those guys."
Sorrell is the most proven of the list of names offered by Sarkisian on Tuesday. A 6-foot-4, 262-pound junior, Sorrell played in all 13 games and started 10 at the strongside end position, called Jack in the Texas defense. He was an honorable mention for All-Big 12 status and tallied 44 tackles with nine tackles for loss, 5.5 sacks, a forced fumble, a pass breakup, and seven hurries.
The rest of the names? Far less proven, especially at weakside end, or Buck, following Ovie Oghoufo's transfer to LSU.
Burke is a 6-foot-6, 250-pounder from Austin who played in 11 games last year, making most of his contributions on special teams. He had six tackles and 1.5 TFLs during his action, and entered the offseason as a lead contender for the Buck position. So far this spring, he's been part of strong competition with Finkley.
[Sign up NOW for the Inside Texas newsletter for Texas Longhorns daily updates and breaking news in your inbox!]
Finkley played in 12 games last season and saw regular action on defense at Jack. He had seven tackles and 0.5 sacks. He's split time at both spots.
The others mentioned as competing are particularly inexperienced. Tapp played in two games last season, both against the Longhorns' Group of 5 opponents of UTSA and ULM. Vasek, an early-enrollee from Austin and a flip from rival Oklahoma, is listed at 6-foot-5, 230 pounds. Needed physical development might make playing time tough to come by as his former high school teammate Burke can tell him.
Not mentioned by Sarkisian on Tuesday was Jaray Bledsoe, but that has to do more with him splitting time between the interior of the defensive line and the EDGE. Sarkisian did add another name to the mix during one answer. This was while explaining how in the quest to find a pass rush that can get home, Texas is taking schematic steps aimed at providing more opportunities for success.
"I do think our defensive staff has done a nice job of putting some new wrinkles in to create opportunities and create some one-on-one rushes, and guys can show what they can do," Sarkisian said. "Hopefully our youth can continue to grow into where they need them, whether it's a Kris Ross, a J'Mond Tapp, a Burke, a Vasek, those guys are all talented players."
One of those players emerging to help Texas convert pressures (which the Horns had 276 of last year) to sacks, (only 27, middle of the pack in the Big 12) is one of the main defensive focuses this spring along with replacing DeMarvion Overshown at linebacker.
Though Sarkisian has seen progress so far at EDGE, there's a lot more work to be done at the position even with practices remaining.
"How far can they take it?" Sarkisian said. "That's what we have to find out here throughout the rest of spring, summer, and then fall camp."
The post Assessing the progress made at EDGE during Texas spring practices appeared first on On3.