Auburn Tigers QB commit Walker White bonds with 3 big WR targets at A-Day
3 min read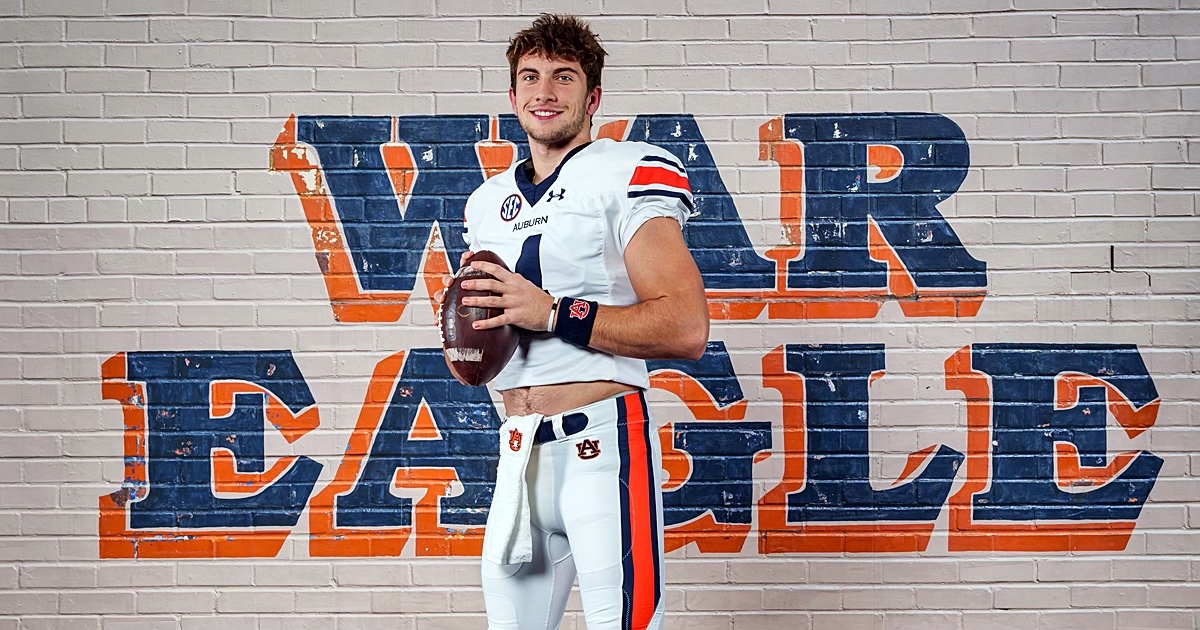 Walker White didn't just attend A-Day to watch Auburn compete. The 4-star Tigers quarterback commit from Little Rock Christian Academy (Ark.) also was there so he could bond with three key Auburn receiver targets — Cam Coleman, Perry Thompson and Courtney Crutchfield.
For White, it was his first chance to meet Coleman, the No. 44 recruit in the country for the On3 Industry, and Thompson, a 4-star Alabama commit and No. 32 player nationally, for the first time. Meanwhile, Crutchfield, also from Arkansas, made the trip with White.
Looking back, White said he bonded with all three.
"I kind of focused on those three," White told Auburn Live. "I know Courtney loved it. I know both Cam and Perry loved it."
Coleman, a 6-foot-3.5, 190-pound standout from Phenix City (Ala.) Central, might very well be Auburn's top offensive target regardless of position. 
2 of White's biggest targets are Alabama standouts
"Got to talk to Cam a good amount," White said. "Had a good time. I think him and I had a good connection. Talking to him was easy. He's much taller than I thought, and he said the same thing as me. First thing he said, was, 'You're much bigger than I thought you're were going to be.' I kind of just tried to observe him for awhile and it looked like he was having fun. It kooked like he was in his element, feeling comfortable talking to coaches and players on the team. It showed he felt comfortable. It showed first hand that Auburn makes you feel like, no matter who you are, you're at home."
White said he also hit it off with Thompson, a priority Tigers target who lives in Foley, Ala.
"We had talked a lot before A-Day," White said. "He also is much bigger than I thought he was going to be. That was really good. It feels like me and him would work really well together. He wanted to stay outside even though it was raining. A lot of guys wanted to go inside. He didn't even have a rain jacket. He just sat outside and took it for what it was. He got really soaked. But I could tell he was having a good time. Me and him had a couple good talks."
He also has a Tigers receiver target nearby to him in Arkansas
Crutchfield, another 4-star recruit, traveled to Auburn with White and his family.
"He came to my commitment. That's when I first met Courtney," White said. "He was really fun to be with. During the car ride, he was real talkative and easy. With Courtney, I was just watching him the whole day, and he was just having a blast. He was just taking in everything that Auburn is worth. Just loving the experience. He didn't care it was raining; he was just having fun."
White said when he's with Auburn targets, he doesn't try to sell the program too hard. Instead, he focuses on getting to know them on a personal level.
"I leave (sales pitches) to the coaches," White told Auburn Live. "I take that opportunity to grow a connection with those guys. Try to be myself, show them my full personality. Laughing, telling jokes and seeing if we vibe well together. That's just kind of my goal. I want to create these relationships. Most guys won't take extra time to get to know a dude, go up to him when nobody is talking to them and just strike up a conversion. If you have a good connection to each other, it allows you to be more open."
According to White, he has spoken to each of the three aforementioned players since the weekend. And he is optimistic about Auburn's chances with all of them.
"They were like, 'Man, we love this place' — all of them," White said. "I don't want to single anyone out — let's just say we have a good chance with all three."
The post Auburn Tigers QB commit Walker White bonds with 3 big WR targets at A-Day appeared first on On3.