Bat 'Cats Travel to Baton Rouge for Weekend Series with #1 LSU
4 min read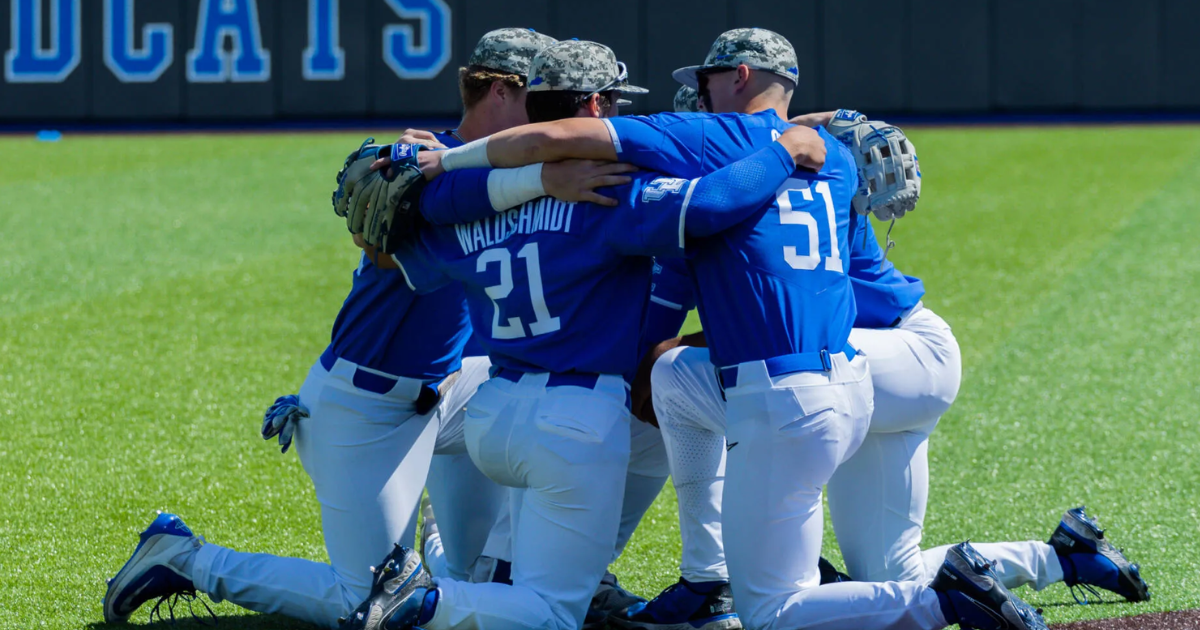 No. 11 Kentucky Baseball will face its toughest challenge of the season when they travel to Baton Rouge on Thursday for a weekend series with the No. 1 team in all of college baseball, the vaunting LSU Tigers.
"There's been a couple of times LSU has played and we've watched them," Coach Nick Mingione said on Tuesday. "There's a reason they're the #1 team in the country."
Kentucky's Tuesday matchup with Louisville was postponed due to the tragic events that transpired in the city on Monday morning, so the 'Cats will go into Thursday's series opener having not played since their Sunday doubleheader loss to Georgia. Not ideal for an opponent of this magnitude.
Kentucky and LSU sport identical records at 27-5, with Kentucky actually having the advantage in RPI and strength of schedule. The Tigers are 20-2 at "The Box" this season with losses to Arkansas and Tennessee. Kentucky looks to become the third team to knock off LSU at home with a win this weekend.
LSU leads the all-time series against Kentucky 55-31-1 and will be looking for revenge as the 'Cats knocked them out of the SEC Tournament last season. "The Battle of the Cats" will be appointment television this weekend (SEC Network on Thursday, SEC Network+ on Friday and Saturday).
LSU Impact Players
LSU has the most impact players in the country. For starters, junior Dylan Crews may just be the best player in all of college baseball. Crews is batting a blistering .505, best in the country. Crews was named Midseason Player of the Year by Perfect Game, just one of many awards for the Tigers.
LSU boasts four Midseason All-American selections in Crews, Paul Skenes, Tommy White, and Garrett Edwards. Skenes was named Midseason Pitcher of the Year and will be on the mound against the 'Cats on Thursday night. White, who made a name for himself last season at NC State, transferred to LSU in the offseason and picked up right where he left off, leading LSU in home runs (11) and RBI (54). From batters one through nine, the LSU offense is one of the best (if not the best) in the nation. Kentucky's pitching staff will have their hands full this weekend.
Skenes, RHP Ty Floyd, and RHP Christian Little will be on the mound for LSU this weekend. Skenes has been simply incredible this season, boasting a 1.14 ERA over 47.1 IP. He holds a 91:21 K-BB ratio, akin to video game numbers. Unreal stuff. Floyd and Little have been impressive as well, posting respective ERAs of 3.67 and 4.05. Floyd is 5-0 in eight appearances this season while Little has appeared in the most games for LSU (12), holding a 2-1 record. The good news for Kentucky is that all three starting pitchers are righties, as lefty pitching has been an Achilles heel this season. A left-handed pitcher has started opposite the 'Cats in all five Kentucky losses this season.
LSU heads into this weekend's series fresh off an 11-5 victory over Tulane and a series split with No. 6 South Carolina (game three was canceled). The Tigers have yet to be dethroned as the No. 1 team in the country this season, earning Midseason Team of the Year honors.
Kentucky Impact Players
After dropping its first series of the season at Georgia, Kentucky will be looking to get back on track against the No. 1 team in the country. Pretty tall order.
The offense struggled last weekend, but the Kentucky offense has been very good all season. Hunter Gilliam's average has dipped a bit to .379, but he is still exceeding all expectations. "The Captain" has filled a much-needed leadership role this season, leading the 'Cats in hits (44) and home runs (six). Émilien Pitre and Grant Smith make up the middle infield for Kentucky, and Smith was very confident in his team this weekend.
"I've believed in this group since day one and I think we're a team full of winners," Smith told KSR on Tuesday. "Like I said, that's our ultimate goal. We'll continue to expect that out of each other moving forward."
When asked about a team mindset heading into one of the most hostile environments in all of college baseball, Smith responded, "I'm expecting to win. I go into every game expecting to win and I think that locker room is thinking the same thing."
LHP Tyler Bosma and RHP Logan Martin will start for the 'Cats this weekend, while Thursday night's starter is still TBD. Logan Martin returned to the rotation last weekend and will likely still be on a pitch count. "We're going day-by-day with [Martin]," Mingione said on Tuesday. "Our player's health is very important to us."
Martin pitched two hitless innings in last Friday's win over Georgia. Bosma looks to bounce back from a rough Easter start when he gave up five hits and three runs to one of the worst offenses in the SEC.
Game 1: Thursday, April 13th, 2023 (Alex Box Stadium – 7:00 PM)
UK: TBD vs LSU: RHP Paul Skenes (5-1, 1.14 ERA, 47.1 IP)
Game 2: Friday, April 14th, 2023 (Alex Box Stadium – 7:30 PM)
UK: RHP Logan Martin (1-1, 3.32 ERA, 19.0 IP) vs LSU: RHP Ty Floyd (5-0, 3.67 ERA, 34.1 IP)
Game 3: Saturday, April 15th, 2023 (Alex Box Stadium – 2:00 PM)
UK: LHP Tyler Bosma (4-2, 4.33 ERA, 35.1 IP) vs LSU: RHP Christian Little (2-1, 4.05 ERA, 20.0 IP)
The post Bat 'Cats Travel to Baton Rouge for Weekend Series with #1 LSU appeared first on On3.