BBNBA: Celtics beat 76ers in Game 7; six former 'Cats make Conference Finals
3 min read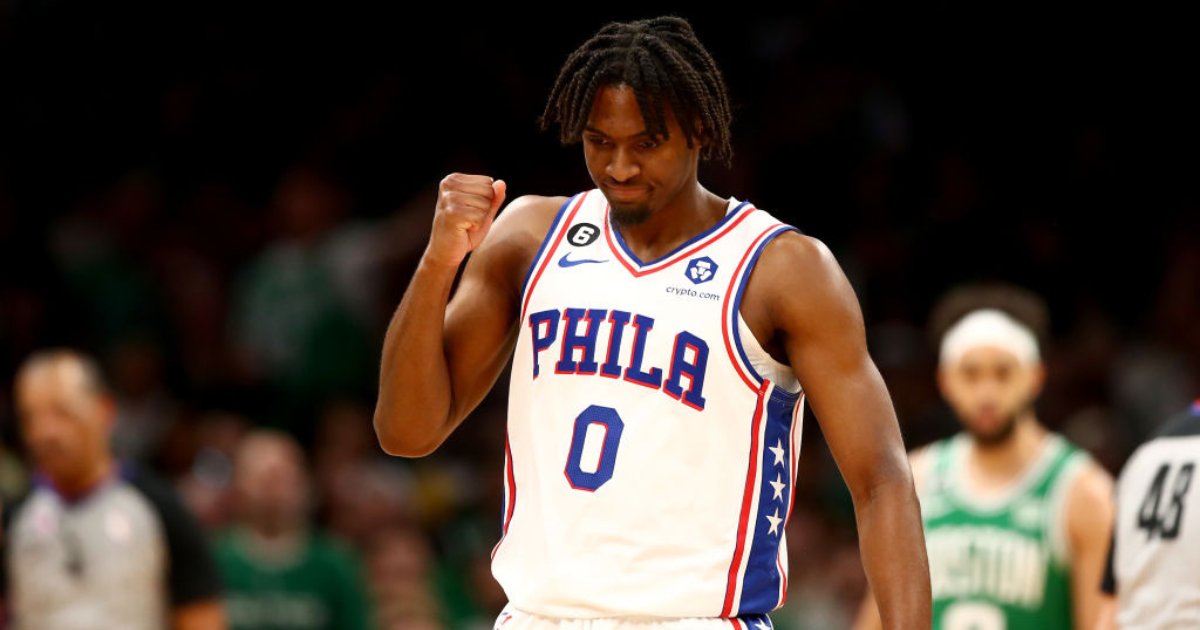 Game 7 is the most exciting term in sports. Well, most of the time. The hype around the winner-take-all Eastern Conference Semifinals matchup on Sunday afternoon was palpable, but the game itself was remarkably uncompetitive, as the Boston Celtics defeated the Philadelphia 76ers 112-88.
Jayson Tatum set an NBA record for most points in a Game 7 with 51, a mark previously set by Steph Curry just a few weeks ago when he put up 50 in the Warriors' clinching victory over the Sacramento Kings, a team that won the hearts of Big Blue Nation with De'Aaron Fox and Malik Monk reuniting for some big games in the playoffs.
Tyrese Maxey finished second on the 76ers in scoring behind Tobias Harris — of all people — with 17 points, but it wasn't enough to overcome Tatum's dominating performance. Maxey is no stranger to being one of Philadelphia's top bucket-getters but he is usually behind Joel Embiid and/or James Harden, two stars who never got going. The City of Philadelphia will likely not be showering them with brotherly love over the next few days.
Maxey also chipped in four assists and three rebounds on the afternoon.
Six former 'Cats make NBA Conference Finals
With Maxey and the 76ers' exit, that still leaves six former Kentucky players remaining as the NBA enters the Conference Finals. No other college, including Duke, has more than two.
The favorites to win it all, the Boston Celtics, do not feature any former 'Cats, but for everyone else, Kentucky players make up at least a piece of the team's core.
Out West, the Denver Nuggets are led by Nikola Jokic, but they win and lose based on how Jamal Murray is shooting. The Blue Arrow outdueled Devin Booker and the Phoenix Suns in the Conference Semifinals and will now face the Los Angeles Lakers.
Team Hollywood showcases three former Kentucky players. Headlined by Anthony Davis, Jarred Vanderbilt has been a mid-season addition surprise, starting, and specializing as a defensive stopper. Wenyen Gabriel has also served as a dependable big man off the bench.
In the East, the Celtics will take on Bam Adebayo and the Miami Heat. The unlikely 8-seed has gotten hot at the right time, despite losing their proverbial bucket, Tyler Herro, possibly for the rest of the postseason due to a broken hand early in the playoffs. They'll be underdogs heading into Boston but don't count them out.
NBA Playoff Schedule
Western Conference Finals | Denver Nuggets (Murray) vs. Los Angeles Lakers (Davis, Vanderbilt, Gabriel)
Game 1: Tuesday, May 16, 8:30, ESPN
Game 2: Thursday, May 18, 8:30, ESPN
Game 3: Saturday, May 20, 8:30, ABC
Game 4: Monday, May 22, 8:30, ESPN
Game 5: Wednesday, May 24, 8:30, ESPN (if necessary)
Game 6: Friday, May 26, 8:30, ESPN (if necessary)
Game 7: Sunday, May 28, 8:30, ESPN (if necessary)
Eastern Conference Finals | Boston Celtics vs. Miami Heat (Adebayo, Herro [out])
Game 1: Wednesday, May 17, 8:30, TNT
Game 2: Friday, May 19, 8:30, TNT
Game 3: Sunday, May 21, 8:30, TNT
Game 4: Tuesday, May 23, 8:30, TNT
Game 5: Thursday, May 25, 8:30, TNT (if necessary)
Game 6: Saturday, May 27, 8:30, TNT (if necessary)
Game 7: Monday, May 29, 8:30, TNT (if necessary)
The post BBNBA: Celtics beat 76ers in Game 7; six former 'Cats make Conference Finals appeared first on On3.