Big Virginia OL Mason 'Moose' Wade: '(Auburn) blew me away on the visit'
2 min read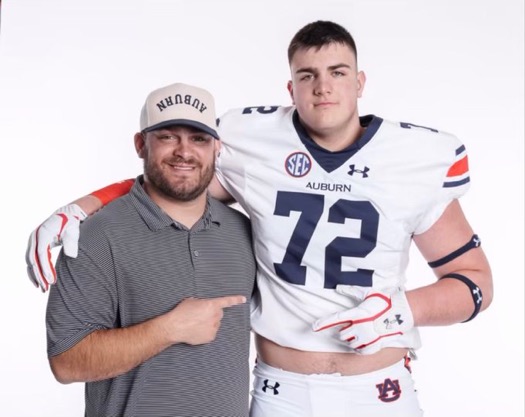 Making his first trip to Auburn, offensive lineman Mason "Moose" Wade, the No. 9 player in the state of Virginia according to On3, was shocked by the experience, he told Auburn Live.
"I would say they're pretty high up there," Wade said. "They blew me away on the visit with how much time they spent with me. I got a family feel from Auburn which is a very important thing for me with my recruitment."
Wade, from Purcellville (Va.) Loudoun Valley, spent the entire day at Auburn as he was one of the first recruits to arrive on campus Friday.
"It was very good, I got to spend a lot of time with the coaches," Wade said. "They spent a lot of one-on-one time with me. I got there at 10 in the morning, it was a full day thing. I always had someone with me, they spent a lot of staff on me. We did a tour of the stadium and I got to do a photoshoot. Then I had a conversation with Coach (Hugh) Freeze, we ate lunch, got the facility tour, got to sit in all the meetings, and then practice."
That conversation with Tigers' head coach Hugh Freeze was an important part of the visit for Wade.
"It was really good," Wade said. "We got to talk about how he runs his program and his values. His values are faith, hard work, and family. He talked about how he plans on turning that team into a national championship team."
Coaches and practice stood out
Wade was greeted by several coaches when he arrived on campus.
"Coach (Jake) Thornton, I believe the running backs coach (Cadillac Williams)," Wade said. "And when I walked into the building there were a lot of coaches there to greet me."
Wade's main guy is Auburn offensive line coach Jake Thornton.
"He's pretty awesome," Wade said. "He seems like a down-to-earth kind of person. He's very honest with you. When I was in the offensive line room, he's a quick teacher and gets right to the point."
Wade saw some intensity at practice Friday afternoon. He liked the way practice was run.
"It was pretty awesome, I think they have a lot of energy there," Wade said. "They get after it, which is a good thing. Very competitive, and there are a lot of good players out there."
Thornton made sure to show Wade where he would fit on the Tigers' offensive line.
"He did, he thinks I'm the kind of guy who could play all three positions if needed," Wade said. "He sees me at a guard preferably."
Wade says he will return to Auburn at some point, but does not yet have a date in place. He has not decided on any official visits yet, but says Auburn is a strong candidate to get one from him.
The post Big Virginia OL Mason 'Moose' Wade: '(Auburn) blew me away on the visit' appeared first on On3.