Blake Corum discusses being 'coach' during Michigan spring game, evaluates strength of running back room
2 min read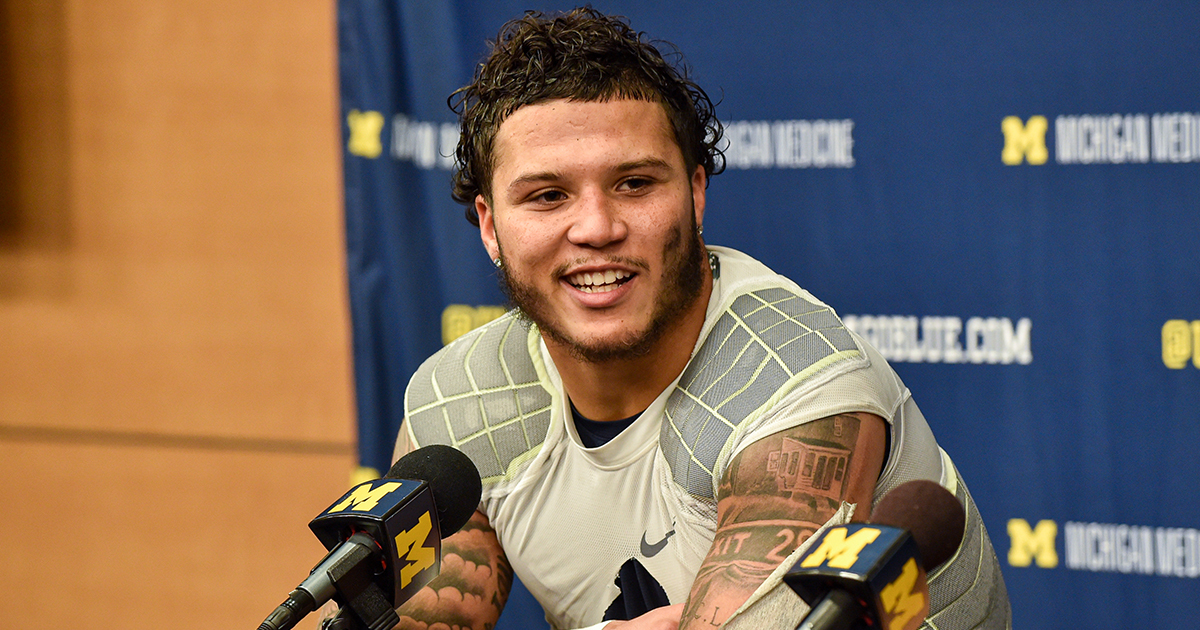 For the first time since suffering a knee injury that knocked out the end of his 2022 season, Blake Corum is back on the sidelines at The Big House for Michigan's spring game on Saturday. He's not playing in the game, though, as he works his way back.
Instead, he's taking on a new role.
"I'm Coach Corum for today," Corum told Big Ten Network's Brooke Fletcher. "Getting my guys right, just trying to get this dub against Coach Hart."
Coach Hart is, of course, Michigan running backs coach and Wolverines icon Mike Hart. He's on the other sideline as Corum leads the Blue team during the game. But this is a different role for Corum, donning a headset instead of a helmet and pads.
Still, he has some simple advice for his players.
"Just have fun," Corum said. "Do what you guys have been doing all spring. … Play hard, play angry, play aggressive and really, just do what you've been doing. Have fun. That's what I told them."
Blake Corum on Michigan's running back room: 'It's very dangerous'
Getting Corum back is a huge boost for the Michigan running back room after his 2022 season that all but certainly would've had him in the Heisman Trophy conversation before his injury. After all, he totaled 1,463 yards and 18 touchdowns in 12 games. But the Wolverines also have Donovan Edwards back in the fold after he turned in a solid year with 991 rushing yards and seven touchdowns.
That two-headed monster could create headaches for opposing defenses, and Corum knows just how much talent the Wolverines have at the position.
"It's very dangerous. It's very, very dangerous," Corum said of the Michigan running back room. "Donovan, myself, the other running backs. We have a great room. And then, we have one of the best coaches, a legend here. It's great. It's going to be very dangerous."
Edwards isn't playing in the spring game, either, but is still shaping up to be a big part of the offense that also returns J.J. McCarthy. McCarthy, a dual-threat at quarterback, is coming off a solid sophomore season in his first year as a starter. He threw for 2,719 yards and 22 touchdowns in the air and also added 306 rushing yards and five touchdowns on the ground to help lead Michigan to a College Football Playoff appearance.
In fact, that trio — Corum, Edwards and McCarthy — combined for 83% of Michigan's total rushing yards last year. That's how much production Jim Harbaugh and Co. have coming back this season.
Michigan will lift the curtain on the 2023 season Sept. 2 against East Carolina.
The post Blake Corum discusses being 'coach' during Michigan spring game, evaluates strength of running back room appeared first on On3.