Blake Corum reveals hardest part of his injury recovery
2 min read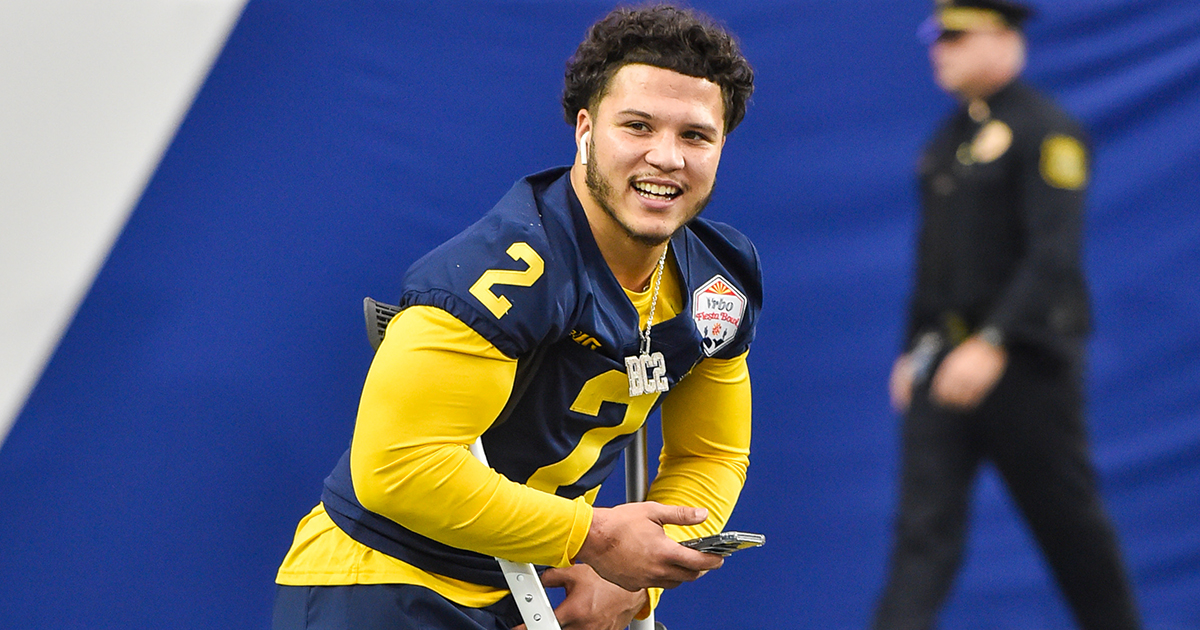 Injury recovery can be tougher on your mental health than your physical sometimes. Michigan's star running back Blake Corum learned that first-hand after his knee injury late last season.
"I was in a deep hole," Corum said about his injury recovery. "It wasn't even the recovery part. The hardest part of this recovery was getting myself out of that hole. No one knew because I was still me. I was still smiling. Deep down inside, I knew it wasn't me."
Corum's injury caused him to slip out of his daily routines and become complacent. His body couldn't handle what his brain wanted him to do — and it weighed on him, especially once the offseason began.
"I'm the type of guy that you have to kick out of the weight room," he said. "I didn't even want to be in the weight room. I wanted to eat McDonald's. I didn't want to eat rice and chicken. I wasn't me, and the only one that could have got myself out of that was me.
"It took a while. I'd go to the weight room one day and then not come in for the next four days. I didn't want to do anything. Then I realized, why am I feeling bad for myself? I'm blessed. People would die to be in my position. … That's when it clicked."
Before going down with the injury in late November, Corum had starred in his role in the Wolverines' backfield. He carried the ball 247 times for 1,463 yards (5.9 ypc) and 18 touchdowns and played a pivotal role in Michigan's undefeated regular season.
99 percent of college football running backs would do anything to have a season as successful as Corum's 2022 campaign. Now that he's realized that, it's time to get back to work in the hopes of leading his Wolverines to a third consecutive College Football Playoff berth.
According to Corum, Michigan head coach Jim Harbaugh told him it might be in his best interest to declare for the 2023 NFL Draft. Before his injury, he wasn't thinking about making a return to Ann Arbor but his ailment changed things for good. He realized he wouldn't be able to participate in the NFL Combine and is undersized — but his film certainly speaks for itself.
Eventually, the Michigan RB decided to "go with his gut," and return to school for one more season. Harbuagh, as well as Corum's agent, were both pushing for him to turn pro while he was looking at the bigger picture. Corum ended up staying and earned his degree from Michigan last month — something that would have never been possible if he declared for the draft.
The post Blake Corum reveals hardest part of his injury recovery appeared first on On3.