Brad White stresses need for Kentucky players to be 'composed' in front of fans
2 min read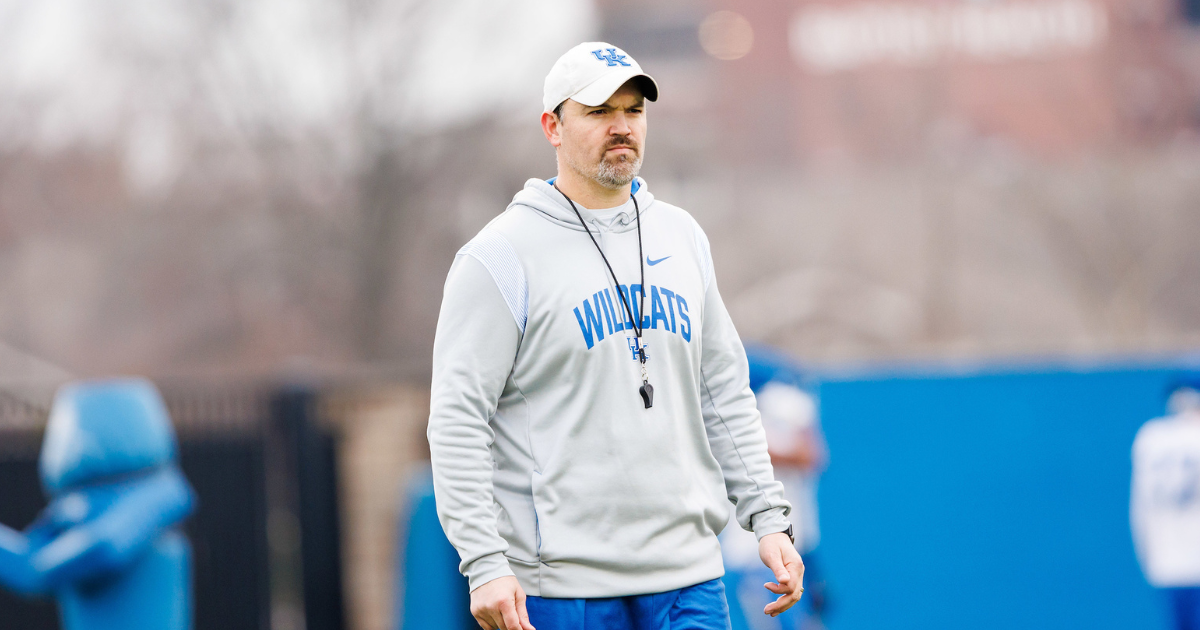 With no spring game this year in Lexington, Kentucky is making up for it by opening its doors for an open practice tomorrow. It provides an interesting dynamic as the Wildcat's fanbase will be entering their space in the confines of the Joe Craft Football Training Facility. Still, DC Brad White is trying to help the team find the right balance when it comes to having the right energy for the fans this weekend.
White addressed the open practice during his press conference on Thursday. He said there's no way for the staff to predict how the players will come out because they don't want them to be too energized but also don't want to see them come out flat. He says that's what happens when you're dealing with people that age, though, especially in a unique scenario like this.
"There's no way to predict it," White said. "It's funny. We talk as coaches and we go 'round and 'round and ask do you overcoach or overhype. You feel like in the meeting room before you go out to that kind of practice like you've got them juiced and ready. And then maybe you did too much early because they get out to the practice field and there's a letdown. But then you feel if you don't do it? And then they go out there and they're flat that like you should have juiced them up."
"You just deal with that balance. Again, when you're 18 to 22 years old? You don't know what they're dealing with, what happened that morning," said White. "You just don't know."
However, even with these concerns, White thinks the practice is happening at an optimal time of the spring session. He believes it has reached the point in the spring where everything is naturally ultra-competitive. With that said, he says they also need to be on their best behavior in front of the fans.
"Hopefully, I think there'll be good competition," added White. "You get to this point in camp and there's sort of a natural chippiness in competition. They don't want to lose. But they've got to play composed."
Kentucky's fans are going to get it all with this open practice once the doors open at UK tomorrow. They will leave with a great look at what this next group of Wildcats looks like now and could become by the fall. White is hoping for that, at least, based on how the players take the field on Saturday.
The post Brad White stresses need for Kentucky players to be 'composed' in front of fans appeared first on On3.