BREAKING: Elite 2024 safety Xavier Filsaime commits to Florida Gators
3 min read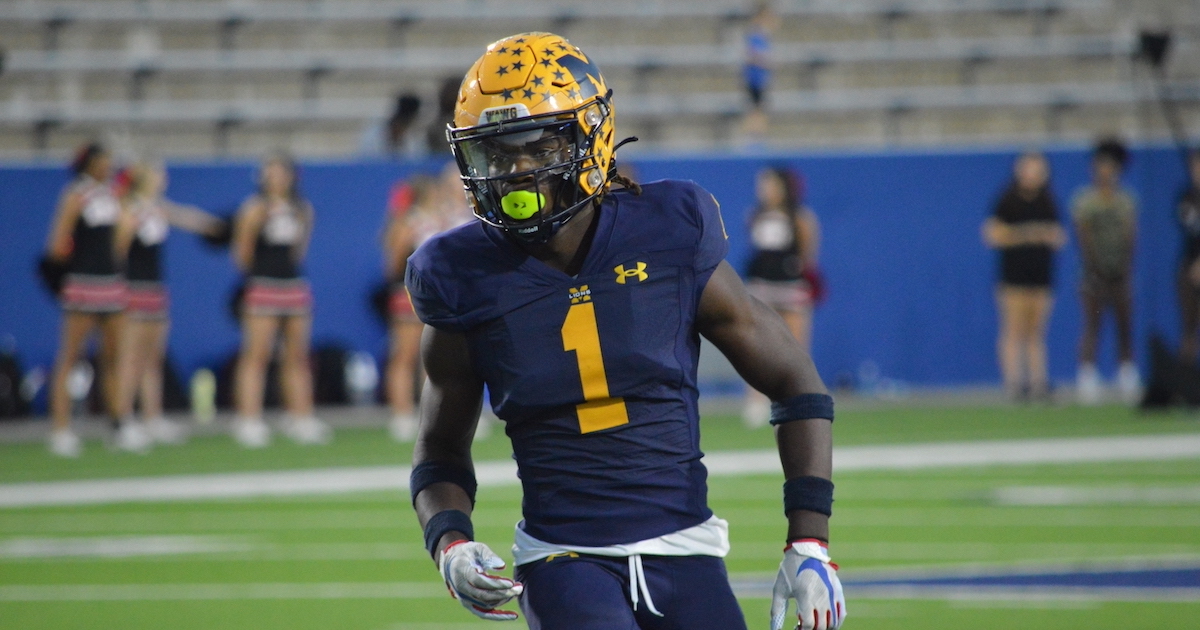 Billy Napier and the Gators just hit the jackpot, as No. 2-ranked safety Xavier Filsaime announced his commitment to the University of Florida.
Filsaime, an All-American from McKinney (Texas) High, returned to Gainesville for the Orange and Blue Game after visiting for the first time on March 10. He received a scholarship offer in late January and heavily considered additional offers from Georgia, LSU, Oregon and USC.
Many believed UF was too late to the party, but it took less than three months for the Gators to seal the deal. It does not hurt that Filsaime grew up in Orlando as well, so plenty of boxes are checked here. Georgia was likely the Gators' top competition down the stretch.
In addition to being the No. 2-ranked safety, Filsaime is a four-star prospect and the No. 29 prospect regardless of position. That is according to the On3 Industry Ranking.
"It was just crazy. I loved how they treated me. I'm from Florida so it felt nice being back home on my visit. Also, I loved how the team just had this strong chemistry and energy," Filsaime previously said of the Gators.
"It was a real good vibe. Everything, you can tell the culture is changed. I was impressed with the new facility, and new defensive coordinator (Austin Armstrong) that was my first time meeting. I feel like he's going to take the whole defense and will turn into a really good defense."
Prior to Filsaime's announcement, the Gators were already equipped with a top-five class. The majority of the class is ranked inside the On300, with Filsaime now being one of those cornerstones in the class.
Recruiting is certainly trending up in Gainesville.
On3 Biography of Xavier Filsaime
McKinney (Texas) High School coach Marcus Shavers was a four-star recruit back when he was coming out of Allen in 2005, and he knows a thing or two about having the tools to play at the next level.
So, it speaks volumes when he says Xavier Filsaime has "everything it takes" to be "special in college football and beyond." Filsaime began his career as a star receiver, but he transitioned to the defensive side of the ball during his junior season at McKinney.
"At first, the transition was pretty difficult," Filsaime told Rivals.com. "But I've learned reads on the offensive side of the ball. It's going well. I like it. I love coming up and playing aggressively inside the box and making big hits in run support."
He finished the 2022 season with 92 tackles, three fumble recoveries and three pass breakups. He had two quarterback hurries in 13 games. Filsaime also runs track at McKinney.
Away from sports, Filsaime enjoys hanging out with his friends, playing video games and training. His favorite foods are cheeseburgers and Flamin' Hot Cheetos. Filsaime is also an academic all-district pick that sports a 3.4 GPA. He plans on majoring in business. His parents are Wilnie Pierre and Wilgins Filsaime.
Stay tuned to Gators Online.
The post BREAKING: Elite 2024 safety Xavier Filsaime commits to Florida Gators appeared first on On3.