Bru McCoy following model set by Jalin Hyatt, Cedric Tillman
2 min read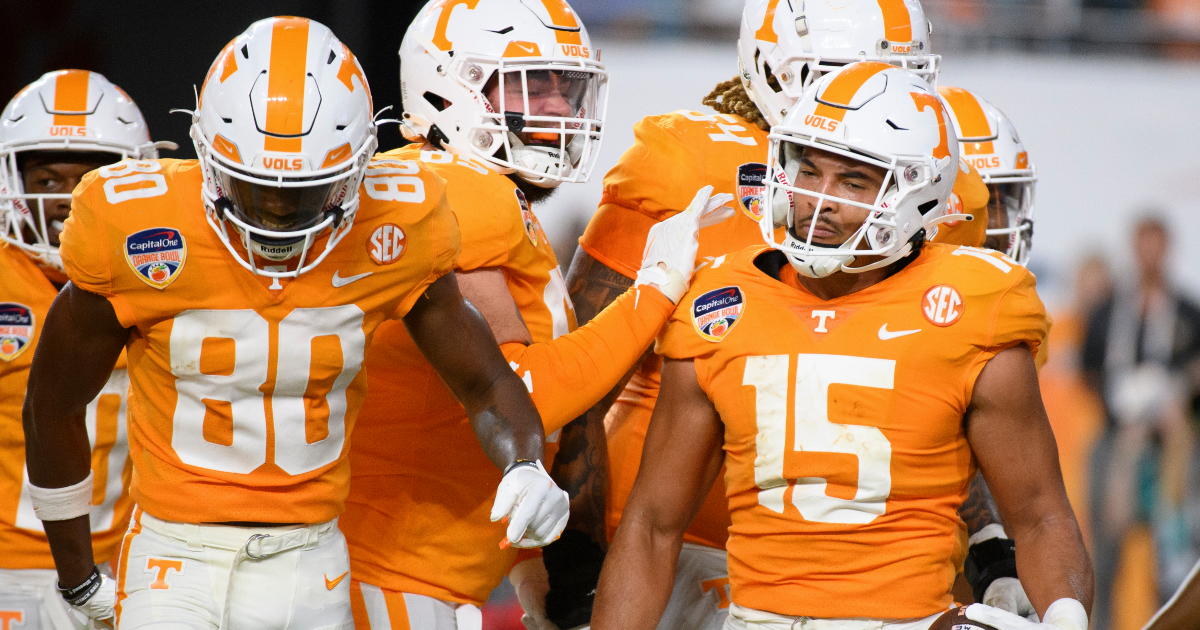 Bru McCoy is ready to take on more responsibly in Knoxville after fellow Tennessee wide receivers Jalin Hyatt and Cedric Tillman took their talents to the NFL.
The Volunteers wide receiver's college career has been a rollercoaster, beginning at Texas and USC before he took his talents to Tennessee amid a lack of playing time and recruiting flips perviously. However, McCoy found success with the Volunteers in 2022, finishing this season with 48 catches, 619 yards, three touchdowns and 12.9 yards per catch while contending for targets with the aforementioned NFL-bound duo.
Of course, McCoy has his own NFL plans, but he's back at Tennessee for another go-round in 2023. Speaking with the media, the wide receiver elaborated on the model Hyatt and Tillman set for him, upping the bar for the Volunteers pass catcher.
"I mean, absolutely. I mean, it's more to it than that. It's like, the work. I saw their preparation, I saw the way they attacked each day. So yeah, there's a model to it," explained McCoy. "Obviously, you want to see yourself go as a high draft pick, and the fruits of your labor, but it's a process and a grind.
"Seeing that they went through the same process I'm going through and the opportunity that they have, it definitely shows the light at the end of the tunnel."
Moreover, McCoy's ceiling high as any, as he was ranked as a five-star prospect in the Class of 2019, according to the On3 Industry Ranking, a weighted average that utilizes all four major recruiting media companies, and was the No. 19 overall prospect in the class. He was also the No. 2 wide receiver in the class.
Another thing working in McCoy's favor is that he has a better handle on the Tennessee offense as he enters his second season with the program, as he elaborated on the differences from 2022 to 2023.
"I don't want to say night and day, but like similar to that," explained McCoy. "A lot better understanding of the offense, a lot more comfortable. I have a better understanding of the broader goal, of what we're trying to do. Why we do certain things a different way. Coming from a different offense, it was very unorthodox, we broke a lot of rules that I have been kind of beat over the head with for awhile. 
"Now I'm more comfortable in knowing that we're not going to do everything a certain way, and there's leniency to certain things, and there's rules. We have a certain goal in mind, and a why."
Bru McCoy could be in for a huge 2023 season, following in Jalin Hyatt and Cedric Tillman's footsteps. The Tennessee wide receiving corps is in good hands with him leading the way.
The post Bru McCoy following model set by Jalin Hyatt, Cedric Tillman appeared first on On3.