Caleb Williams comfortable with new-look offensive line
2 min read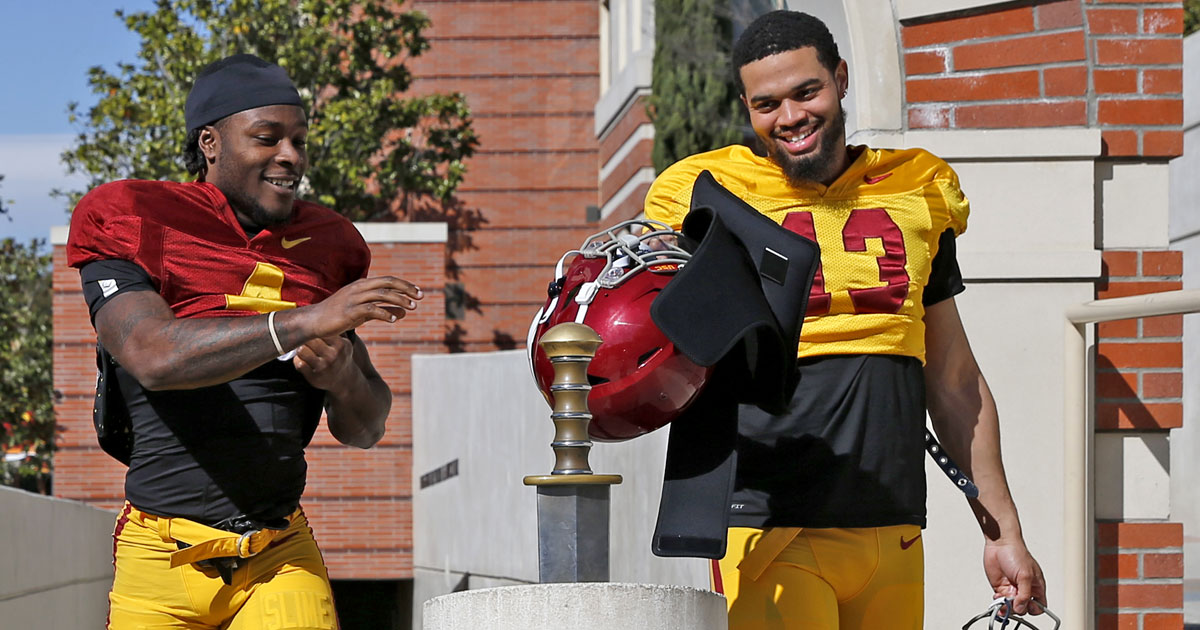 After helping lead USC to a remarkably successful first season under coach Lincoln Riley, quarterback Caleb Williams is more comfortable than ever.
He was good enough last year to win the Heisman Trophy. Can he maintain that high level of play?
Much of that answer likely depends on his surrounding cast. He's losing one of his top receivers in Jordan Addision, and there's some retooling to do on the offensive line. Williams says no problem.
"I'm comfortable," Williams said last week after a practice. "I'm so comfortable that coach and I, we're doing situations for myself. We'll do like a two-minute situation, that's the whole team situation, then we'll do situations where he'll say there's no running for me and I've just got to stand in the pocket and deliver."
Few college coaches are as good at developing quarterbacks as Riley is, which is a scary thought considering just how good Williams was last season, as a sophomore.
Williams finished 333-of-500 passing for 4,537 yards with 42 touchdowns and just five interceptions. He also added 382 yards rushing and 10 scores on the ground.
Replicating those numbers might be difficult, but USC could conceivably be better even if he doesn't.
That's exactly why Riley is working with Williams on pretty precise things, little individual tasks within team drills that are meant to hone his skills even further.
"One it's working on my patience and confidence and things like that, but it's also just the confidence within," Caleb Williams said. "The offensive line and myself, of knowing certain looks and things like that, when to slide protections, when to man protections, when to change it to a run, when to do things like that.
"There's a lot of comfort with myself and the O-line."
Williams won't be the only Heisman Trophy winner to come back to school looking to improve, not even the only one in recent memory.
Alabama quarterback Bryce Young did it after winning the Heisman Trophy in 2021. In 2021, Young tallied a 366-of-547 passing mark for 4,872 yards with 47 touchdowns and seven interceptions. He also rushed for three touchdowns.
In his follow-up season in 2022, Young finished 245-of-380 passing for 3,328 yards with 32 touchdowns and five interceptions, while also adding four scores on the ground, although Young was injured for a bit during the middle of the season.
If Caleb Williams can do a little better at staying healthy and maintaining, the Trojans will be in great shape.
The post Caleb Williams comfortable with new-look offensive line appeared first on On3.