Calvin Thibodeaux encouraged by strides of SMU DL
2 min read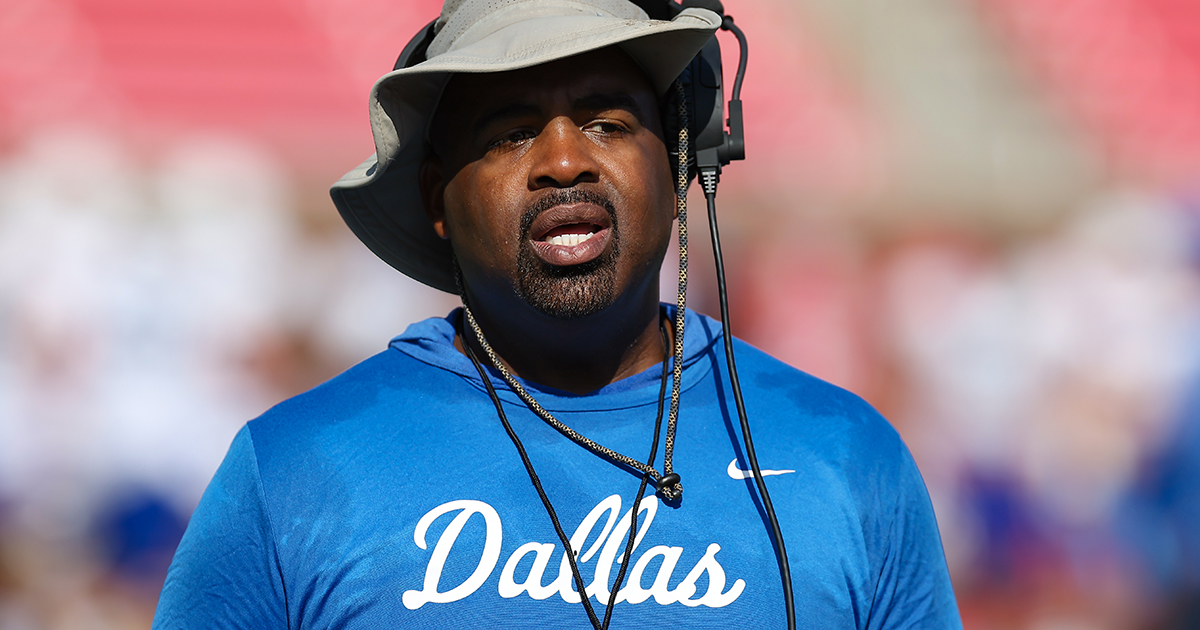 SMU defensive line coach Calvin Thibodeaux met with the media on Tuesday after practice to share his thoughts on his group. Here's some of what he said to reporters.
Q: What are the strides you've seen this spring?
CT: "Obviously, the guys that have transferred in, they've enhanced the group. They've been really humble. They've allowed themselves to be coached. They've made us better. You look at Jordan Miller, just having that size in the middle, guys won't just be able to run the ball downhill on us. Got a 300-pound out there that's played at a P5 school. He helps us.
"Elijah Roberts, he's really came on this spring. A constant playmaker on the edge. He's big and athletic. He's a 6-4, 280-pound guy that can play on the edge. That really has kind of helped us with our starting group. Those guys have made us better immediately."
Q: What have you seen from SMU's returning players?
CT: "Those guys have approached it like pros. They've worked really hard, they're leaders. You know what you're going to get from those guys. They got a lot of mileage on their bodies so we wanted to be smart with them this spring. We wanted them guys to be smart and enhance what they were doing, but keep those guys fresh for the season. Anytime you guys got guys that are returning and have experience, it makes your group that much better."
Q: Are you challenging your returners to step up?
CT: "We've talked. If these guys want to play after this, this is what has to happen. Boom, boom, boom. We've got several challenges in front of those guys, but they've been awesome. They worked their butt off. You don't see the stuff that they do in the winter and the things that they do in that locker room. That's been huge. Any place you've been where the senior leadership is strong, you have a chance to win."
Watch the rest of the interview on the On The Pony Express YouTube channel. Subscribe in one click HERE for FREE to our YouTube channel for more SMU content.
The post Calvin Thibodeaux encouraged by strides of SMU DL appeared first on On3.