Carolina Confidential – Gamecocks portal targets hitting campus
3 min read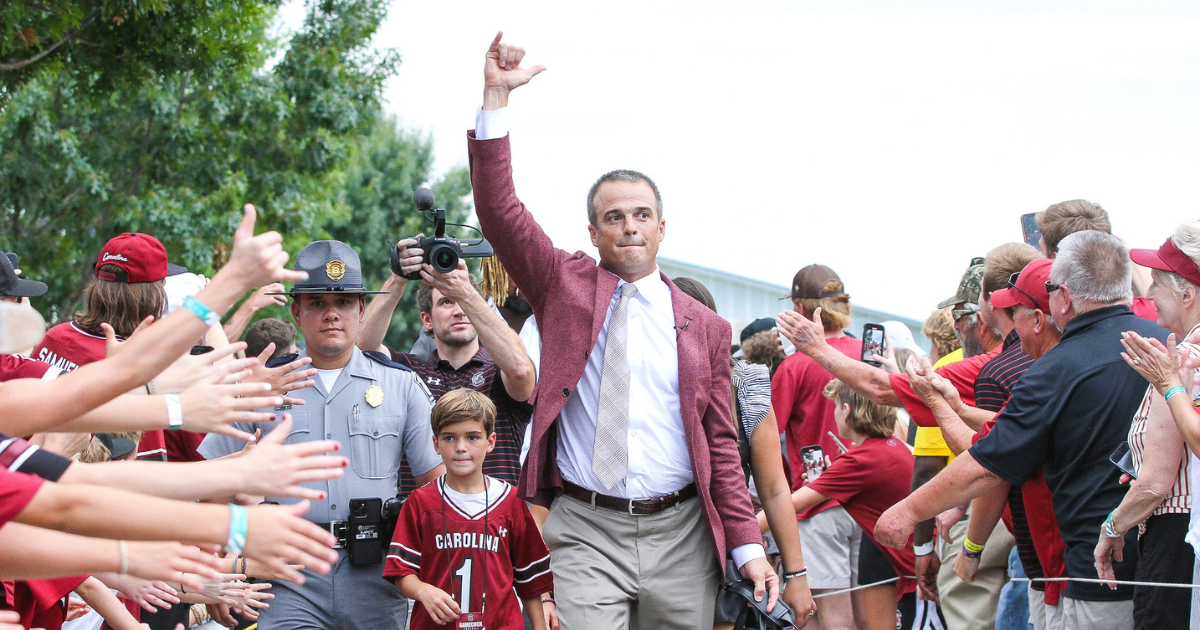 Carolina Confidential – presented by Herring Insurance Services – is your home for South Carolina football and recruiting insight from Gamecock Central's Wes Mitchell.
— Gamecock Central mentioned in these notes over the weekend that South Carolina could look to add to its linebacker position in the transfer portal and we've now learned that Utah State senior linebacker AJ Vongphachanh is on campus for an official visit.
South Carolina first reached out to Vongpachanh last week and he was on campus as of Tuesday morning at the Gamecocks' practice with what appeared to be members of his family.
During his time at practice, Vongpachanh was greeted by defensive coordinator Clayton White, defensive backs coach Torrian Gray and special teams coordinator Pete Lembo while spending time with recruiting personnel assistant Tobert Nance.
Vongpachanh is a super senior who was a key contributor to Utah State's defense throughout his career, collecting 222 total tackles, while leading the team in tackles last season with 2.0 sacks and 10.5 tackles for loss, three pass breakups, three quarterback hurries and two forced fumbles.
The Pasco, Wash. native is an experienced player who is listed at 6-foot-2, 230-pounds and has played nearly 2,000 career defensive snaps, according to PFF.
We said recently that we wouldn't be surprised to see South Carolina be a little more aggressive in the portal in terms of targeting positions beyond just edge and running back and this also fits the idea of continuing to try to get better in terms of taking the best available player, regardless of position.
— We also told you over the weekend that South Carolina was scheduled to host Florida State RS SR and transfer portal EDGE Derrick McLendon on an official visit this week and have since confirmed that McLendon is set to arrive on campus later today (Tuesday).
The 6-foot-4, 245-pound Tucker (Ga.) High graduate recorded 37 tackles, including 5.0 for loss with 3.5 sacks, one fumble recovery and three quarterback hurries while starting 12 games last season.
McLendon, who has two years of eligibility left, graded out pretty well on PFF too with a season grade of 67 (Jordan Burch had a grade of 72.4 and Gilber Edmond of 59, for context).
Since McLendon just entered the portal, there's not much to go off of yet in terms of what schools he may be interested in — but getting him to campus quickly isn't a bad thing and Carolina has a great story at that position.
— As a reminder, Carolina hosted Maryland RS SR transfer portal DL Anthony "Tank" Booker on an official visit over the weekend.
Booker entered the portal early last month and has reportedly already taken visits to at least Arkansas and Texas A&M (maybe more) before hitting Columbia this weekend.
Booker is a big, nose guard type defensive tackle who graded out very well on PFF (77) at Maryland and is listed at 6-foot-4, 320-pounds.
The Cincinnati, Oh. native played in 12 games last season with 25 tackles including 4 TFLs and 2 sacks, though those numbers probably aren't indicative of how successful he was at doing his job.
Booker has two seasons of eligibility left and is an interesting potential addition in terms of trying to continue improving the run defense.
— In terms of non-portal visitors, South Carolina Picayune (Miss.) Picayune Memorial four-star linebacker Jamonta Waller was expected on campus today and made it in for his visit. He was spotted at practice as well. This is his second visit to South Carolina.
Findlay (Ohio) class of 2025 four-star quarterback Ryan Montgomery visited South Carolina over the weekend and had a great time getting to know both Shane Beamer and Dowell Loggains.
We'll have more on Montgomery's visit later today.
——————————
Today's Carolina Confidential is brought to you by Herring Insurance Services. Call, email, or PM Gamecock Central member and avid South Carolina football fan Brent Herring today to discuss your home and auto insurance needs.
Located in Lexington but serving all of the Carolinas
803-356-0763
[email protected]
The post Carolina Confidential – Gamecocks portal targets hitting campus appeared first on On3.