Carson Beck trying to learn from past, apply lessons to present in Georgia QB battle
6 min read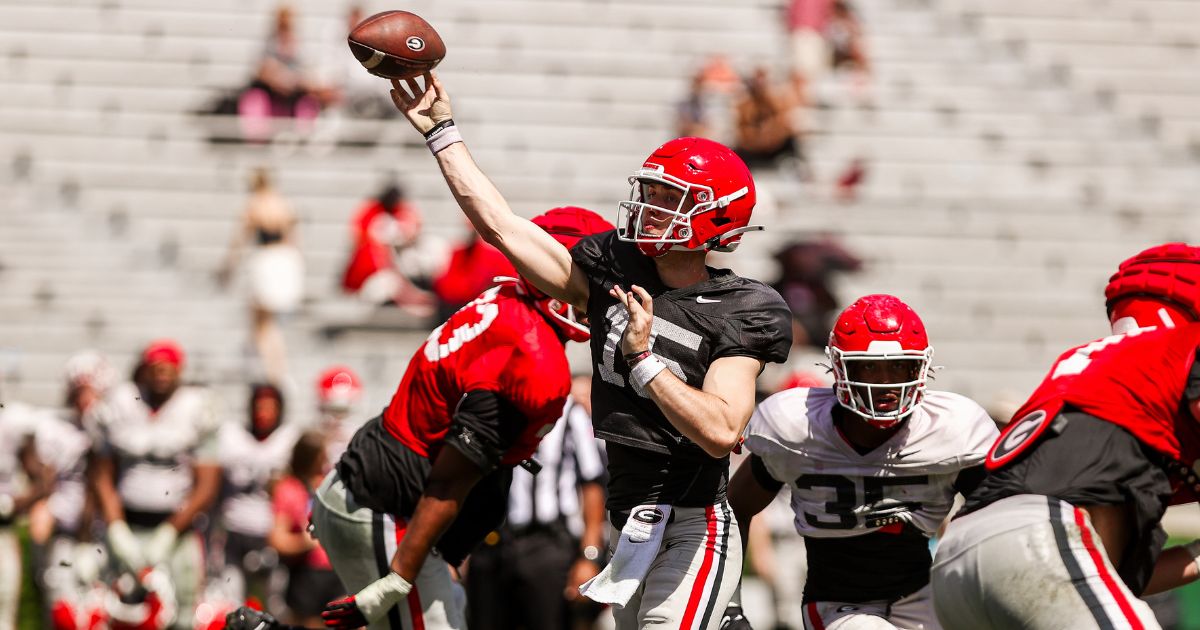 ATHENS, Ga. — Carson Beck has been around Georgia's football program for three full seasons. He's watched three different quarterbacks start games and shared a position group with a total of six scholarship players throughout the years. Being the oldest in the room with an open starting spot available, it's easy to assume he's the guy, but Beck doesn't feel as if anything is owed to him. He's got to earn it.
"Every year is individual of itself. I think every quarterback, honestly, should feel that way every single year they step into it," Beck said when asked if there was any part of him that had to fight the notion that he should be the guy based on seniority. "Even last year with Stetson, he just came off a National Championship, of course, every day I walked out there, I felt like I was the guy. I think that's the mindset that you have to have at the position of quarterback because there's only one guy out there. When you get your opportunity, you have to seize it."
Beck says he's grown the most over the last year because of the reps he was able to get as Georgia's backup quarterback in 2022. A native of Jacksonville, Fla., Beck appeared in seven games last season, completing 26 of 35 passes for 310 yards and four touchdowns.
"Obviously a big part of that is reps and experience and getting into games. Last year was really big for me. Obviously Stetson had a great year and went out on top, which was awesome. He did really well in certain games. We got up big and I got to get some experience in a few of those games," Beck said. "I guess the biggest thing I would say is having the experience and continuing to grow on that with further reps the more practices that we get."
Speaking of Stetson Bennett, Beck has been able to sit back and watch how he operated things every year since his arrival in Athens. The first season Beck was on campus saw some ups and downs at the quarterback position, ultimately ending with JT Daniels being the best option to finish out the year. Then, the second in 2021 went the opposite way with Bennett taking the reins from Daniels based on availability and leading the team to the national title. Finally, the third year served as the magnum opus for Monken-Bennett marriage with Bennett becoming the first Georgia quarterback to throw for over 4,000 yards, earning a trip to New York for the Heisman Trophy ceremony in the process while the Bulldog offense averaged 40+ points per game. From all those situations, Beck feels as if he's learned something he can apply to his own game as he tries to take over as the starter with Bennett gone and an open door.
"I think every quarterback that's ever come through this room I've been able to learn from. That goes for even the guys that are in here," Beck said. "Everyone is so different at the quarterback position. It's such a unique position because there's no one body frame, one body type, or one way that you're supposed to play quarterback. There's so many different things and different aspects of being a quarterback. I'd say I've taken little bits and pieces from every quarterback that's walked through this room."
"Obviously we've had plenty of conversations, and even in the past couple months, whenever he's been back, I've talked to him about what's it been like on his journey," Beck added, speaking specifically about his conversations with Bennett. "I think the biggest thing for him was how he was able to handle adversity and being counted out, and having to sit and wait. It's the prime example, I don't think there's a better example of sitting and waiting and being counted out and finally coming to an end and doing what he did, winning two national championships. So obviously I've learned a lot from him."
Among the largest lessons Beck believes he's learned since stepping foot on campus in 2020 is a response mechanism for when things don't go the way he wants. He didn't throw any interceptions in 2022 – something Kirby Smart loves to see considering the emphasis he puts on quarterback decision making – but he did make a pair of mistakes in 2021. Should he do the same in 2023, he knows how to handle it.
"There comes a lot of things that come with playing the position of quarterback as far as mentally, physically, and then obviously decision-making which is on to the mental aspect. There are certain things that Bobo wants us to do and there are certain things within every play that we call whether it's a check, a change, reading it the right way," Beck said. "We're going to make mistakes and we're going to mess up. For me trying to separate every play that no matter what happens on this play, the next play is going to be different and I've got to play it all individually."
"I was really bad at it. Sometimes I still get pretty upset," he added. "I think I've learned how to tone it down in a sense and kind of figure out it's cool. Breathe it out, next play mentality always. I think it's a lot easier to do in a game because you make a mistake, you go off the field and you have time to think about it. In practice, it's like you make a mistake, well you've got the next play. I think that really helps to move on, take a deep breath and go on to the next play … It's never easy. You're going to get upset when you do something wrong, you're going to throw interceptions, you're going to throw incompletions. Things are going to go wrong. It's more about how you react to it then that one singular moment and letting it affect you in the future."
For Beck, his future at Georgia is now. He has the opportunity he's waited for finally there for the taking. He doesn't want to let the moment slip this time, but he also doesn't want to make it any bigger than it is.
"I think it's really difficult for anybody when you come out of high school. Really anybody that has come here that's had to sit," Beck said. "We're all guys—four stars, five-star guys here. We have a ton of them. There's a lot of guys that have had to sit. It's very difficult and you know a build of mindset of I'm going to wait my turn and whatever. Now it's finally time. You have to start to remember what you were and what you did in high school with that mindset of I'm the guy. You've got to believe that."
"Honestly, I'm not really worried about anything like that as far as like a decision," he continued. "The coaches are going to do what they do and all I can worry about every single day—practice, going out there practicing my butt off, working out, watching film, making sure I'm getting better every day. If I start to focus on other things, it could take me in the wrong direction."
The post Carson Beck trying to learn from past, apply lessons to present in Georgia QB battle appeared first on On3.