Catching up on a busy week for Kentucky Football
4 min read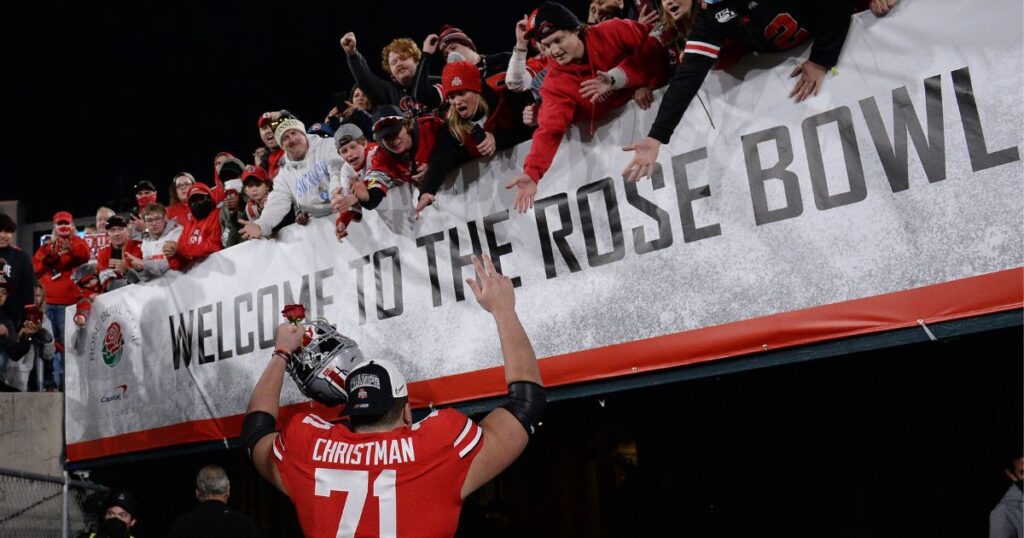 I was on leave last week. I traveled west to Nebraska for a funeral. I took some rare time away from the KSOffice and actually unplugged from social media for the most part. I have to admit, days without constantly checking my phone were revitalizing. But, I missed some important goings-on with Kentucky Football. So, let's catch up. 
(Orlando Ramirez-USA TODAY Sports)
Rebuilding the Big Blue Wall 
Mark Stoops couldn't have been pleased with his offensive line last season. The Cats were uncharacteristically incompetent and lacked physicality up front. Those deficiencies showed weekly, leading to a disappointing 7-6 season. Refitting and reorganizing the room was priority one and it appears to be an ongoing process. 
How did it get to this point? First, the tragic loss of the legendary OL coach John Schlarman, may he rest in sweet peace. The position group had two different coaches in the two seasons following John's passing. Consistency and continuity were obviously absent. This doesn't only reference the playing field. High school offensive line recruiting misses have been too frequent. Thus, an influx of incoming and outgoing transfers was a personnel necessity in the steps to fix the problems. 
Ohio State guard Ben Christman was a recent addition. The 6'6, 315-pound former 4-star should provide quality depth in the interior of the offensive line in 2023. Christman was highly regarded coming out of high school and is loaded with potential. It's now up to Zach Yenser to bring out the best in the former Buckeye. Joining Christman, Alabama transfer Tanner Bowles gives the guard spot four rotational pieces that also include Eli Cox and Kenneth Horsey. 
West Virginia transfer Dylan Ray also announced his commitment to the University of Kentucky. Listed at 6'5, 293 pounds, the best-case scenario for Ray and the Cats is that he develops into a contributor at offensive tackle. OT depth remains to be a sober concern of mine going into the offseason. It's not there yet. 
Prior additions Courtland Ford (USC) and Marques Cox (UNI) were brought to Lexington via the portal to be the Wildcats' starting tackles. Period. The OT positions required an immediate influx of capable blockers. Jeremy Flax lacked consistency on the right side and guard Kenneth Horsey had to kick out to left tackle in order to fill the void left by Dare Rosenthal's questionable early NFL declaration. Kentucky hopes that Cox and Ford are the solutions. 
In all, the Big Blue Wall will look different this season. This refers to numbers and names at this point in time. Will it or can it return to be a resemblance of the traditionally powerful units that Schlarman fielded? That's yet to be seen. We'll see. It all starts up front. 
More Portal Additions
Inside linebacker depth was another trepidation leading into the summer and fall camp. Starters Trevin Wallace and D'Eryk Jackson are locked in, but that position takes a physical pounding in a 12-game season. Depth is a requisite and demands at least four capable defenders on the two-deep. 
Martez Thrower is a proficient, third ILB. But, more were essential. Enter Northern Illinois' Daveren Rayner. He's not built like a traditional thumper but can run, tackle, and cover. All three traits are invaluable in today's spread-em-out game. Listed at 6'3, 205, Rayner was a multi-year starter at UNI and has played a great deal of football. Other transfers have gotten more headlines, but this may pay the most dividends. 
Kentucky also added a kicker. Georgia Southern's Alex Raynor comes to Lexington after being a three-year starter for the Eagles. He went 18/20 on FG attempts in 2022. Raynor also converted 49/50 PATs. It was obvious that the kicker process had to be overhauled after last season's calamities. Raynor will compete with Jackson Smith and Chance Poore for the starting role. 
(Photo: @CutterBoley/Twitter via UK Athletics)
The Cutter Boley Announcement 
Kentucky's last three starting quarterbacks have been transfers. The number is four if you consider Stephen Johnson's arrival to Kentucky via junior college as a transfer. Terry Wilson (Oregon), Will Levis (Penn State) and now Devin Leary (North Carolina State) have arrived in Lexington after previous stops at other Power 5 programs. 
Again, we need to ask why. Like the offensive line, there have been high school recruiting misses. Kentucky can fix that this week with a hometown kid. LCA's Cutter Boley is making his college declaration on Thursday at 11:00 a.m. The KSR radio show is scheduled to be there; that within itself should be taken as a positive sign for the Big Blue. All indications point toward a Cat hat being chosen on Thursday. 
Boley is a 6'5, 200-pound passer who's ranked as the nation's third-best QB in the Class of 2025 according to the On3 Industry Ranking. His final choices other than Kentucky are Tennessee, Alabama, Michigan, Notre Dame, Florida State, and many others. I've seen Boley play more than once. He has a legitimate chance to become an SEC starting quarterback. Boley has the indispensable traits to be a quality signal caller at the next level. I really like this kid's game. A lot. 
What Does All This Mean? 
College football in 2023 is different. It just is. Through the transfer portal, we live in a transactional world of transient personnel that can either enhance or detract a two-deep in a hurry. Like most other programs, Kentucky has utilized the portal to circumvent high school recruiting misses and to advance positions of need. 
This could be a very good week for all things BBN. 
The post Catching up on a busy week for Kentucky Football appeared first on On3.