Chance Poore explains changes Jay Boulware brings to special teams
3 min read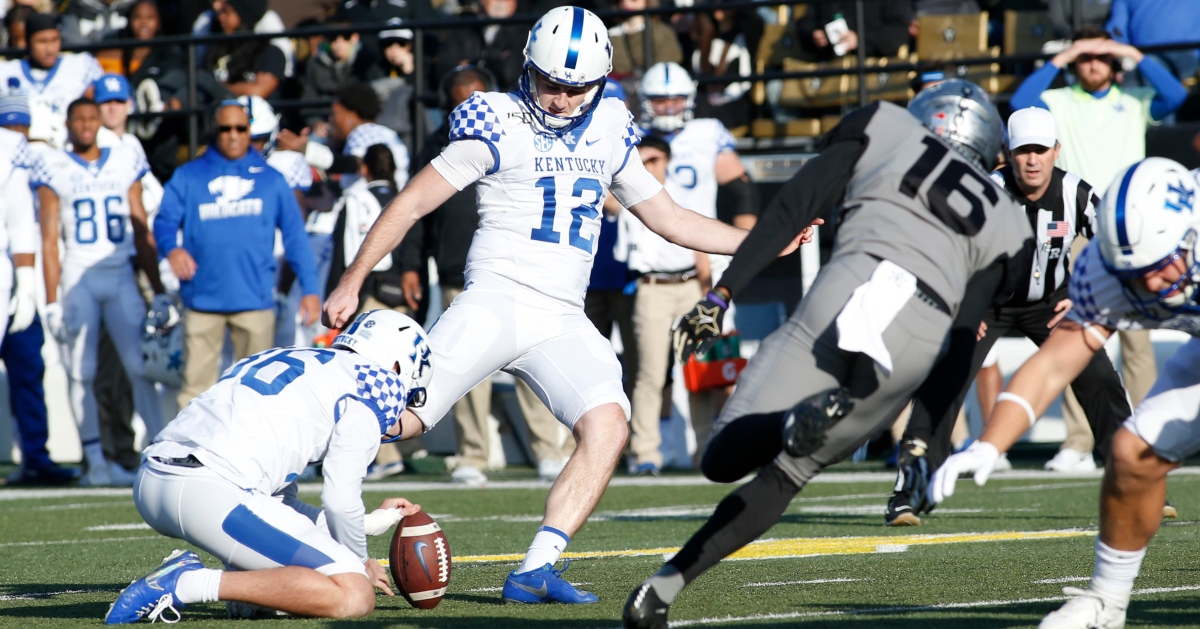 Kentucky hired Jay Boulware as their running backs coach and special teams coordinator this offseason, and apparently he's already making an impact on the Wildcats' special teams units. Wildcats kicker Chance Poore spoke on Boulware's early impact, and how he's already made a positive mark on Kentucky's kicking game.
"It's a lot different but Boulware treats special teams just like we're his running backs, the specialists are just like his running backs. We get treated the same, we're looked at the same, and we're gonna get the same coaching. He expects us to do this, it's not like 'oh it's okay', no. He's going to get mad at you, we need to be perfect here, we need to execute, and that's how a coach is. If he's not on you what are you doing out there?" Poore asked.
Boulware has over 25 years of coaching experience under his belt, spending a seven year stint at Oklahoma working under Bob Stoops and Lincoln Riley where his special teams unit created 10 touchdowns, a safety, and three returned two-point PATs. He now works under a different Stoops brother, and is training his specialist to be ready under pressure when big moments come their way.
Trying to get better but I like that, as far as that, that's about really Boulware just putting that extra pressure on us like let's go, let's execute, let's be perfect," Poore said. "And then on days like scrimmages or games I feel like it'll be like a walk in the park. Like it's just routine at that point, you go out there you don't think, you body's already in muscle memory to do that."
Special teams can often be an overlooked element of the game, but not for Boulware, who according to Poore is upholding the Wildcats special teams units to the same standard as offense or defense would be.
"I do like how he makes it the third part," Poore said. "It's offense, defense, and special teams, he puts a hard and big emphasis on special teams. I love that because when you go out there and you have a kickoff, yeah we can kick a touchback here that's great, start on the 25. But if we pin him inside the 15 our defense get riled up, they get going. So then the defense gets a big stop and next thing you know offense is starting at the 50."
Special teams is crucial in the field position battle and for creating momentum for the offense or defense, a principle that Boulware clearly is instilling in his players as well. There's definitely areas of special teams that the Wildcats can improve on from last season, as they ranked second to last in the conference in yards per punt return and field goals made. But it seems like Boulware will be doing his best to improve that unit this offseason, hopefully resulting in contagious success for Kentucky in 2023.
"So he's treating special teams not like that third aw, we gotta worry about that later, no. He's treating that third like it's important, the best. If we start good there then it just triggers our defense to be better and it makes our offense get better and it just keeps going and going and going until at one point it's like they're just dominating us. There's no chance for a team to come back and win because we just started on the first kickoff or the first return," Poore said. "So that's why I love him, he's making a big emphasis on the special teams phase."
The post Chance Poore explains changes Jay Boulware brings to special teams appeared first on On3.