Chip Lindsey discusses his plan to build UNC offense around Drake Maye
2 min read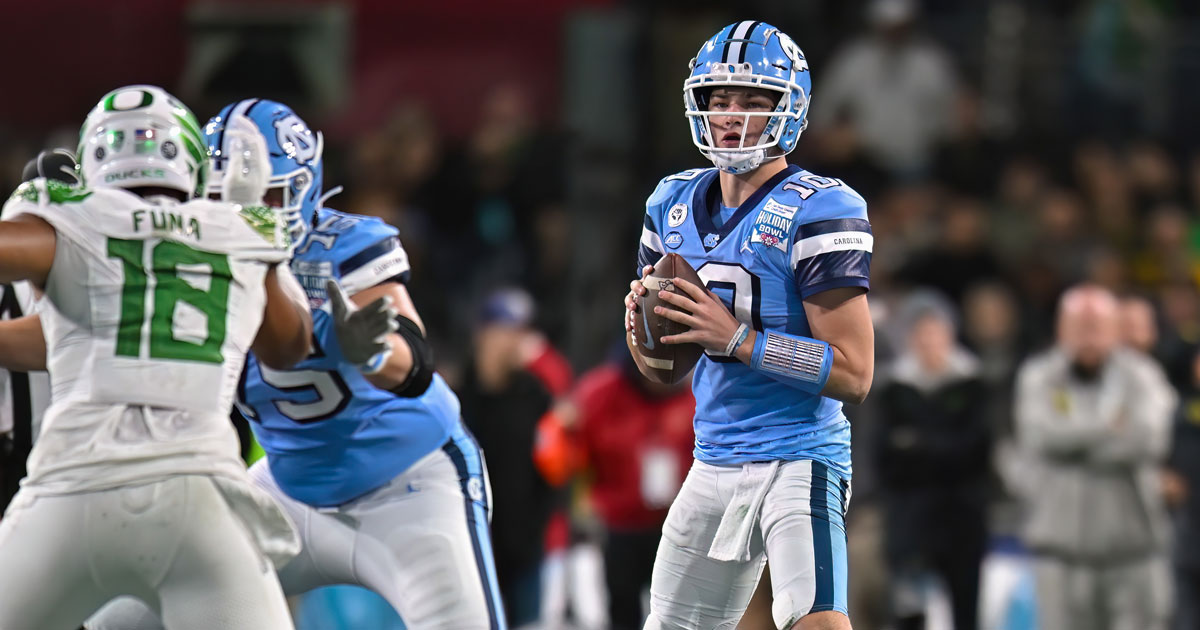 North Carolina may look different on offense this season but one thing will remain the same. Drake Maye will be lining up as the starting quarterback, hoping for an improved season in Chapel Hill. New offensive coordinator Chip Lindsey knows he has a weapon at his disposal.
"Well, I think Drake Maye is one of our strengths," Lindsey said. "Is that an understatement?"
While Lindsey was joking around, he does know the Tar Heels will have to build around Maye. Making sure the proper pieces around your 'franchise quarterback' can be the difference between double-digit wins and fighting for bowl eligibility.
Getting better at protecting Maye is the top priority for Lindsey. In fact, that offensive line as a whole was discussed, saying North Carolina must be able to run the ball so teams are not able to rush the quarterback on nearly every play.
"Obviously, I think the good teams start with the quarterback," Lindsey said. "I think when you talk about everybody else — how do we build the offense around his strengths? Which, we know what they are. To do that, we have to be better in pass pro and have to be better at running the football to keep those guys with their ears pinned back and rush us all the time. That's where we're continuing to grow is upfront on the O-Line."
UNC finished in the bottom three of sacks allowed last season, with Maye going down 40 times. A truly horrific number for any program, let alone one with a star quarterback. Maye is not able to be himself when facing constant pressure.
But at the same time, some weapons are needed around him. Lindsey is continuing to see the wide receiver room develop in a positive direction, along with calling tight end a strength at this point of spring ball.
"Passing game-wise, we have some wideouts that are talented guys," Lindsey said. "A few that we need to step up and take that next step I think to have a complete unit. I'm pleased with the progress they're making. And then the tight end room is one of the strengths on our team as well."
Playing in all 14 games last season, Maye threw for 4,321 yards and 38 touchdowns. Maye only had seven interceptions and is proving to be a serious NFL prospect. Even so, North Carolina fell five times in 2022, including the final four.
Building around Maye in what should be his final season is crucial. If Lindsey feels like all of the pieces are there, he will have the job of making sure the puzzle fits just right.
The post Chip Lindsey discusses his plan to build UNC offense around Drake Maye appeared first on On3.