Clemson spring game will have different format this year
3 min read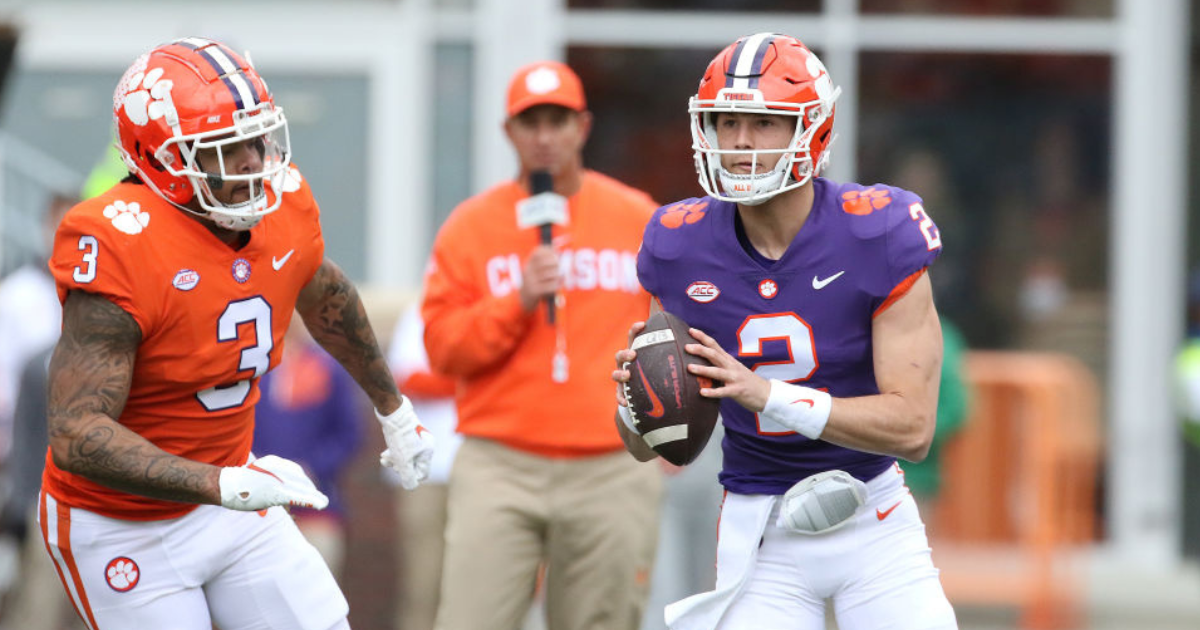 Clemson typically splits up its team as evenly as possible across all positions for the Orange and White spring game.
That won't be the case for Saturday's scrimmage, though. The Tigers are changing the format, Dabo Swinney revealed Wednesday afternoon on WCCP.
Instead of dividing the talent up evenly, the first-team offense will be paired with the second-team defense and the first-team defense will be joined by the second-team offense.
Swinney explained why the change is being made.
"Typically we split the team completely down the middle. That is one change this year – and really just because we've got some guys that are out. And just wanted to try to give Cade the best opportunity to have a little continuity in front of him, with some change, obviously with a new offense this year, terminology and stuff," Swinney said. "So it's going to be a competitive day, because we're going to go — our first offense will be teamed up with our second defense, if you will. And our first defense will be teamed up with our second offense."
The Tigers have several players out on the offensive side of the ball, including starting offensive linemen Marcus Tate and Walker Parks. Clemson is also very thin at receiver as Beaux Collins, Adam Randall, Troy Stellato and Will Taylor will all be unavailable on Saturday.
By keeping the first-team offense that went through spring together for the spring game, it gives Klubnik a better chance of being successful.
"That'll be how the two teams are built – try to have some continuity that we've had throughout practice with Cade and that first group of linemen that we have available. And that first group of receivers, because we've had several guys – obviously Beaux and Adam have been out. And Will's playing baseball. And Stellato has been out since last August. And then we've got three signees that aren't here," Swinney said.
"So really wanted to try to give Cade some continuity with Antonio [Williams] and Cole [Turner] and [Brannon Spector] that we've built through spring ball."
It appears as though the change will just be for one year and is only because of all of the injuries the Tigers are dealing with.
However, Clemson will be flexible moving forward and can play it by ear on a year-by-year basis.
Swinney is excited to see how the change works and also how the team, particularly young players, play in front of what is expected to be a large crowd.
"Typically, normally, we have more guys available that we can really, truly split it. So it's going to be a really competitive day. But seeing how these guys handle it – it's a different level of breathing when you've got that type of crowd in place. And just seeing how these guys respond and how they handle that," Swinney said.
"And again, it probably gives us the best opportunity all spring to evaluate when the lights are bright. And to help these guys get better from it."
The post Clemson spring game will have different format this year appeared first on On3.