COLUMN: Ole Miss' annual Grove Bowl provided further evidence for spring observations
6 min read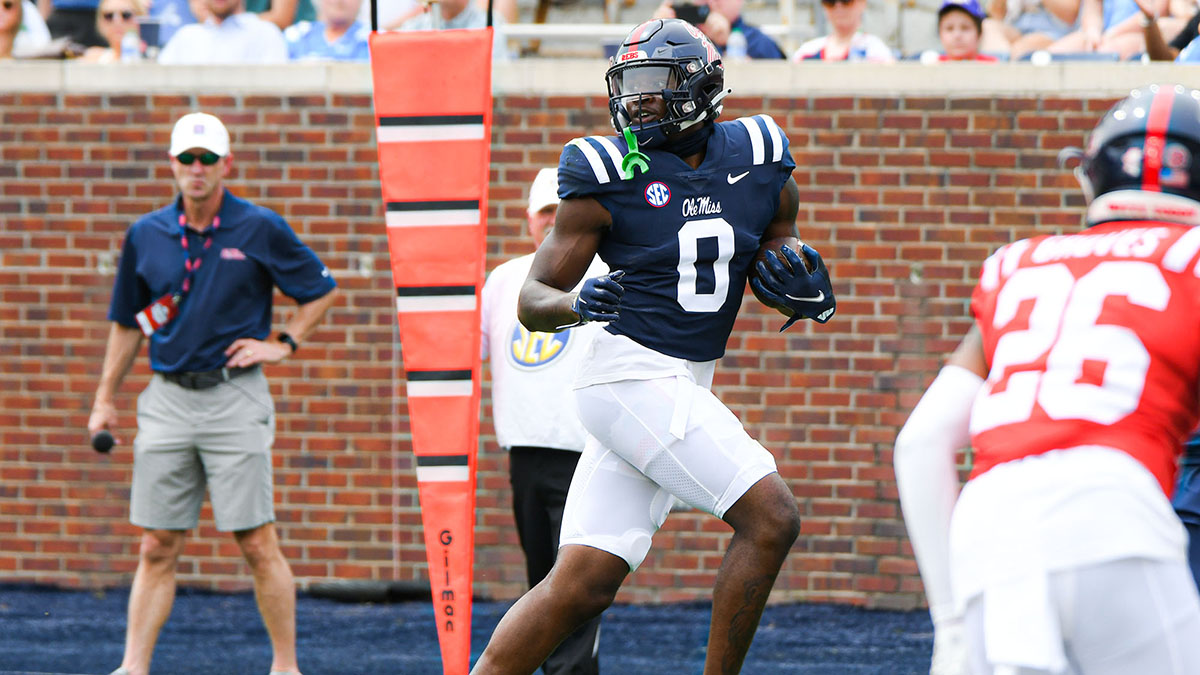 The annual Ole Miss Grove Bowl – for all intents and purposes – is a glorified practice with an extra scrimmage element and a gathering of some of the most diehard fans.
A little more fanfare, a little more order, a little less helter-skelter and a lot more recruits, but a practice nonetheless.
Despite having attended all but two of the 12 practices this spring, there were still things to glean from the Grove Bowl. Some of the following items will be repetitive of things we have written all spring and will give some validation, of sorts, to most of our practice report notes.
The Red team beat the Blue team 53-52, but that's not even remotely relevant.
As Coach Lane Kiffin said postgame Grove Bowl, the defense was limited in what they were doing schematically and the offense was wide open.
He reiterated fans don't want to see a low scoring spring game and so he obliged them with 105 points and a rigged ending where he gave the Red team, trailing by two scores, a phantom score at the end that put the contest in a one possession situation for the win, with a two-point play after a score.
"We just wanted it to be fun. We really didn't care about the score or who won, but it was fun to challenge both teams at the end with a one score scenario," Lane noted.
So here are some stream of consciousness notes, random in order and importance, from the Ole Miss Grove Bowl.
Wide receiver Jordan Watkins has missed all of spring with a hamstring pull, but he came back for the Grove Bowl and promptly showed his value to the receiving corps with 8 catches for 149 yards and 1 TD. Chris Marshall also returned to action after missing a week and he snagged 4 balls for 89 yards. Their presence gives the wide receivers a whole new dimension of quality and depth.
Of course, the king of spring, tight end Michael Trigg, led all receivers with 9 receptions for 138 yards and a touchdown. This was a rinse-and-repeat from last spring, but last fall did not pan out nearly as productive. Here's raising a glass to a healthy and more mature 2023 season so we can see this spring excellence translate to the fall.
In limited action, Ole Miss running back Quinshon Judkins was Judkins-ing. Running with abandon (11-47) and catching four balls for 44 yards and a score. He had nothing to prove, but still proved he's the Rebs' best option with just 15 total touches, all against the first team defense.
Ulysses Bentley IV was also productive with 10 totes for 83 yards including a 40-yard TD where he showed his bountiful speed. The surprise of the day, though, was Fred McAfee, who carried the ball 15 times for 80 yards and 1 touchdown – nice day.
Kiffin discussed how much he thinks quarterback Jaxson Dart has progressed this spring with only one turnover through 12 practices. In the Grove Bowl, however, all three of the top quarterbacks were effective. Dart was 18-37 for 302 yards and 1 TD and he ran for 19 yards on 3 carries.
Meanwhile, Spencer Sanders, whose banged up shoulder seems to get better and better with each practice lately, was 19-27 for 265 yards, 3 touchdowns and a tipped interception while rushing for 72 yards and a touchdown. Walker Howard, who alternated between the Red and Blue teams, was 11-13 for 185 yards and 3 scores and 29 yards on 5 carries.
Dart had the better overall spring, hands down, but the Grove Bowl showed the quarterback position is in great hands and is a true three deep with a trio of guys who look like Ole Miss can win with. You can tell Sanders has game experience and you can tell that Walker, for a young player, has a lot of savvy and cool.
It looks as if Trey Washington, Ladarius Tennison and Isheem Young are the top safeties coming out of spring, but look out for Taylor Groves and transfer John Saunders, Jr. Saunders was credited with 13.5 tackles in the scrimmage and had the lone pick on a tipped pass by cornerback Zamari Walton. Groves was next on the tackle chart with seven. Also, Elijah Sabbatini, who backs Young, had 6 stops.
The depth on the defensive line is going to have to be addressed, it would seem, in the May portal period.
Why? Today, there was a shortage of tackles, so much so that Tavian Prather had to play DT for both teams. Yes, Tywone Malone is not playing due to his obligation to baseball, but still, there is a need for at least one more defensive tackle before fall rolls around. J.J. Pegues, Zxavian Harris, transfer Joshua Harris and Malone should be a good four-man rotation, but that's not enough in this league.
A player who has started catching the eyes of Ole Miss' defensive staff, we have been told, is freshman cornerback AJ Brown. He quietly had 5 tackles and 2 passes defended today against what would be considered most of the first team offense.
Transfer offensive linemen Victor Curne and Quincy McGee may or may not be starters next season, but at the very least they will be important depth pieces. The quantity and quality reps they got this spring got them indoctrinated to SEC football and both held their own nicely for the most part.
There hasn't been much ink used on defensive end Jamond Gordon this spring, but don't sleep on his value. He will be in the four-man defensive end rotation with Jared Ivey, Cedric Johnson and J.J. Hawkins and, as we saw last season, he will be a valuable piece to the defensive line puzzle.
For now, it looks as if Reginald Hughes is the frontrunner for the Jack linebacker position coming off the edge to rush the passer. He and transfer Jameer Lewis have been battling it out for the top spot all spring, but in the Grove Bowl, Reggie was the main man at Jack.
The coaches mixed and matched the linebackers, but it was clear who the top four will be at the end of spring – transfers Jeremiah Jean-Baptiste and Monty Montgomery, Ashanti Cistrunk and Khari Coleman. Tyler Banks is currently the fifth backer and will get playing time next season.
Last season, Ole Miss was fortunate to get Jonathan Cruz in the house to do the placekicking and he did it admirably and effectively, but it certainly is nice to have Caden Costa back off his suspension. He's been lights out this spring in what little kicking we have seen, but if he were to falter, transfer Caden Davis has been just about as deadly.
We pretty much know Zamari Walton and Deantre Prince will be the starting corners next fall, but the backups are still battling for time. Will it be Markevious Brown? A.J. Brown? Braxton Myers? Richard O'Bryant? At this juncture, nobody knows because nobody has separated themselves from the pack. August practice will be critical at those two spots.
Kiffin technically has three more practices he could use. In spring, there is a 15 allotment, but look for him to think outside the box again. He has as much as said he will forego those workouts so the players can use that extra time to get stronger and faster and to heal up.
"I don't see the need for more contact at this point. Right now, there are more important things we can do in the program to help us get better," he stated. He did not commit entirely to knocking off the last trio of practices, but he said he was "trending that way."
The post COLUMN: Ole Miss' annual Grove Bowl provided further evidence for spring observations appeared first on On3.