Connecticut coach Dan Hurley breaks down challenge he sees in facing Miami Hurricanes with national title game berth on line
3 min read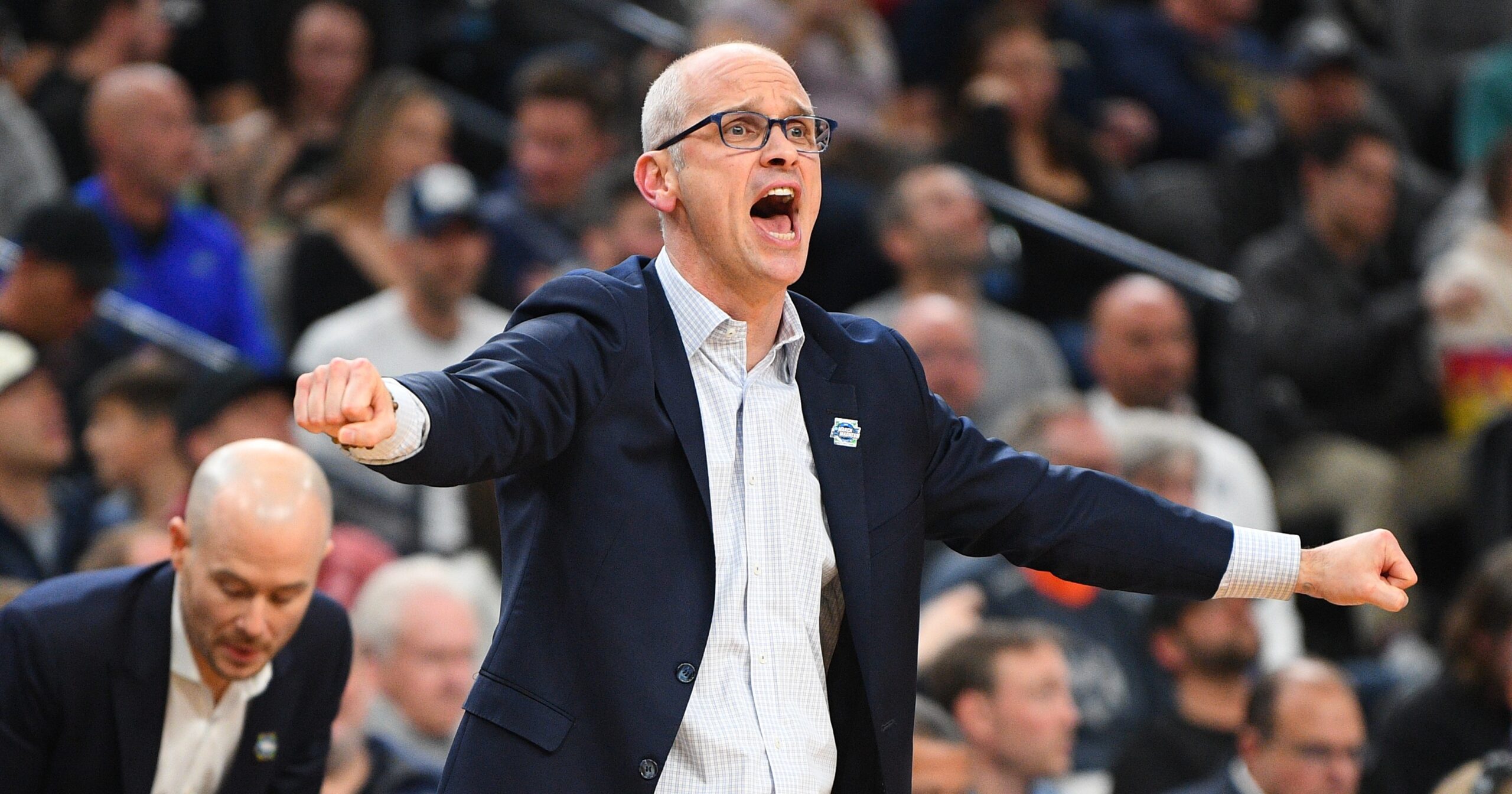 The Miami Hurricanes are one win away from playing for the national title. And beating Connecticut will be no easy feat. It's a long, athletic, talented team that is playing its best basketball and advanced to the Final Four with dominant wins over No. 13 Iona (87-63), No. 5 Saint Mary's (70-55), No. 8 Arkansas (88-65) and most recently over No. 3 Gonzaga (82-54).
From a Connecticut perspective?
Well, coach Dan Hurley expressed his concerns about facing Miami today.
"They run really good stuff to create the driving opportunities for their perimeter people," Hurley said. "Then you have (Nijel) Pack who is one of the best shooters in the country running around on the perimeter. (We have) a hell of a challenge with their center and his physicality, rebounding."
The Canes have a team where you can't just stop one guy – Isaiah Wong averages 16.2 points and was ACC Player of the Year, Nijel Pack is a long-range shooting threat who averages 13.8 points, Jordan Miller averages 15.4 points and 6.1 rebounds, Norchad Omier is a paint presence who averages a double-double with 13.3 points and 10.1 rebounds, and Wooga Poplar has played well this postseason and averages 8.7 points.
"We know we are facing one of the best teams in the country," Hurley said. "They're facing one of the best teams and we're facing one of the best teams."
While perhaps the main four get the attention other than Poplar, Hurley isn't overlooking the impact Poplar can have – he's been playing very well this postseason.
Hurley called Poplar a "draft pick talent" and said he has "length, athleticism, he also has feel. He's a much improved shooter, is really good with the live dribble, is athletic, tenacious. Plays hard, defends, he's tough."
While the Huskies have dominated for the most part at the NCAA Tournament, the team finished with a 29-8 overall record and 13-7 record in the BIG EAST.
Prior to the tourney Connecticut lost to Marquette in its second BIG EAST Tournament game, 70-68,
Connecticut had wins against No. 4 ranked Alabama, 82-67, No. 24 Creighton, 69-60 and No. 6 Marquette, 87-72. Losses included to No. 15 Xavier twice, 83-73 and 82-79, to No. 6 Marquette, 82-76 and in the BIG EAST tourney by two, and to No. 24 Creighton, 56-53 (UConn had won the first meeting against both Marquette and Creighton, as mentioned above).
Connecticut averages outscoring opponents 78.8-64.4 and is a prolific three-point shooting team with 25 attempts on average per game (making 36.3 percent).
UConn also is good on the boards, with a 39.3-29.9 edge.
Miami will be the smaller team but has shown a willingness to crash the boards en masse to make up for any height deficiency.
The Connecticut standouts:
6-9 junior forward Adama Sanogo averages 17.1 points and 7.5 rebounds, and 6-5 sophomore guard Jordan Hawkins averages 16.3 points (104 made threes, shooting 38.5 percent from long range).
Then there's 6-5 senior point guard Tristen Newton, who averages 9.9 points and 4.3 assists, and 6-8 redshirt freshman forward Alex Karaban averages 9.5 points while 6-6 junior guard Andre Jackson, Jr. is a strong defensive presence who averages 6.8 points and 6.4 rebounds.
In the most recent win over Gonazaga it was Hawkins with 20 points including six of 10 threes, while Sanogo had a double-double.
Jackson, Jr., meanwhile, had 10 assists, nine rebounds and eight points, while Karaban had 12 points.
Like Miami, Connecticut is a team that can hurt you with numerous players having a role.
So it will be quite a chess game come Saturday night.
"For us we have to be the hardest playing team on the court, have to win the backboard, play elite defense, top 20, 25 level defense," Hurley said. "Have to share the ball. … We've played at a great level at times, but if we get away from our identity we're not like a super-team. We have to be on.
"We are all dying to be the last one standing on Monday."
The post Connecticut coach Dan Hurley breaks down challenge he sees in facing Miami Hurricanes with national title game berth on line appeared first on On3.