Corey Clark: As disappointing season nears end, Florida State Baseball savors win over No. 1 Wake Forest
5 min read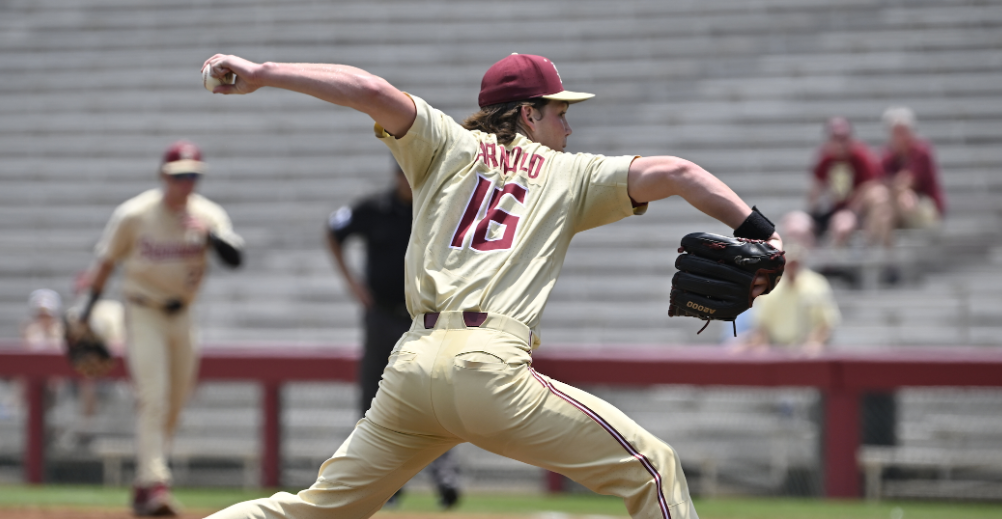 On Saturday, the Florida State baseball team was officially eliminated from reaching the NCAA postseason for the first time in 45 years. On Sunday, the Seminoles picked up — by far — their best win of the season.
It came in the bottom of the ninth inning, when redshirt sophomore outfielder Jordan Williams lined a two-out single to left center field to score Nander De Sedas and give Florida State a 4-3 walk-off win over No. 1 Wake Forest.
The players celebrated like they had just won a Super Regional, with Williams eventually being mobbed in deep center field after his teammates finally caught up to him. Credit to Jaime Ferrer, by the way, for lugging a Powerade cooler well over 300 feet to dump it on Williams.
That had to have been a school record for cooler-carrying. Maybe a national record. Who knows?
It was a fun win. An exciting win. Especially because both teams were chirping back and forth all day long. But it also was one win in a season that has featured way too much losing.
Entering the final week of the season, Florida State is 20-30 overall and 7-20 in the ACC.
So, once the hoopla subsided, it was a bit of an odd postgame press conference with Florida State coach Link Jarrett. Yes, he was proud of his team. Yes, it was a thrilling win.
But it also came less than 24 hours after the Seminoles' streak of 44 consecutive postseason appearances was snapped when FSU was officially eliminated from the ACC Tournament this weekend.
He acknowledged that reality.
"It's not easy," Jarrett said. "Like, this isn't the conversation I want to have. I don't want to be answering these questions. I want to talk about, 'Are we in a position to host?' That's what this ultimately is about. I really can't control that right now. I can just control how we prepare."
Jarrett said he talked to his team before the game "in a roundabout way" about not having any postseason chances left. He didn't harp on it, though. He just made sure to mention that the team owed it to itself, the fans and the program to continue to play and fight as hard as it possibly could.
And the Seminoles definitely did that on Sunday.
"They owe it to themselves, their teammates, the fans, their families, to come out and play hard and play good baseball," Jarrett said. "Don't let that slip because the season ends after next weekend. You can't. These moments are too valuable. And there are a million people that will trade with us in a second to be in this program and playing in a game like this.
"So, if being out of [postseason contention] takes you out of your game, then you shouldn't be playing at this level. And you probably don't appreciate what you have like you should."
Freshman starter Jamie Arnold was terrific after allowing a two-run homer in the first. And the bullpen — aside from Carson Montgomery, who walked the only two batters he faced — was good as well. So was the defense, which didn't commit an error and got a nice play from freshman third baseman Cam Smith on a slow roller to keep the game tied 3-3 heading to the bottom of the ninth.
Jarrett hopes — expects actually — for Sunday's game to be one that helps propel his young team forward heading into the offseason. Which, again, is coming much, much earlier than anyone is accustomed to around here.
"You need to see the work paying off," Jarrett said. "What more can they have thrown at them? Nothing. But making these plays and delivering some key at-bats in key moments, those are worth a hundred-fold times what a round of BP, a round in the cage, hitting off the machine and fielding a fungo, when you do it in this moment. Yes, it does create some confidence and excitement about the work you have done paying off in a winning style."
Jarrett said Williams has been putting in a ton of work in the cage all season. Yet he came into that at-bat with a .111 batting average. He was just 3-of-27 on the year and hadn't had a single hit at Dick Howser Stadium all year.
He was truly only in the game at that moment because fellow freshman center fielder DeAmez Ross injured his collarbone and was lost for the season after crashing into the wall on Saturday afternoon.
And yet Williams took advantage. Just like Arnold did. Just like Smith did on the slow roller. Just like Andrew Armstrong did in his two-plus innings of work on Sunday.
Florida State lost the series this weekend. And in doing so, it lost the postseason streak.
But the Seminoles beat the No. 1 team in the country once, and they also had a lead in the eighth inning the day before.
The record is the record. It's awful. Especially for this program.
Jarrett's focus has to be — and certainly is — getting his team back to respectability, and then back to dominance. It might be a long road. Who knows how long it will take?
But maybe someday in the not-so-distant future we'll look back at the win on Sunday, against the top-ranked team in America, and realize that's when the program turned on its blinker, got in the left lane, waited for the oncoming traffic to pass and pulled a U-turn to get back on that road again.
The head coach certainly hopes so. And he wants to see the same kind of effort in the Seminoles' final four games of the season this week — a home game Tuesday night against Kennesaw State and then a three-game road series at Louisville.
"We may have the youngest team (in the country)," Jarrett said. "We need to play. Every chance we get to play, we need to play. Think about what Jamie Arnold learned today. The play Cam Smith made at the end of the game. Titan Kamaka getting at-bats. [James] Tibbs and Ferrer are sophomores. [Conner] Whitaker is a sophomore. These guys need to play. We need to play.
"So what do you get out of it? You get moments like this, that are exciting and gives them something to hang onto and some confidence down the road."
Contact senior writer Corey Clark at [email protected] and follow @Corey_Clark on Twitter.
***Talk with other Seminole fans on the FSU Baseball Forum***
The post Corey Clark: As disappointing season nears end, Florida State Baseball savors win over No. 1 Wake Forest appeared first on On3.