Corey Clark: Practice battle between Jared Verse, Jaheim Bell is great sign for Florida State Football
6 min read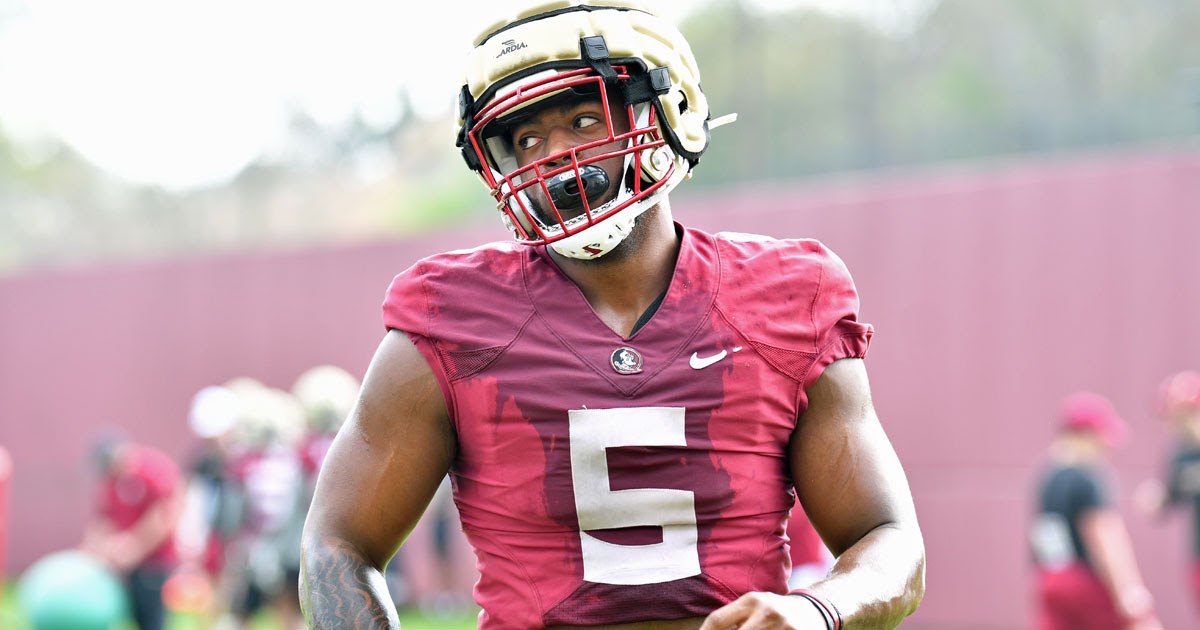 Before we get into just how good the Florida State defense was once again on Tuesday, and before I regale you with how well Tate Rodemaker played, I wanted to focus in on one moment from early on in practice that, I think, speaks to just how far this program has come.
It was a three-on-three blocking drill. And before what turned out to be the last rep, Jared Verse was talking. Which by itself isn't newsworthy, because Verse is always talking. But this time it was pointed at tight end Jaheim Bell.
The first-team All-ACC defensive end had plenty to say to Bell, the South Carolina transfer, before this particular rep. The two were jawing back and forth from a previous play, when Bell got the best of a younger defensive end. So Verse appeared to challenge Bell to see if he could do the same to him.
Suddenly, it was on. The defensive end and the tight end were about to square off. Florida State's coaches were watching closely. Even onlookers on the sideline, and there were plenty of us in the Indoor Practice Facility on Tuesday, started talking about the matchup that was about to come.
There was real anticipation.
Before the ball was snapped, however, Bell was so amped that he jumped early and engaged with Verse, who tossed him down a second later.
They lined back up. And then at the snap, Bell got off the ball exceptionally quick and pushed Verse backward. He won the rep, and he let the talkative defensive end know about it, too. So did many of the other FSU offensive linemen.
Even offensive coordinator/offensive line coach Alex Atkins celebrated with Bell as they went onto another drill.
I don't write all this to celebrate Verse losing a rep. Although, he loses so few that it really might be headline-worthy on its own. No, I write it because I want to celebrate Verse. And what he brings to Florida State. You seriously cannot put a price on how much that kind of competition level means to a program.
To think what we were all watching three years ago, and now on a Tuesday in March, you have an athletic freak like Jared Verse going up against an athletic freak like Jaheim Bell, with neither shying away from the other. With both embracing the competition. That is just a great new reality for Florida State football.
"Iron sharpens iron," Bell said about the play afterward.
It does indeed, Jaheim. It does indeed.
As for the rest of the practice, I'll roll through some of the highlights right here:
First and foremost, in 7-on-7 and 11-on-11, the defense was mostly dominant. The offense hit on a few plays here and there — the best being a Johnny Wilson catch on the sideline, at the 2-yard line, on a pass from Jordan Travis in 11-on-11. Just a typical great Wilson catch over a defender on a nice back-shoulder toss from QB1.
The aforementioned Rodemaker found Kentron Poitier for a 20-yard gain in the same red-zone drill and then found Brian Courtney for a score moments later. He then connected with freshman Vandrevious Jacobs for a touchdown a few moments later while rolling to his right.
Rodemaker was strong throughout practice, and I thought he had his best day of the spring by far. Head coach Mike Norvell seemed to agree with that assessment when I asked him about it after practice.
But other than that, it was a day that was controlled by the Florida State defense.
Brendan Gant had the highlight with a diving interception in 7-on-7 red zone off a pass from Travis intended for Markeston Douglas. Azareye'h Thomas had a PBU and a near interception on a slant intended for Wilson in the same sequence.
Greedy Vance almost had an INT on a pass from A.J. Duffy down the sideline, and Jarrian Jones and Akeem Dent had near interceptions as well during the practice. Gant also had a tackle for loss near the goal-line.
Rodemaker had two touchdowns to Poitier in the 7-on-7 portion, but those completions did come against some third-stringers and walk-ons. When it was good-on-good, it was mostly the Florida State defense that won.
Part of the problem during a portion of 11-on-11 was snapping. Casey Roddick was struggling to get the ball back to Travis on a consistent basis, so backup center David Stickle was used.
And in successive plays, Fabien Lovett and then Darrell Jackson just wrecked what the offense was trying to do by pushing Stickle into Travis feet. Jackson also had a batted-down pass in 11-on-11 at the end of practice.
As for 1-on-1 drills between the receivers and DBs, freshman Hykeem Williams got open for nice gains against both Fentrell Cypess and Renardo Green. Jacobs made a sensational catch for about 40 yards despite being interfered with by Quindarrius Jones. Jacobs also ran a really smooth sideline route to gain about 15 yards against Jones, on a perfect throw from Travis, a few minutes later.
Poitier beat Thomas for a long gain during 1-on-1, and Ja'Khi Douglas beat Vance for about 35 yards on a nice throw from Brock Glenn. Vance did have two PBUs during the drill, though, and had great coverage on Winston Wright on another rep.
Bell had two catches in the middle of the field as well, and fellow tight end Kyle Morlock had a terrific move against Shyheim Brown for a sizable gain. Deuce Spann had a 40-yard catch against Thomas, and then Cypress followed that up on the very next play with great coverage against Poitier on a deep attempt for an incompletion.
Other than those plays in 1-on-1s, where the offensive players have a clear advantage, the defensive backs and the defense as a whole won the day.
Trench Notes
Here are some highlights from the OL/DL pass-rushing drills:
Casey Roddick and DT Joshua Farmer had a pair of competitive reps with each other, and it looked like each won one of the clashes.
DE Gilber Edmond used his speed to get a step on OT Bless Harris, but Harris recovered well to slow down the rush.
Redshirt freshman DT Ayobami Tifase had a couple of nice reps against Roddick. On one, Roddick stood his ground pretty well despite a strong push from Tifase. On the next one, Tifase really bent Roddick back with a burst of power and drove him deep into the backfield. As that play unfolded, the rest of the defensive linemen got very excited. Tifase later got the best of guard Thomas Shrader when they squared off. The young defensive lineman's power is very impressive.
DE Byron Turner showed his speed in getting past freshman OT Lucas Simmons. Then Simmons came back and appeared to win their next rep.
Redshirt freshman DE Dante Anderson drew a hold on veteran tackle Jeremiah Byers after seemingly getting the advantage. Anderson then had another good rep to get past Daughtry Richardson.
Jared Verse seemed to get the best of Darius Washington during their rep. 
There were a couple of neat teaching moments during this drill: DT Darrell Jackson used his athletic ability to beat guard Bryson Estes on one rep, and DL coach Odell Haggins still pulled him aside afterward to correct his technique. Alex Atkins did the same thing after it looked like Keiondre Jones got the best of Daniel Lyons.
Warchant managing editor Ira Schoffel contributed to this report.
Talk about this story with other die-hard FSU football fans on the Tribal Council.
The post Corey Clark: Practice battle between Jared Verse, Jaheim Bell is great sign for Florida State Football appeared first on On3.